At 9-12-5, the New Jersey Devils' season is slowly reaching the point of becoming a lost cause. Starting tonight, they'll begin a three-game trip out west to take on the Los Angeles Kings, Anaheim Ducks, and San Jose Sharks. This is a season-defining road trip for the Devils and could be the final nail in the coffin of their season if they come away with nothing.
Inside the Devils' Opponents
The Los Angeles Kings
The Kings are by far the worst team the Devils will play while out West. They have a 10-17-1 record and sit in last place in the Pacific Division. The team has been in turmoil and fired head coach John Stevens on Nov. 4 and replaced him with Willie Desjardins.
The results have not been great since Desjardins took over the job. The Kings have a 6-9 record and have underwhelming numbers at five-on-five. They have an expected goals-for percentage (xGF%) of 48%, ranked 20th in the NHL. They aren't generating much offense, either, with an expected goals-for per 60 minutes (xGF/60) of 2.14, ranked seventh-worst in the NHL.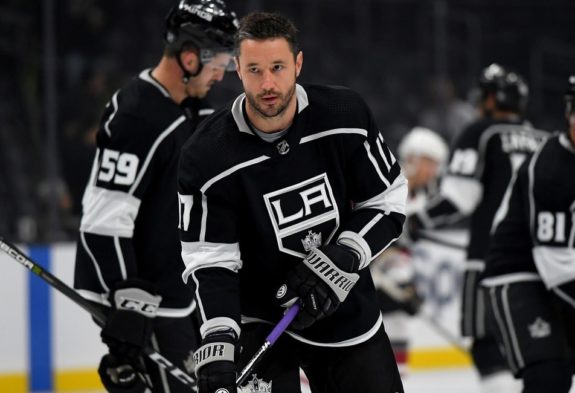 If there's a game the Devils have to win on this trip, it's this one. The bottom line is, the Kings are not a very good team. They have the seventh-oldest roster in the league, and that's with Ilya Kovalchuk on injured reserve.
Anze Kopitar anchors a decent but not great first line. After that, the Kings depth is suspect, to say the least. The Devils don't have the deepest roster, but they have a strong first line and a second line that's starting to come together. If they can't take advantage of the Kings, then I'm not sure what will get them going.
The Anaheim Ducks
The Ducks sit in second place in the Pacific Division as of this writing. And a big reason for that has been the goaltending of John Gibson, who has a .927 save percentage (SV%) in 23 starts. He also has a goals saved above average (GSAA) of 12.23 at five-on-five, the best in the NHL.
If Gibson wasn't standing on his head, I'm not sure where the Ducks would be. They bleed shots and chances on a nightly basis, which has become a common theme of teams coached by Randy Carlyle. The Ducks have the worst xGF% in the league at 42.66%. They also give up an average of 63.44 shot attempts against per 60 minutes, as well as a league-worst 31.19 scoring chances against per 60 minutes (via Natural Stat Trick).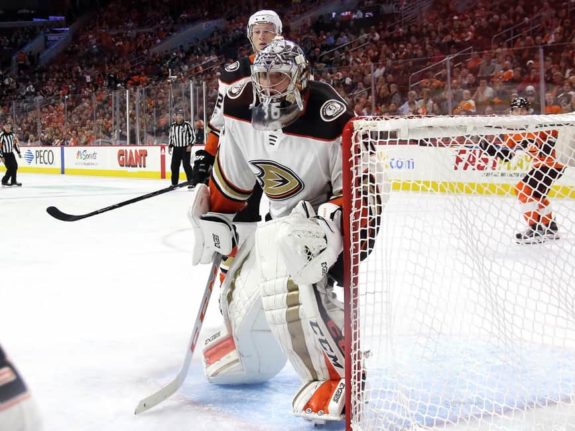 The Ducks may have a better record than the Kings, and they've collected points in nine of their last 11 games. But that doesn't mean this isn't an opportunity for the Devils to pick up a win. Despite having five wins in their last 22 games, the Devils have seventh-best xGF% in the league this season. They perform well at five-on-five for the most part, while the Ducks don't. It looks like a good match up, but it'll be a matter if they can get enough pucks past Gibson.
The San Jose Sharks
The Sharks are pretty much the reverse Ducks. They have the fourth-best xGF% in the league but have the worst five-on-five SV%. A big reason for that is Martin Jones, who is having a rough start to the season. He has a .894 SV% in 19 games played, to go along with an NHL-worst GSAA of minus-12.07. Jones' backup Aaron Dell has fared a bit better, with a .904 SV% and a GSAA of 3.85 in nine starts. Either way, the Devils should get a favorable matchup in net.
The Devils, like the Sharks, have their own goaltending woes, so that could be a problem. Since their 4-0-0 start, they have the worst SV% (all situations) in the league at .882%. Against a team like the Sharks, who generate shots and chances at a high level, one of Keith Kinkaid or Cory Schneider will have to step up and have a strong game between the pipes.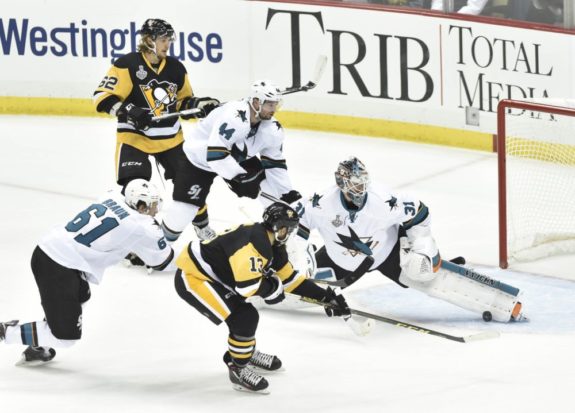 The good news is the Devils played the Sharks in October and came away with a 3-2 win. But that was at the Prudential Center, and like the Devils too, the Sharks have struggled on the road. If New Jersey can pull off a win at the Shark Tank, it'd be their biggest road win of the season.
What the Devils Need from This Trip
The Devils are at the point where they cannot afford any more moral victories. They have to come away with some wins on this road trip, or otherwise, their playoff hopes are as good as dead in the water. At worst, they need two wins of any kind to consider it a successful trip. But coming away with three victories would go a long way.
They're fortunate that as of this writing, the New York Islanders only have a six-point advantage on them for a playoff spot. String together two — or even three wins — and all of a sudden, things become a bit more competitive in a mediocre Metropolitan Division.
Related: Devils Power Play Lacks Power
The Devils also have only two victories in 13 games on the road. This trip presents a perfect opportunity to gain confidence away from Newark., and for them to get some wins against a few opponents who also have some noticeable flaws.
If the Devils come away with nothing, and by nothing, I mean zero points, they'll return to New Jersey with a record of 9-15-5. Even though there'd still be plenty of season left to play, it'll be incredibly difficult to make up those points. It could lead general manager Ray Shero to head into sell mode, which would be a disappointing and early end to 2018-19 after a promising leap forward in 2017-18.
*    *    *
Advanced stats from Corsica Hockey