In a fairly quiet offseason, in terms of trades, the Tampa Bay Lightning managed to make a few deals with their own. These moves could determine the team's short and long term future.
After locking up forward J.T. Miller and defenseman Ryan McDonagh to long term extensions, general manager Steve Yzerman turned his attention to a pressing issue in the eyes of all of Lightning-land — the future of star right winger Nikita Kucherov.
Up against the salary cap, it didn't seem likely that a deal would be struck this offseason. It seemed inevitable that Kucherov would make a decision mere days before he was due to become a free agent July 1, 2019, or worse, leave the Lightning organization altogether. Neither idea sounded appealing, so Yzerman went to work, negotiating an extension with the league's best winger.
With most of their core now locked up long term, the Lightning and Yzerman find themselves in an enviable position. They can remain playoff contenders for more than two seasons, potentially rivaling the Detroit Red Wings for a streak of 25 consecutive postseason appearances.
How is something that incredible possible?
Stamkos Stays Put
No matter how important Kucherov is to the Lightning's success, it's Steven Stamkos that has been the face of the franchise since being drafted first overall in 2008. He's a five-time All Star, has won the Maurice "Rocket" Richard Trophy twice and has four seasons of 40+ goals.
Put simply, Stamkos is one of the elite goal scorers from this generation. It's safe to say that, had injury not limited him to under 40 games twice in the past five years, he could have a few more awards and team records. He would have also been an Olympic Gold Medalist, but a fractured tibia forced him out of the NHL's last Olympics in 2014.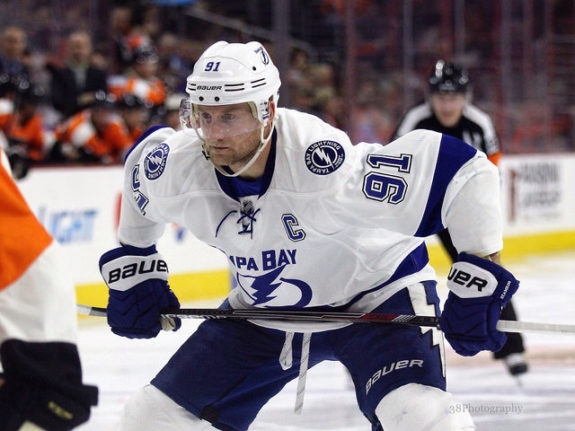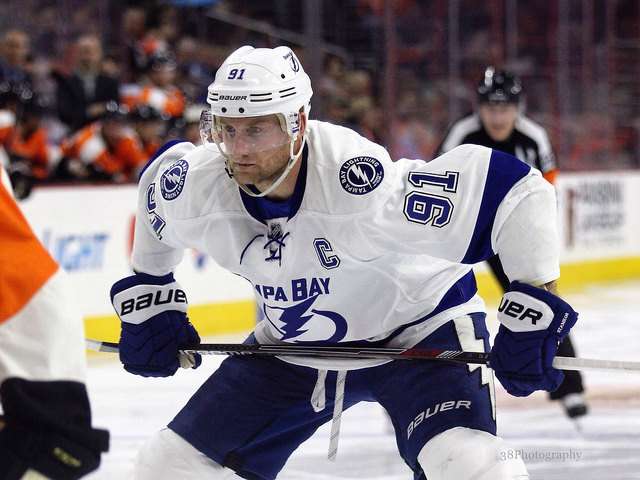 Painful as that time was, Stamkos learned a lot as both a player and a man. He learned mental toughness and how to lead by example, working harder than ever before to get back into game shape before the 2013-14 regular season concluded.
Another lesson came when good friend and linemate Martin St. Louis demanded a trade to the New York Rangers. Yzerman complied, netting Ryan Callahan in the deal. Unfortunately, the move left a young Lightning team without a captain. That only lasted one day, with Stamkos returning from injury with the captain's 'C' stitched on his sweater.
Two seasons later, the captain was due for a contract extension. While he tested the market and could have made more money elsewhere, Stamkos chose to remain with the team that drafted him. An eight year, $68 million contract was good enough, allowing Yzerman to keep building the Lightning into a legitimate Stanley Cup contender.
Yzerman used the money saved to sign top defenseman Victor Hedman, forward Alex Killorn, trade deadline acquisitions J.T. Miller and Ryan McDonagh, plus Kucherov, to long term extensions. That list doesn't include reigning Vezina Trophy finalist Andrei Vasilevskiy, who signed a three-year deal during the 2016 offseason — but will need another one shortly.
Stamkos & Kucherov: Lightning Fixtures for Awhile
With both key offensive weapons locked up long term, the Lightning have created a team with a legitimate 1-2 punch. It doesn't matter where in the lineup head coach Jon Cooper places them, they can burn an opponent much like Pittsburgh's duo of Sidney Crosby and Evgeni Malkin.
The question now is whether two of the best forwards in the game should be split up for the Lightning to achieve balance up front. It's easy to see that, when healthy, Stamkos and Kucherov can light up the scoreboard on more than one occasion. In fact, that line drove the team early last season. They played a big role in the Bolts torrid start, not losing double digit regulation games until mid January.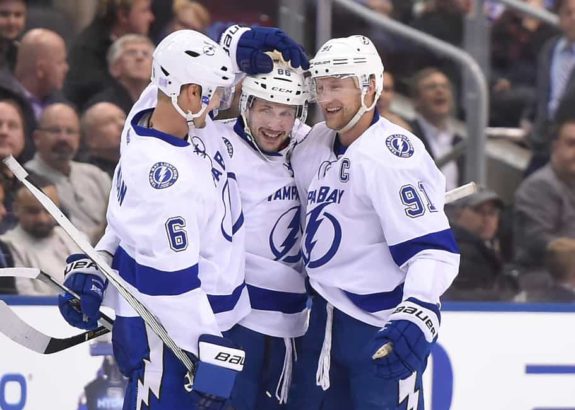 Unfortunately, they slumped and became banged up as the season wore on. After scoring at will for months, the top line of Stamkos and Kucherov found themselves silenced late in the regular season and especially during the playoffs.
It was a good sign then that the defense and second line consisting of Brayden Point, Tyler Johnson and Ondrej Palat found their groove early in the postseason. Those two units factored into the Lightning's deep playoff run, dispatching the New Jersey Devils and Boston Bruins before falling short against the high-powered Washington Capitals.
Even though Stamkos to Kucherov had worked extensively for a time, the Capitals relative ease in neutralizing Crosby and Malkin in the series prior begs the question of whether moving one down a line might have thrown a wrench into the Caps quest for Lord Stanley's Cup.
As disappointing as last season ended, the Lightning have a bright beacon of hope for the future. Their championship window remains open for years to come, thanks in large part to two key pieces that opted to do something not often seen in professional sports: stick together for the long haul.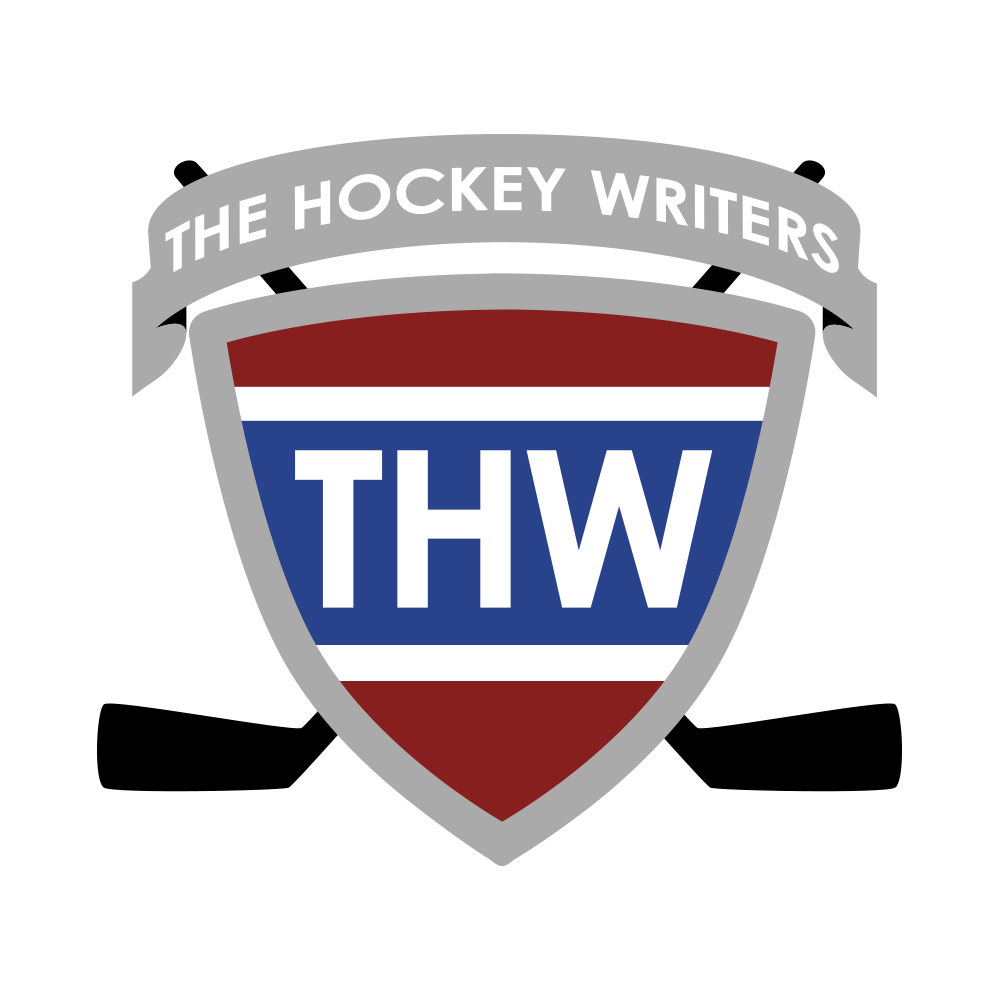 The Hockey Writers is:
1) A top-tier hockey media company delivering a top-notch, in-depth look at the NHL
2) A collective of some of the best hockey writers anywhere
3) A multimedia provider with daily podcasts and YouTube shows
4) Well-respected and widely-cited NHL prospect and draft resource