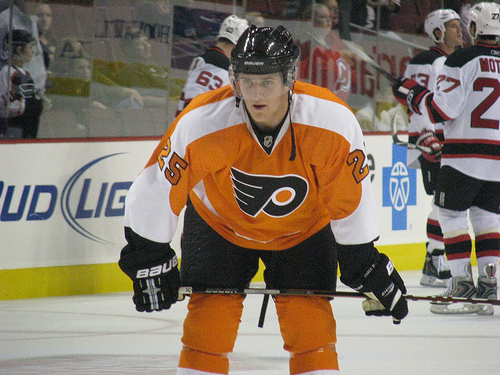 If Steve Yzerman handles his holiday shopping like he does the free agency market, it's safe to say no one will see him frantically running around on Christmas Eve scrambling for the last remaining Furby. It took the Tampa Bay Lightning general manager roughly four days to conduct all of his offseason business and now has the luxury of time and cap space to tinker with his lineup and possibly focus on signing some in-house talent to longer term deals.
Mr. Yzerman's first pick-up was veteran Sami Salo, a 37-year-old defenseman with a booming shot who will looked to play on one of the top pairings and likely man the point position on the team's first power play line (becoming a key factor in improving the 25th-ranked unit). If the veteran can stay reasonably healthy then his $3.75 million hit will be a bargain for a club that is well under the cap.
Of course, staying healthy could be an issue for the three-time Olympian. The Vancouver Sun pointed out that during his 13-year career NHL career Salo has acquired more than 30 injuries ranging from pulled muscles to broken noses and perhaps most memorable – a groin injury that many thought resulted in a ruptured testicle after he took a blocked a Duncan Keith slapshot in the 2010 playoffs.
When he is in the lineup, Salo contributes. He scored 7 power play goals in 2011-12 which would have ranked him third on the Lightning and his 14 power play points would have lead all Lightning defensemen. While primarily useful as an offensive defenseman, he does handle his own when actually playing in the defensive zone.
He hasn't played in more than 69 games in a season since 2003-04 so the expectations must be tempered to reflect that. If he is able to play 60-70 games at an effective level and contribute 30 points then it will be a successful signing. While the amount might be high (it's doubtful any other team was willing to give him a $7 million deal) at only 2 years it is short-term. With their core group of players under contract and ample cap space the Lightning is in a position to overpay a bit to fill a need.
During his first three off-seasons as the general manager, Mr. Yzerman has shown that he is willing to spend money on internal talent (Steven Stamkos, Marty St. Louis and Victor Hedman all signed long-term deals) yet he has been more hesitant to dole out the money for free agents. All of his deals have been for one or two years and mostly spent on low-risk/high-reward type of players that have sometimes worked out (Sean Bergenheim) and sometimes haven't (Ryan Shannon).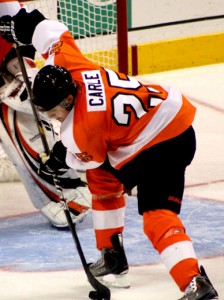 That plan took a bit of a detour on July 4th when the organization announced that they had signed Matt Carle to a 6-year contract that averages $5.5 million a year and makes him the highest paid blueliner on the team.
That the team signed him on the 4th is a nice bit of history coming full circle as the organization had originally acquired Carle on July 4th, 2008 in the deal that sent Dan Boyle to San Jose. Carle's first stint with the Lightning only lasted 12 games as he was traded to Philadelphia for Steve Downie and Steve Eminger.
Regarded by some writers as the second best defenseman available through free agency this season, Carle returns to Tampa after having spent parts of the last two seasons teamed up with a future hall-of-famer in Chris Pronger.
Critics of Carle point out that it's only natural that the 27-year-old's numbers have benefitted (or been "inflated") playing alongside Pronger. However, Geoffrey Detweiler of SBNation points out that Carle has been just as productive without Pronger as he has been with him.
Signing anyone to a 6-year deal is risky, but the Lightning are getting a player that should be just entering his prime and last season averaged 23:01 in ice time and was ranked 15th among defensemen in assists with 34.
He finished the regular season with almost as many assists as penalty minutes (36) showing that he plays a disciplined game, something that Coach Boucher demands out of his players.
Like Salo, Carle is expected to immediately join one of the top pairings on the defense. Mr. Yzerman is "excited" to have him on the team telling the Tampa Bay Times, "He's a top-four defenseman that plays in all situations. He skates well. He moves the puck well. He's very durable, so we think he's a much needed player into our defensive group."
It could be the "very durable" part of that comment that comes into play most in the next few seasons. With older players of questionable durability such as Mattias Ohlund, Marc-Andre Bergeron and Salo on the roster, Mr. Yzerman needs someone he can count on for 82 games. Hopefully Carle and Eric Brewer will be those two stalwarts on defense.
The organization will also be counting on Carle to pass along some of the knowledge gained from playing with veterans Chris Pronger and Kimmo Timonen to his new teammates such as Victor Hedman and Keith Aulie. Despite being only 27, Carle can act as a mentor to the young core group of blueliners that Mr. Yzerman has assembled. Especially since they are all from the same mold – smooth skating, puck movers.
In addition to his two big free agency signings, Mr. Yzerman wrapped up a contract with forward Benoit Pouliot who he acquired at the draft and, in a move that kind of slid under the radar, signed Russian defenseman Artem Sergeev to a three-year/two-way contract. According to BoltProspects the 19-year-old prospect has a "booming right-handed point shot" and is another smooth skater to add to the stable.
After less than a week of free agency, the Lightning has assembled what is most likely to be their 2012-13 roster. A few minor issues remain. They have to sign new goaltender Anders Lindback to a contract and decide on one more forward, who most likely will come from within the organization.
The blueline has been bolstered, as has the goaltending situation, and they still have plenty of cap space remaining (over 9 million according to Capgeek). They are in a sound position should there be any type of salary cap rollback with the new CBA. They also have room to lock up their young players whose current contracts will be expiring next season. For instance, Teddy Purcell could be a free agent next year and if he continues to score as he has over the last two seasons, he could be in-line for a big pay day. Mr. Yzerman has the financial room to make sure that Purcell stays with the team for the next few seasons.
With more than 100 days left until the season begins, and almost 11 months till the Stanley Cup is raised again, it's too early to see if the moves the Lightning have made will pay off. All that can be said now is that they recognized their deficiencies and took action in fixing them. If they were the right moves, then Lightning fans might be celebrating hockey Christmas come next June.
Justin G. came to be a hockey fan during his college days in Florida. He writes about sports, card collecting and other assorted things on his other site – The Hopeful Chase.