Is the looming labor dispute making you jaded? Free agency getting you down? Lose an hour or two this off-season in the CBC Digital Archives for Hockey. Lots of great audio and video clips recounting hockey's past from several different angles, with plenty of gems to uncover. A few samples:
"I have always given my utmost …"
1960: With some evident emotion, Maurice "Rocket" Richard announces on CBC Radio News that he's hanging up the skates and correspondent Ray Chaisson impersonates a robot.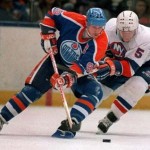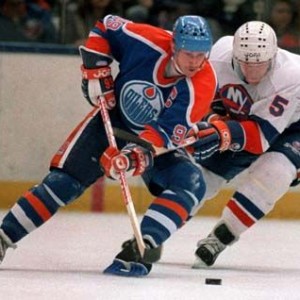 "He's a pretty mature young fella…"
1974: From "This Country in the Morning" Peter Gzowski interviews a 5′ 2″, 93 lb Gretzky as he approaches scoring his 1,000th goal (and as his voice is starting to change). Funny to hear he played defense, and that his fame was such that at tournaments fans were reaching over the glass and stealing his sticks. Throughout the interview, Wayne displays the modesty that has always defined him, even when pressed to guess at how much money he might someday make. Wayne's assessment of his brother Keith as a hockey player is classic: "Um … he can skate. And shoot."
"Hell, we're doin' the best we can."
1972: In game 4 of the Summit Series, the Soviets outplay Team Canada in front of 15,000 in Vancouver–who subsequently boo the hometown boys off the ice. Team captain Phil Esposito comes back onto the ice and goes off. It's the kind of rallying speech that made Espo a legendary leader in the locker room.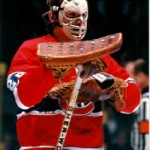 "…A very refreshing personality."
1972: Telescope profiles the curiosity that is Ken Dryden. Great footage of Dryden in action (watch him catch a slap shot then throw it from his glove like he's disgusted with the shooter for not trying harder), but the commentary from his brother Dave, his wife Lynda (her close-up is ridiculous), and the ever-introspective Ken himself make this a great video.
"When did you stop beating your wife?"
1992: Former head of the Players' Association Alan Eagleson's last day in office, as RCMP and FBI investigations swirl around him. His arrogance is on full display here, especially at the end when he responds to the reporter with that loaded, rhetorical question about wife-beating that can't be answered without self-incrimination. David Stern's recent reprise only underscores how pathetic this is.
"Here's Tremblay, hitting the Boston line…"
1979: Boston Bruins coach Don Cherry infamously gets burned with a too-many-men-on-the-ice minor late in game 7 of the 1979 semis against Montreal, allowing Guy Lafleur to tie the game. Here in overtime, the great Danny Gallivan puts his spine-tingling crescendo style to spectacular use in delivering one of the purest play-by-plays of all time.
Ross Bonander is a freelance health writer and book editor. He is the editor of 13 quotation collections– six of them hockey-related, including his most recent, Modern Hockey Quotations. His homepage is RossBonander.com.