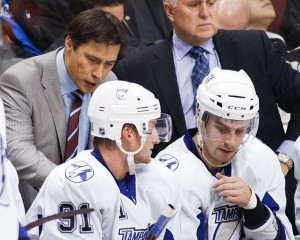 Despite the Tampa Bay Lightning's Game 7 loss to the Boston Bruins on Friday night, their season has been a huge success. In the past three seasons, they have averaged 72 points a year, finishing 15th, 14th and 12th in the Eastern Conference. This season, they finished with 46 wins, 103 points and made it to the Eastern Conference final, winning a playoff series for the first time since they won the Stanley Cup in 2004.
Some time within the next two weeks, either Vancouver or Boston will be crowned champion of the league, but that doesn't take away anything from what Tampa was able to accomplish. Their reemergence as one of the top teams in the league had a lot to do with players coming together as a group and getting stronger.
Defenseman Victor Hedman had a fine sophomore season, finishing with 26 points and a plus-3 while becoming much more comfortable on North American rinks. Steven Stamkos was going head to head with Sidney Crosby for best offensive player in the league in the early part of the year and was on pace for his second consecutive 50-goal season before only scoring five goals in the final 28 games. Still, he showed the potential to be one of the top players in the world, giving Lightning management plenty to look forward to in the future.
Vincent Lecavalier had only 54 points in 65 games, but with 17 goals and 30 points in his final 28 games and a career high 19 playoff points, he finally started to look like the player who scored 127 goals in the three seasons after the lockout. Martin St-Louis had one of his best seasons, recording a career high 68 assists and his 99 points were the second highest total of his career. Teddy Purcell was a pleasant surprise with 51 points after being castoff by the Los Angeles Kings and he combined with Sean Bergenheim to form a surprisingly potent duo in the playoffs.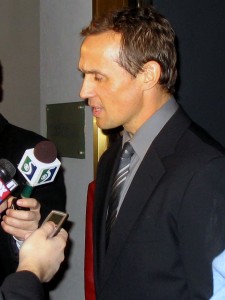 But the biggest win for Tampa, the move that has them set for a long time, is the emergence of Steve Yzerman as a top GM in the league. After his apprenticeship with Ken Holland of the Detroit Red Wings, Yzerman took control of the floundering franchise, decided on a direction and everything he touched this season turned to goal. Here are some of the moves he has made since being name GM of the Lightning on May 25, 2010.
Signed Pavel Kubina (23 points, plus-2; three points in eight playoff games)
Signed Brett Clark (31 points, plus-2; three points in 18 playoff games)
Signed Teddy Purcell (17 goals, 51 points, plus-5; 17 points in 18 playoff games)
Signed Dominic Moore (18 goals, 32 points, 53.2% on faceoffs; 11 points in 18 playoff games)
Signed Sean Bergenheim (14 goals, 29 points; nine goals in 16 playoff games)
Signed Steve Downie (32 points, 171 PIM in 57 regular season games; 14 points in 17 playoff games)
Traded Karri Ramo for Cedrick Desjardins, improving their goaltending situation for the future
Traded Andrej Meszaros to Philadelphia for 2nd round pick clearing $4 million in cap space
Traded Matt Walker for Simon Gagne, turning a journeyman defenseman into a defensively reliable forward capable of scoring big goals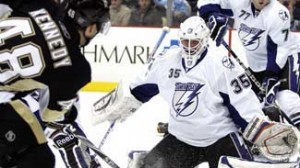 Traded for Dwayne Roloson (18-12-4, .912 save %, 2.56 GAA with TB in regular season, 10-6, .924, 2.51 in playoffs)
Traded Brock Beukeboom for Eric Brewer who went a long way towards solidifying Tampa's defensive unit
Hired Guy Boucher as coach
It is that last move that turned out to be pure genius. After leading the Drummondville Voltigeurs to a QMJHL championship in 2008-09 and the Hamilton Bulldogs to the Western Conference final in the AHL last year, he showed no growing pains in the NHL. The Lightning were in first in the Southeast Division for a large part of the season and their special teams have been fantastic. Their power play clicked at 20.5% during the regular season (sixth in the league) and 25.4% in the playoffs (fourth). They were also strong on the penalty kill, killing off 83.8% of their penalties (eighth) in the regular season and 92.3% (second) in the playoffs.
And you can say what you want about his 1-3-1 system and how it was slowing down the game, he got his team to buy into it and play to win. He inspired confidence in his players and was a coach they clearly wanted to play for. Falling one win short o the Stanley Cup final is obviously not an easy pill to swallow, but this season is looked back on, the Lightning accomplished more than what was expected of them than any team in the league.
They have also accomplished this while assistant coach Wayne Fleming has been battling a brain tumor. He is still undergoing treatment, so there is still more success to be had. Hopefully Fleming can get better and be behind an NHL bench before long so he can help the Lightning continue to get better.
Lastly, a quote by Boucher during the Game 7 post-game press conference that sums up the Lightning season perfectly. "You start the year and you have half the team that's new, an entire staff that's new, an administration that's new.  GM and president, CEO and owner, and so many new people coming together, and I just think it's outstanding that the players and everybody else involved in the organization was able to get this team to be a team real fast.  That's really difficult, even with a team that you had the previous year."
A native of Monroe Township, NJ, Tim received his Bachelor's Degree in Contemporary Journalism from Endicott College in Beverly, MA. A Flyers fan growing up, he has gone to numerous events including each installment of the Winter Classic, the Stanley Cup final and the 2010 Olympics.
In addition to The Hockey Writers, Tim also writes for The Good Point and interned with The Hockey News from Jan. to May 2011, contributing to their book Hockey's Most Amazing Records. Outside of hockey, Tim enjoys reading and watching movies and extreme sports such as snowboarding and skydiving.