If you had the Ottawa Senators making the Eastern Conference Finals, congratulations are in order.
Now, if you had them making it that far with a Clarke MacArthur who hadn't played in two years, a Craig Anderson who has much more important things going on away from the rink and an Erik Karlsson playing nearly 29 minutes per game on a fractured foot – well I hope you put money on it.
That being said, the Sens are set to open the Conference Finals against the defending Stanley Cup champion Pittsburgh Penguins. While player storylines continue to headline this cinderella run for the Atlantic Division team, they also remain the last Canadian franchise in the playoffs as the country celebrates its 150th birthday.
The Sens will, once again, be led by the gritty performance of their captain who leads the team in points so far this postseason. While his foot has continued to plague him throughout the first two rounds, Karlsson has consistently put forth a valiant effort in helping his club to two series wins.
With that in mind, does that earn the 26-year-old the title of being a hockey legend?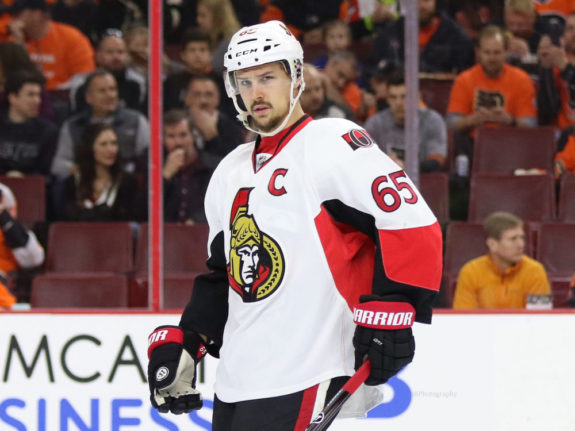 Legendary Status
When we mention that word, often it's in reference to players like Wayne Gretzky, Gordie Howe and Bobby Orr. Martin Brodeur was a legendary goalie, as was Patrick Roy. But is it fair to hand current players a tag of that magnitude?
What would you call Sidney Crosby? Alexander Ovechkin? How about a guy like Henrik Lundqvist?
Well first, let's break down the word itself. Merriam-Webster defines legend as a person or thing that inspires legends or a story coming down from the past. It also reads, one popular regarded as historical although not verifiable.
While Karlsson's performance thus far in the playoffs and over his career is, in fact, verifiable, it's also a story (a career) that will continually be talked about well into the future. On top of that, his play and perseverance in this year's postseason is, in itself, a story that will likely be passed down to the next generation of fans – at least in Ottawa if not among hockey fans altogether.
But what exactly has brought this conversation to the table? Let me tell you.
Karlsson's Career
Let's start by reminding ourselves that the captain of the Senators is still just 26 – meaning there's a whole lot of hockey ahead of him still.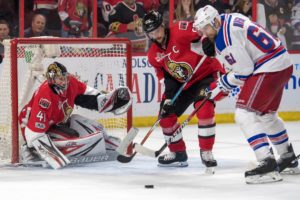 He was originally drafted in 2008 by the Sens in the first round and 15th overall. Since then, he's been a mainstay in the Ottawa lineup.
He made his debut in 2009-10 playing 60 games and finishing with five goals and 26 points in his rookie year. That year, Tyler Myers won the Calder Trophy with the Buffalo Sabres, while Karlsson didn't stand a chance against names like Jimmy Howard, Matt Duchene, Tuukka Rask and John Tavares among others. In comparison, Myers finished the year sight 11 goals and 48 points.
While Karlsson's 26 points in his rookie campaign wasn't overly impressive, the Senators didn't lose faith in what they had drafted in the Swedish defenceman.
In just his second season, he played 75 games and smashed his rookie season out of the water scoring 13 goals and 45 points. Still, he wasn't done. The following year – in 2011-12 – he played 81 games and scored 19 goals and 78 points while raking in his first positive year in the plus-minus category.
Now, eight years into his career and Karlsson has reached the 70-point plateau four times and the 60-point plateau five times. His best year though came in 2015-16 when he collected 82 points in 82 games, which is a franchise record.
Over his regular season career, he has 456 points in 556 games. He's ninth all-time among defensemen in points per game, he's the eighth highest active scoring defensemen in the NHL and ranks 74th all-time on the NHL's defensive scoring list – just one point behind former Sens blueliner Wade Redden and six behind current teammate Dion Phaneuf. On top of that, he has 23 game-winners in his young career as well.
But his success doesn't stop with his offensive numbers. In fact, over the past few seasons, he's been a perennial discussion point in Norris Trophy circles along with other awards.
Among the League's Best
In 2011-12, Karlsson finished eighth in the Hart Trophy voting, 24th in Lady Byng voting, and won the Norris Trophy as the league's best defenceman. That year, he knocked off Nashville's Shea Weber and Boston's Zdeno Chara to capture his first major award. That year he was also named to his first all-star team at just 21 years of age.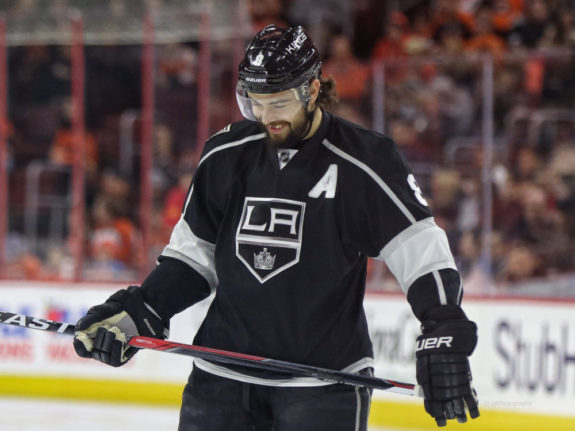 He was back at it in 2012-13, but finished 18th in Norris Trophy voting. He was named to his second all-star team, though, and remained a top-end defender in the game.
In 2013-14, he finished seventh in Norris voting – with Duncan Keith taking home the award.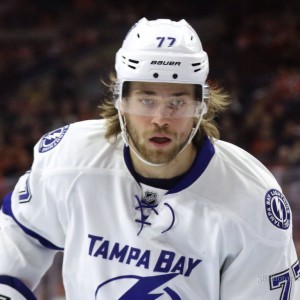 The following year, he was back in the discussion for a Hart Trophy. He finished ninth in voting, with Carey Price winning it. He won his second Norris Trophy, however, beating out Drew Doughty and P.K. Subban.
Last season, he finished ninth in Hart voting and second in Norris voting to Doughty. Again, he was named to the all-star team playing in it for the third time in his career.
This season, already an all-star, he was named as a finalist for the Norris Trophy again alongside Victor Hedman and Brent Burns.
Even at the international level – playing for his home country – Karlsson has found success. He's represented Sweden five times over his career, including the under-18 World Junior Championship, the under-20 World Junior Championship, two World Championships and the 2014 Olympic Games in Sochi.
Donning the Swedish blue and yellow, he's won two silver medals and a bronze medal. On top of that, he won the best defenceman award at the under-18 tournament in 2008, at the under-20 tournament in 2009 and the Olympics in 2014.
But it's been this year that the so-called legend has grown. No he hasn't represented his country and we're still waiting to see if he can capture his third Norris, but he's demonstrated so much more for his NHL club in a time of desperation.
Bruised, Battered… Still Better
Remember we talked about MacArthur having missed nearly two years of hockey thanks to post-concussion syndrome. We also mentioned that Anderson was dealing with off-ice issues after his wife was diagnosed with cancer early in the year. Still, Karlsson and the Senators trudged along.
At times, they seemed to falter – almost fall out of playoff contention. But they stayed the course, bought into Guy Boucher's system and grabbed one of the top two spots in the Atlantic Division.
Heading into the playoffs, Karlsson had missed a few games with an undisclosed injury. But when he was on the ice, he didn't seem fazed by whatever was bothering him. So nobody really asked too many questions about it.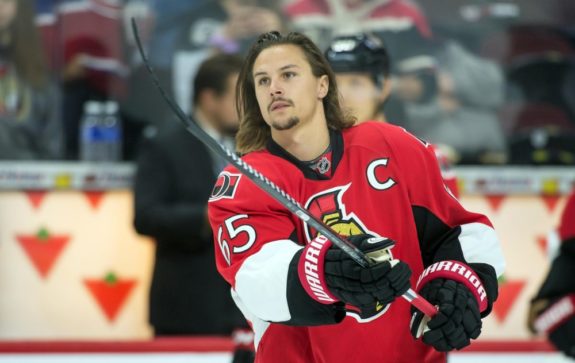 Finally, during their first-round matchup against Boston, news surfaced that the star defenceman was dealing with fractures in his foot. Still he laid his body on the line. He blocked shots. He skated as hard as anyone out there. Heck, he threw his body into some of the biggest, toughest players out there. Nothing seemed to faze him.
Now, Ottawa is set to open up the third round and Karlsson leads the way offensively for the Senators. In 12 games so far, he has two goals and 13 points – just five points back of Evgeni Malkin for the postseason lead.
He has two game-winning goals – both coming in their second-round series against the New York Rangers – and has played nearly 20 minutes more than any other player in the NHL playoffs. In fact, he's fifth among players in average ice-time playing just under 29 minutes per game – all on a fractured foot.
POLL: Is it too early to give Erik Karlsson the title of being a hockey 'legend'? #NHL #THW

— Tape2Tape (@Tape2TapeTHW) May 12, 2017
Now we've heard the legend of Bobby Baun – scoring the overtime winner on a broken leg in Game 6 of the 1963-64 Stanley Cup Finals. We've heard stories of players that've come before those we watch today. While we await the outcome of the 2016-17 playoffs, one thing is for sure. Karlsson has put forth a gutsy and valiant performance. If the Sens can push their way into the Stanley Cup Finals, Karlsson will be remembered long after this season is done.
While legend might be a premature term to describe the 26-year-old, it won't be long before the hockey world plasters it next to his picture among hockey lore.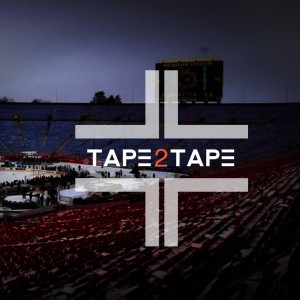 Have thoughts about the column? Let me know on Twitter at @AndrewGForbes or @Tape2TapeTHW.
Tape2Tape is a column looking at some of the biggest stories from around the world of hockey. Discussing different topics, it focuses on delivering some opinion to hockey's biggest fans. Whether you agree or disagree, we would love to hear your thoughts.