Nowadays, most of us have seen a good old superhero movie. I mean, you can't really go to the theatre anymore without there being a Marvel or DC Comic film playing. And for every superhero, there has to be some kind of villain.
Now, for those of you who haven't seen a superhero flick, I'm about to spoil some of the plot line for you. You see, in the majority of films in this genre, the villain hasn't always been evil. In fact, a number of them have stories behind their individual decline to villain-hood.
Look at Magneto, the Joker, Thor's brother – Loki. None of these characters started as evil players in their respective stories. But hiccups in their lives took them down paths that altered how they were viewed by others.
But how does this all tie into hockey?
Well, it's kind of a similar plot line when we're discussing the past three years of Brad Marchand's career – a player who went from super-pest to one country's hero before seemingly coming full circle in 2016-17.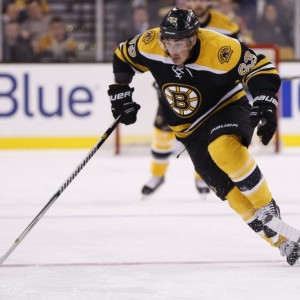 Sure, some of you might argue that it's a stretch, but let's take a walk back on Marchand's career and see how a player of his size could possibly become one of the most polarizing players in the NHL.
Brad Marchand: Where This Story Starts
Marchand spent his junior career in the Quebec Major Junior Hockey League (QMJHL). While a number of player play with one or two teams during their junior career, Marchand saw time with three different clubs from 2004 to 2008 – including the Moncton Wildcats, Val-d'Or Foreurs and Halifax Mooseheads.
He started his junior career with the Wildcats in 2004-05. Like any average junior player he started off – well, average. He played 61 games with Moncton that season scoring nine goals and 29 points. But what you're all wondering is how many penalty minutes he had. The answer is 52.
You see, Marchand has always been a spark plug – a player that can both excite and disappoint a crowd filled with opposing fans.
The following season, Marchand saw a spike in his offensive production with 29 goals and 66 points in just 68 games for the Wildcats. Along with that, his PIMs also jumped to 83 – averaging nearly 1.25 minutes per game.
In 2006-07, for the Foreurs, he notched 33 goals and 80 points in 57 games – another major jump in offensive output. He topped that by sitting 108 minutes in the penalty box and the super pest was officially born.
Finally, in 2007-08, he split time between the Foreurs and Mooseheads. He played just 59 games, but scored 31 goals and 73 points to go along with 76 penalty minutes.
While he was never a Lady Byng candidate – even in junior – he was also never under the microscope as much as he is now in the NHL.
Fast forward past two AHL seasons with the Providence Bruins to where he's an NHL mainstay with the big club. That's where this pest-to-hero-to-pest story becomes more prominent.
Marchand: Love Him or Hate Him
Marchand made his NHL debut with the Boston Bruins in 2009-10. That year he played just 20 games with one assist and 20 penalty minutes. Over an eight year career (so far) he's recorded 161 goals and 314 points in 484 games. Add to that his 464 penalty minutes over that span as well.
But aside from the numbers, Marchand's been zeroed in on for his – sometimes – questionable play. Late in the 2011-12 season, Marchand was handed a five-game suspension for clipping Sami Salo of the Vancouver Canucks.
Following that night, Marchand was deemed predatory – a pest that played the game dirty. However, aside from his nearly 1.25 penalty minutes per game, he wasn't an overly dirty player.
That being said, his reputation to annoy and frustrate seemed to follow him from then on. He had 27 penalty minutes the following season (which was the shortened season) before hitting 64 (not that high), 95 and 90 the following three seasons.
He has found himself suspended on two other occasions since the Salo incident, but neither received as long of a punishment as his first disciplinary action. In January 2015, Marchand was suspended two games for slew-footing Derick Brassard who was part of the New York Rangers at the time.
That season, Marchand recorded 24 goals and 42 points in 77 games to go along with a career-high 95 penalty minutes. His 42 points was a drop off from the previous season when he scored 53 points in 82 games, but remained respectable by some standards. Maybe it wasn't top-line worthy, but he played a game that made him and the Bruins successful.
He started the next season much the same – with another clipping incident in December 2015. Once again, he was suspended for the hit on Mark Borowiecki. This time he sat out three games and missed the 2016 Winter Classic.
Marchand missed just one more game that season and went on to have a career year offensively. He scored a career-high 37 goals and 61 points. And while he still hit the 90 penalty minute mark, Marchand managed to change the way that some people around hockey saw him.
Suddenly, the word elite was being thrown around when people talked about the small Bruin forward. And it was almost as if he had stepped out of the dark and taken on the role of good guy for more than just Boston hockey fans.
The Hero
It wasn't until the World Cup of Hockey, however, that things hit an all-time high with respects to how people looked at the pesky forward. Named to Team Canada for the rejuvenated international tournament, he was lined up with fellow Bruin Patrice Bergeron and hockey one of the best in the game in Sidney Crosby.
In six games, he scored five goals and eight points. While he accumulated eight penalty minutes as well, he scored the biggest goal of the tournament.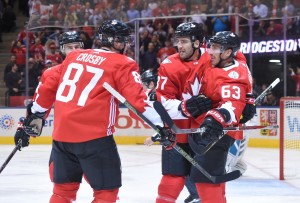 After a perfect run through to the first game of the best-of-three finals, Canada's winning ways were threatened by the European team. It wasn't until the final three minutes of the second game that the Air Canada Centre erupted as Canada tied the game. Only a couple of minutes later – and with under a minute left to play – Marchand scored a shorthanded goal to put the Canadians ahead and steal the hearts of a nation's hockey fans.
TSN's Michael Farber was talking about how he had gone from a pest to one of the best in the game. But more importantly, people had forgotten the player he was and were now recognizing him for the player he had become – or was becoming.
However, like every good villain, it doesn't take long before they're back pushing the boundaries of good. And Marchand is no different.
So far this season he has eight goals and 25 points in 30 games, which means he's actually on pace for a career-high 68 points if he can maintain that pace. However, let's not forget that five of those 25 points came in the season-opening win against the Blue Jackets. Since then, he's notched 20 points in 29 games. While that's still an impressive pace, that would leave him at 57 points if you forget about the first game.
On top of that the Bruins are tailing off a bit and as they go, Marchand will certainly trend in a similar direction. Now when it comes to penalties, he's averaging just one minute per game. He has been handed 30 minutes in penalties so far this season which has him on pace for 82 total minutes.
But it's the little plays once again that bring back the title of villain. Recently, there was a questionable play where Marchand made a slew-footing motion on Montreal's Alexei Emelin in front of the Canadiens' net.
Now, both Emelin's hit and Marchand retaliatory trip can be questioned on this play, but it's little things like this that can change the perception of a player in the minds of fans. Once again, people outside of Boston were calling for Marchand's head on social media.
Say what you will about Marchand and the type of game that he plays, but for the most part he's effective. Having said that, outside of Boston, Marchand remains one of a select group of NHL villains. It's simply the way that he plays.
So is he a villain in today's game? Maybe. But think of it this way. If you had him on your team and he was putting up 50 to 60 points every year, you would praise the way he plays. He's the agitator in today's game – the type that can be an offensive threat as well. Regardless of how you put it though, he's effective. He's an NHL super villain.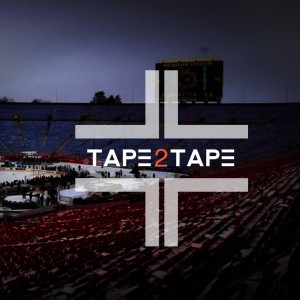 Have some thoughts about the column? Let me know on Twitter at @AndrewGForbes or @Tape2TapeTHW.
Tape2Tape is a column looking at some of the biggest stories from around the world of hockey. Discussing different topics, it focuses on delivering some opinion to hockey's biggest fans. Whether you agree or disagree, we would love to hear your thoughts.