Just this week, the New Jersey Devils and their organization had the chance to celebrate something much larger than just a win this season. With just over an eight percent chance to grab the first overall pick at the upcoming NHL Entry Draft, the Devils were awarded the pick thanks to the NHL's draft lottery.
But how will that pick help the Devils in the coming seasons. Sure, you don't have a McDavid or Matthews at the top of the draft, but what do Hischier and Patrick bring to the table? What will come of the Kovalchuk rumours and what should fans of the club expect from the upcoming offseason?
Well, we at The Hockey Writers got a small roundtable together of three writers that cover the Devils at some level to discuss these topics and give their take on where the Devils go from here.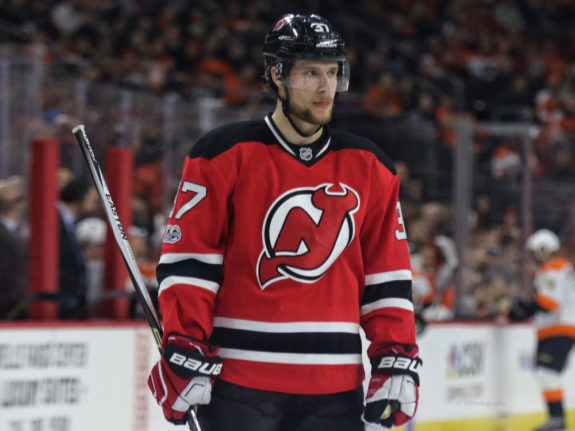 Sitting at the Table
For starters, we talked with current THW writer Dan Rice – credentialed with the Devils – and having covered the team for over a decade. He writes for the NWHL and has a long list of experience covering the game of hockey.
Next up, we have a former THW writer and current editor-in-chief with The Fischler Report – Leo Scaglione Jr. He's covered the franchise for a number years and has his fair share of input on the club.
Finally, we brought in Neal McHale from Inside Hockey. He also some great coverage of the Devils, the upcoming draft and where the club will go from here.
With that said, here's what this trio had to say about the team out of Newark.
Let's start with a simple question. The draft lottery – is it good or bad for the NHL?
Rice: I guess the lottery is good for the NHL as it prevents teams from tanking for a top pick – which is possible. While I never think a player would lose games intentionally, a GM could strip his team down to give them less of a chance to win. The actual reveal of teams is decent TV for the 15 to 25 minutes it's on, so I think in that way it's good.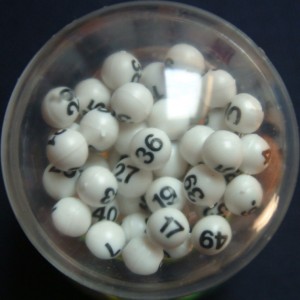 Scaglione: It's good for the game for the simple fact that it was exposure for the league. Fifteen fan bases and even fans of playoff clubs tuned in to see the results. It's certainly tough for the teams that fell a few slots, but overall it gives all the teams that didn't make the dance a chance of improving themselves.
McHale: The entire draft process is well-intended but equally flawed. On one hand you can liken it to yourself turning 18 and deciding where you want to work or go to college. Shouldn't there be free market? But on the other hand, if everyone consistently goes to team X and not team Y, then eventually teams at the bottom don't get much better. When you're consistently bad that usually results in bad things like financial woes, possible bankruptcy, maybe relocation. The league doesn't need more of that. So, I think you need the draft.
But the lottery I think is good overall. You don't want tanking, even though you know to some extent it's happening every year. It's become part of the building process almost. I think one of the reasons It's so prevalent is the development of NHL players. A lot of the guys picked in the first round are still years away from making an impact. So when you get someone who can step in right away, even if they don't dominate, it's enticing. I think teams are always thinking three to five years down the line, so hard to judge that a last place team is inherently more in need of a lottery pick than another team that struggled the previous season.
Looking at the Devils right now (before the expansion draft) who's going number one?
Rice: I'd be shocked if the New Jersey does not select Nolan Patrick. He will be a nice center piece to add to a lineup that has a lot of holes in it. Hopefully he and his teammate from Brandon – Kid Q (John Quenneville) – are teammates in red and black for a long time.
Scaglione: Pure gut feeling, but I say Nolan Patrick. He has been a consistent player at both ends of the ice despite injuries. Yes, he's been limited because of those, but his body of work still dictates that injuries shouldn't demote him a spot. Of course, with that said, you can't go wrong with Nico Hischier either. But Patrick has been projected to be the top man for a while, and listening to Ray Shero speak, my gut says Patrick.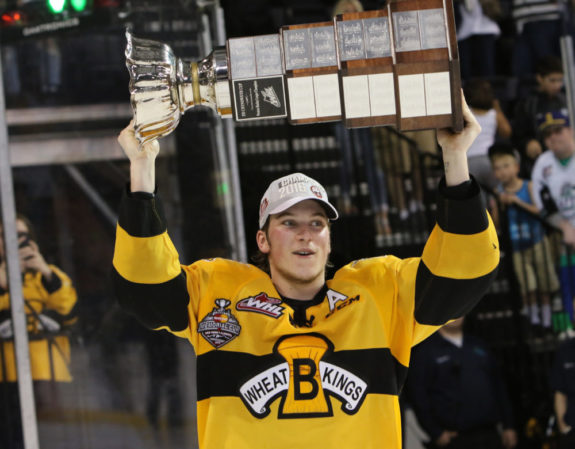 McHale: I couldn't tell ya. My only real look at the kids are the World Junior Championships and Patrick wasn't there due to injury. Hischier had a really good tournament and there's probably a lot of scouts who find his game more dynamic than Patrick's. It's hard to pass up on the big center that he is though. With there being no consensus, I guess it's a good thing the Devils have Paul Castron, formerly of the Blue Jackets, running the show at the amateur scouting level. Boone Jenner, Ryan Johansen, Alex Wennberg – he did a good job down the middle.
What is more likely to happen – Kovalchuk returns and plays for the Devils or a sign-and-trade to ship him out? Why?
Rice: In my opinion, Kovalchuk does not fit into the idea of what the regime of what Shero and Hynes are trying to build here. A sign and trade is the best option, maybe with Tampa? Drouin? Tyler Johnson? Both? We'll see.
Scaglione: Sign and trade. Kovalchuk would be a temporary scoring solution (age 34) and his timeframe doesn't fit the Devils. The club is still getting younger, and the assets the team can get in return for Kovalchuk far outweigh anything he would provide over the long haul. Particularly, a young blueliner from a contending team that can spare one.
3a. Because Kovalchuk is on VRL, NJ can't trade his rights to any team unless Kovalchuk signs with NJ first. So sign and trade possible.

— Bob McKenzie (@TSNBobMcKenzie) April 24, 2017
McHale: Well the quote is probably already out there, but I did ask Ray on breakup day if there was any update on Kovalchuk (this was before Friedman first broke news that he wanted back):
"I think when I first came on here there was some speculation of him possibly coming back….They've had a great year in St. Petersburg, they're in the final now and he's a big part of that. But you know, if and when he wants to come back then certainly I believe there's some…we'd have to check with the league to see what our rights are and what his rights are….It's a situation that doesn't happen everyday as we all know. I wasn't here but he's a player I've appreciated watching for a long time, but we'll see what happens and what he's thinking when the season is over. If we hear something, we'll hear something."
And now they certainly have heard something. Obviously, a team that scored in the bottom-five of the NHL in each season since he left would love to add a player of Ilya's ilk. I think Taylor Hall and him would make sweet music on that first line. But Shero is pretty calculated in how he's going to build this team. Is bringing on a 34-year-old, albeit a heck of a good one, right for the team and its development? I'm no so sure. I think a sign-and-trade might satisfy both sides' needs. By no means though do I think Shero will just give him away – it has to be a deal that makes sense. Think about what Radulov brought to the Canadiens this season. Knowing what we know now would teams pay a decent price for him? I think so. They'll need to (and probably already are) examine the market.
Kovalchuk situation remains unclear, but Devils could enter the summer with two of the biggest trade chips now.

— Neal McHale (@nealmchale) April 30, 2017
To play devil's advocate though: with the team's cap space, need and familiarity, it could also be the best match for him. I admit that while I think it's best to do a sign-and-trade, I struggle on exactly where they could trade him. Sometimes I think maybe a reunion with DeBoer in San Jose. But those west coast hours aren't easy on a player who is used to an Eastern Conference schedule. And I guess you also can never judge how a player thinks. If Iginla can gamble on Colorado, then why can't Kovalchuk gamble on the Devils?
What moves does this team need to make in the offseason to start becoming a playoff team again?
Rice: A big need this offseason is a defenceman – whether they sign Shattenkirk, Schultz, or try to trade for one like Fowler.
Scaglione: Nothing major needs to be done in the offseason. Shero has a plan that requires patience. Signing big-time free agents to long-term deals doesn't necessarilyly help at this point. Determine what prospects move up or can be used for trades. Use free agents to boost depth, again the blue line, but not to fill holes outright.
McHale: Well, becoming a playoff team and being one are totally different things and I think management gets that. So, I'm not sure one move or even a bunch of moves would truly make them that, but they can build toward one.
First, they need to get deeper up front. No question about it. The first line of Hall-Zajac-Palmieri was great. On most nights though, if they didn't score – the team didn't score. Even if they hung around in games it was pretty easy for good teams to keep them controlled offensively – put their top defenders up against the Hall line. After that, they didn't have much else. So they have to address that. Some of that will be having the young players like Wood, Zacha, Blandisi, Quenneville, McLeod, Speers and their first-overall pick contributing, but they have to be in the market for proven scoring so that they can be more than a one-line team. I know John Hynes and Shero both said they want the right players, not necessarily scorers, but there's no denying they need offence.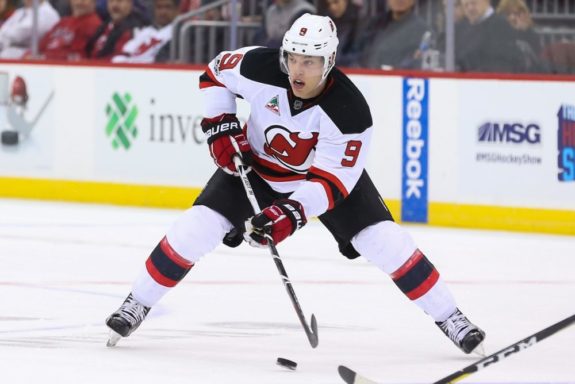 Defensively, they need to get a puck-mover. I know there's a certain defenseman from the area who fits the bill – that could be an avenue they go. But it's pretty vital to their success that they get one. It'll take less pressure off Greene from eating loads of minutes by being on the power play. And it'll let them let Severson continue to develop. He took a lot of good steps this season – career highs in games played and points, but still coming along (he's only 22). For everything Hall means to this franchise moving forward, Larsson was a big minute-eating, right-handed shot on the back end. They didn't have a replacement for him and it showed in a rather poor defensive showing collectively this year. You have to like the way Steve Santini stepped in and there's a lot to like about his game, but just watch the playoffs now to see how important a puck-moving blueline is for Nashville, Ottawa, Anaheim, etc. You need to get the puck up to forward quicker and more efficiently.
I recently spoke with Zach Parise about the Devils being awarded the first overall pick and he mentioned that it'll be good for the team and friends he still has on the team to have a possible game changer of a prospect. How much does this team miss a player of Parise's magnitude?
Rice: They obviously miss Parise. Losing players like him and Kovalchuk and not getting anything in return put the franchise in a bad spot – although Kovy retiring freed the franchise of the albatross contract he signed, which would have handcuffed the team for many, many years.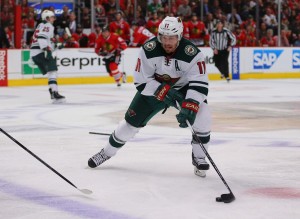 Scaglione: A player of his magnitude – two-way smarts, hustle, tremendous hockey sense and offensive instincts, all-around leader – is missed by all 31 teams. Every one would love to add a player of his caliber if it could. With that said, the Devils have plenty of leaders at this point and are building a younger team with all of those qualities, and from what I've read about Nolan and Nico, will be adding one very soon.
McHale: Losing Zach was a huge blow to the franchise. He was a really complete package. Scored, killed penalties, went into the corners, blocked shots, had speed – he did everything. And some nights he made it look effortless. And I think as much as we overuse the characteristics of a good guy in the room – he was and he led by example. I got to see him earlier this season and it took him 10 minutes to address the media because even after a loss, he was meeting with security staff and other staff members asking them how they are and catching up. That's just the kind of guy he was and it was easy for fans to root for him. They have guys like that now, but they most definitely miss the full package he possessed.
While there's no guarantee on when this team will become a playoff team, no clear picture on who they'll take number one in this year's draft (as our roundtable pointed out) and no real answer on the future of Kovalchuk in the NHL and with the Devils, one thing seems to be more evident – that Shero has a plan and he's ready to put it into play.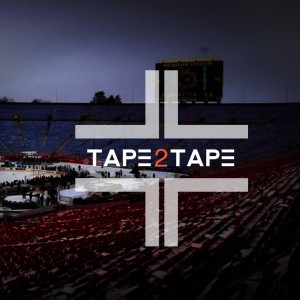 Have thoughts about the column? Let me know on Twitter at @AndrewGForbes or @Tape2TapeTHW.
Tape2Tape is a column looking at some of the biggest stories from around the world of hockey. Discussing different topics, it focuses on delivering some opinion to hockey's biggest fans. Whether you agree or disagree, we would love to hear your thoughts.