When Nikita Zaitsev came over to the Toronto Maple Leafs from the KHL there were questions about how well he would perform. Where would he slot in on defense? How would he handle the transition to the North American style of hockey? And whether he would stay in the NHL beyond this season.
Well, the answer to that comes in the form of a seven-year contract extension for $4.5 million annually.
.@MapleLeafs have signed D Nikita Zaitsev to a seven-year contract extension. Annual value of the contract is $4.5M through 2023-24 #TMLtalk

— Leafs PR (@LeafsPR) May 2, 2017
Most fans and writers are declaring this as a good and fair deal for the Leafs. For myself, not so much. This contract needs to be looked at beyond its face value to truly declare it a good or bad deal. To really look at this contract it needs to be broken down into a couple different factors: the amount, the term, and how each compares to other NHL contracts.
The Annual Value
With the way that Zaitsev has played in his rookie year in the NHL, it's easy to say that he deserves $4.5 million a year. He finished the season with four goals and 36 points in 82 games. He also had the second highest average ice-time on the team with 22:01 minutes per game. Now those stats are impressive considering Zaitsev regularly played against the opposing team's best players each night.
He did look a bit shaky to start the season, but the same could be said about the entire team. Eventually, he settled down and showed that he could be a legitimate top-four defenseman in the NHL. This is important to keep in mind when looking at the annual value of the extension.
The going rate for a good top four defenseman now is around four to five million a year. Now that may seem like a lot of money, but that's just what the cost is in today's NHL. The amount is also comparable to the Leafs' two other top defensemen in Morgan Rielly and Jake Gardiner.
Rielly is making $5 million annually playing on the top pair with Zaitsev, while Gardiner makes $4.05 million annually. Zaitsev's contract doesn't look out-of-place beside those two, so it's certainly a fair deal when compared to the Leafs' other top defensemen.
The Term
This is where problems arise in the contract. Having lived through a decade of the Leafs making poor choices, it's hard to not be pessimistic and think about the worst case scenario with this contract.
At seven years this is the longest contract that the new Leafs management has handed out. Nazem Kadri and Rielly previously held that mark each with a six-year contract. At seven years there is something that is concerning about the "what if". At this length, we can presume that management thinks that Zaitsev will improve his game to the point that this contract becomes a steal of a deal.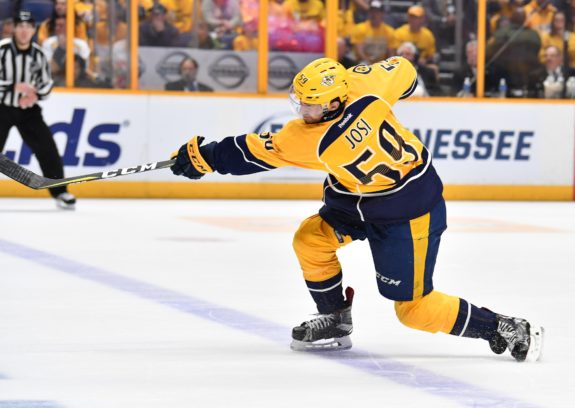 A good example of this is Roman Josi of the Nashville Predators. His seven-year contract at $4 million annually is an amazing contract now that he's stepped up to become the Predators top defenseman. Now that's not to say that Zaitsev will be as good as Josi, but that the contract becomes a deal when compared to the skill of the player and the amount that they should make.
The problem with this is that Zaitsev has just finished playing his first season in the NHL. Now, he had played a couple of seasons in the KHL as a top defender before coming to the NHL, but it's just not a big enough sample size in this league to give a contract of this length. This contract also comes with a modified no-trade clause where Zaitsev gives a 10 team no-trade list.
Comparable Contracts
This is where you'll either be completely on board with the contract or nervous about the next seven years. The site CapFriendly has a great tool that compares a player's contract to others around the league and finds comparable contracts.
With #Leafs Zaitsev signed at 7 years and 4.5M AAV, the most comparable contracts are:
1 Klingberg
2 Klefbom
3 Josihttps://t.co/Pjg7oMMZlM pic.twitter.com/7p7sGTLl5s

— CapFriendly (@CapFriendly) May 2, 2017
Based on his contract, Zaitsev is compared to some pretty reliable defensemen. So it shouldn't come as a shock that Zaitsev received this contract after the season that he's had. Now if you want a reason to be worried about this contract, then look no further than the signing bonuses.
Buy-Out Proof
There is another comparison to Zaitsev's contract that hits close to home for Leafs' fans – the David Clarkson contract.
To preface this, Clarkson's contract was so particularly bad because he was never worth $5.25 million and his play got worse. Now the reason why these two player's contracts are comparable is because of signing bonuses.
Signing bonuses are part of the annual value in a contract and are paid out at the beginning of the NHL's fiscal year (July 1st). Zaitsev has a signing bonus in five of the seven years of his contract. The signing bonus in each of the first three years makes up $3 million of his annual $4.5 million. Year four and five have no signing bonus, which means that both years are $4.5 million as a base salary. The last two years have a signing bonus that makes up $2 million of his annual $4.5 million.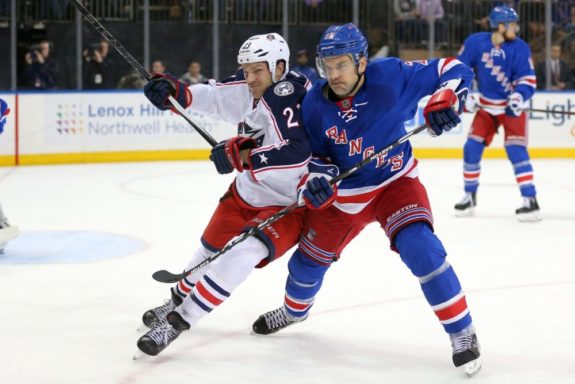 Now to put all that in perspective in regards to buying out a player. When a player is bought out the amount that is bought out is only based on the base salary, which doesn't include signing bonuses. That means even if you cut the cost of a contract through a buy-out, you'll still need to pay the signing bonus in full.
This is what made it pointless to buy-out Clarkson's contract as the majority of his annual value was from signing bonuses. This meant that the team wouldn't truly benefit from a buy-out. This made his contract essentially buy-out proof and the reason he's still on the roster for the Columbus Blue Jackets.
Clarkson had the worst possible contract with most of his annual value being in signing bonuses. Zaitsev, however, has just less than half in signing bonuses. So it's a similar situation, but not to the same extreme.
Decision Time
So is Zaitsev's contract resoundingly great or absolutely terrible?
It's good on the basis that Zaitsev continues to improve and that the Leafs never need to buy-out his contract. The value and term are league average when looking at contracts for top four defensemen, but the use of signing bonuses are concerning. None of the players that Zaitsev's contract is compared to have any signing bonuses in their contracts, which makes Zaitsev's contract odd.
So as a whole the contract is fine. It's to be expected of a player of his skill. The only way this contract could become problematic is if his performance takes a nose dive and that looks very unlikely.