On Sunday, it was announced by the NHL's Department of Player Safety that Chicago Blackhawks defenceman Brent Seabrook received a three-game suspension for his hit on St. Louis Blues forward David Backes. Now, one question is circling social media. Is the punishment fair or not?
Before I reveal my thoughts on the hit itself and the suspension, I want to address the fact that it was not a hit that fell under the NHL's Rule 48 (hit-to-the-head rule). In real time, it certainly looked like Seabrook made contact primarily with Backes' head. Slow it down folks, his head was hit as a result of the primary point of contact.
Now, I want to break down the hit (and not everyone will like it). First off, as you can see when the play is slowed down, the principle point of contact is, in fact, Backes' elbow. That eliminates any chance of a Rule 48 call. Seabrook does take two steps prior to making contact with Backes, which also doesn't qualify as charging. So, that leaves us with the only call that makes sense – interference.
There is certainly an argument to be made for interference. Backes misplayed the puck and momentum carried him forward. When he turned back to try and get the puck, that's when Seabrook finished his hit.
I agree with the call to give Seabrook a five-minute major and game misconduct. It gets him out of the game and forces players to refocus on hockey rather than redemption. The major penalty led to the eventual game-tying goal before the Blues went on to win Game 2 in overtime – giving them a 2-0 series lead.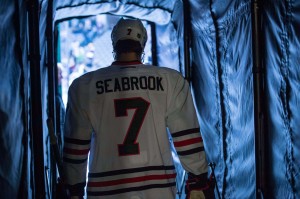 I don't, however, agree with a three-game suspension. No, I don't like seeing Backes (or anyone) laying on the ice motionless. But it wasn't an intentional hit to the head. As hockey players, they're taught to anticipate the play. This is just an example of anticipating a play that is simply not executed. If Backes didn't miss the puck, he wouldn't have turned back and Seabrook would have likely missed the hit or played it differently.
Since Brendan Shanahan's resignation, questions have surrounded the leadership at the Department of Player Safety. Now, the Blackhawks are down 2-0 in their first-round series. Seabrook could likely be gone for the rest of his team's playoff season. And the punishment will continue to be compared to Milan Lucic's groin stab – an intentionally dirty play that only cost him $5,000.
Is this simply a suspension based on the outcome of the hit? Is this then end of the line for the Blackhawks this season? Whatever the case, there are too many subjective decisions made by the NHL's Department of Player Safety.
Thoughts and Shots
From Ball Grab to Nut Stab
So far in the first round of the NHL playoffs, the league's fined Blackhawks head coach Joel Quenneville for his groin-grabbing gaffe while yelling at the refs and Boston Bruins' forward Milan Lucic for his stick check on Danny DeKeyser's groin in Game 1 of their best-of-seven series. If you haven't heard, these fines were substantially different.
Now forget for a second that both were (very) intentional incidents. Why in the world was there a difference of $20,000?
Sure, Quenneville is supposed to be a respectful NHL figure. But he was frustrated and shared his dislike in a somewhat questionable manner. Okay – fine him. Lucic, on the other hand, is supposed to play with the same sort of respect. Sure, you can hit and bump and check other players, but that stick should never go near another players goodies. At least Quenneville did it to himself. Regardless, the differing amounts just raises even more questions on the subjectivity of discipline in the NHL.
A Storm of Controversy
The third game of the best-of-seven series between the Montreal Canadiens and Tampa Bay Lightning was clouded with controversy on Sunday night. Missed calls and questionable a questionable no-goal leave the Lightning and head coach Jon Cooper down 3-0 in the series to the Habs.
Looked to me like it could've and should've been a good goal. In fact, Cooper had a similar reaction with these post game comments:
Jon Cooper: "We only scored three goals — I mean two — and they scored three."

— Chris Johnston (@reporterchris) April 21, 2014
Steven Stamkos also had an offside call go against him that would've sent the sniper in all alone on Habs tender Carey Price. A closer look at the play showed the Lightning captain had an argument. This could wake Tampa Bay up. But down 3-0, it seems a little too late for the young franchise.
Duchene Out, No Problem
Colorado Avalanche coach announced this week that Matt Duchene would not be back for any of their first-round series against the Minnesota Wild. You'd think that would be a problem, right? Wrong.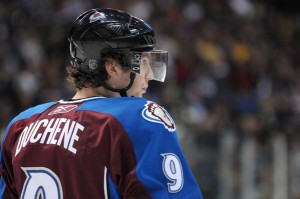 The Avs outscored the Wild 9-6 in the first two games of their series. While Duchene does leave a huge hole in the lineup, it's given Nathan MacKinnon the opportunity to shine in his first ever NHL playoffs. The line of MacKinnon, Paul Stastny, and Gabriel Landeskog has erupted for 17 points in those two games. If they're this good now, imagine their lineup with the added talent of Duchene – oh my.
Nathan MacKinnon – 1 goal, 6 assists
Paul Stastny – 3 goal, 4 assists
Gabriel Landeskog – 3 goals, 0 assists
Mason or Emery, That is the Question
When Philadelphia Flyers' goalie Steve Mason was injured to end the season, the first round of the playoffs fell on the shoulders of backup Ray Emery. While questions surfaced about his ability to lead the team, Emery remained calm and took on the role with pleasure.
"If your starter goes down it's a tough position to be in," Emery said in an article by Adam Kimelman. "I just want to come in and play the best I can. Be kind of a band-aid there while [Mason] gets better."
But with 31 saves on 33 shots in Game 2, is Emery taking full advantage of the starting role? If he can post a similar start in Game 3 – with Mason out again – I think coach Craig Berube will have no other choice but to stick with the hot hand throughout the playoffs.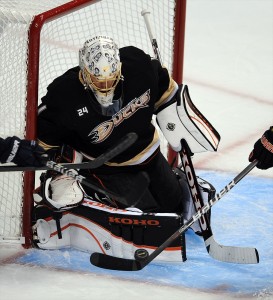 Quack, Quack, Cracked
What's going on in Anaheim? Late in the season, Jonas Hiller saw his playing time diminish. Replacing him, Frederik Andersen demonstrated that he could deal with the pressure of taking over the Ducks' starting role. And he has.
He's started both games thus far in their first-round playoff series. He's posted a 2.50 goals against average and a .930 save percentage while winning both of those games. So, what does that mean for Hiller?
Simply put, he's probably done in Anaheim. Hiller becomes a unrestricted free agent at the end of this season and I'm sure he's not likely to settle for being a backup or part of a 1A-1B goalie system in Anaheim. It'll be good to watch Andersen this spring to see if he can maintain his composure under pressure – otherwise you could see Hiller back in the net one last time.
Brennan Deserves Better?
Who knew that the Toronto Maple Leafs had the best defenceman in the American Hockey League? They didn't. But it was T.J. Brennan that received the Eddie Shore Award as the league top blueliner.
Brennan led the Toronto Marlies in scoring with 72 points in 74 games and finished third in league scoring. While he signed a one-year deal with the Leafs in the offseason, he didn't see any time with the big club.
Brennan, who becomes a free agent at season's end, remained with the Marlies for one simple reason – his defensive play. The Leafs had more blueliners than they knew what to do with, and what his offensive numbers didn't hide was his minus-10 rating this season. Even if he was the best offensive defenceman in the AHL, that wasn't what the Leafs needed. What they needed was someone who could play defence. Better luck next year, T.J.
Panthers on the Prowl
@TSNBobMcKenzie I'll slide you a five in a couple weeks when I see you. You know what to do!

— Strombone (@strombone1) April 15, 2014
Roberto Luongo asked and his Florida Panthers received – the first overall pick in 2014 that is.
First time I've ever won ANYTHING!!!! #NHLDraftLottery

— Strombone (@strombone1) April 16, 2014
So for the first time since 1994 (when the Panthers took Ed Jovanovski), Florida has the first overall pick. It comes one year after taking Aleksander Barkov with the second overall pick. Will it be Aaron Ekblad or Sam Bennett. My guess is the Panthers think long and hard about Ekblad – a big back end guy with a hard shot. Regardless, it'll be good for the team to get their hands on a young, top prospect. I hope they find a way of developing him so he can flourish to his top potential – whoever it may be.
Hockey's Back… In Sochi
That's right, only months after the 2014 Winter Olympics, hockey will be returning to Sochi, Russia. It was announced earlier that Sochi would be the home to an expansion team, but they were just recently named the Leopards. Seriously? The Leopards?
Though their name is almost as bad as the NBA's New Orleans Pelicans, the Leopards are expected to move into one of the former Olympic venues – most likely the Bolshoy Ice Dome. Who knows, we could see more Russians leaving the NHL for their homeland over the next few years – enter the Russian Effect. But that's a discussion for another day.
No World Championships For You
https://twitter.com/JamesDownie1/status/455717534512467968
Hurricanes' forward Alex Semin still hasn't received a call to play for Russia at the World Championships in Belarus. Semin had 42 points (22g-20a) in 65 games for Carolina this season.
Semin was also left off the Olympic team for the Sochi games and last played for the Russian national team in 2009-10 at the World Championships where he scored five points (1g-4a) in eight games. Could this be fallout from the 2014 Olympics where the Russian team fell apart at home? Or is this another example of the NHL-KHL futility?
Either way, Semin could be the odd man out yet again. He should probably focus on his career with the Canes anyways.
Trotz Goes, Weber Stays
Nashville fired Barry Trotz this week and he just became arguably the best coach on the market. Trotz led the Predators for 15 years and made the playoffs seven of those years. The team only made it past the first round of the playoffs twice during his long tenure.
Barry Trotz takes out full page ad in the Tennessean to thank #Nashville for his time with the #Preds. Pure class. pic.twitter.com/fPOm7WYNE5

— NHL EXPERT PICKS (@NHLexpertpicks) April 20, 2014
His had a 557-479-60-100 record coaching the Predators, but couldn't find a way of jumping the hurdle when it came to playoff time. Toronto – a team looking for both an identity and some defensive play – would be the perfect destination for Trotz if he's looking to jump right back onto an NHL bench. There you go Shanny.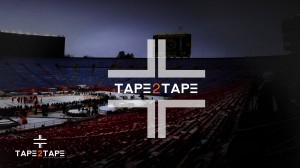 Have some thoughts about this week's column, let me know on Twitter @AndrewGForbes or on Google+.
Tape2Tape is a weekly column looking at some of the biggest story lines from around the different hockey leagues. It will discuss ten topics in short, but detailed, snippets and focus in on one larger story from the past week. Agree or disagree, writer – Andrew Forbes – would love to hear what you have to say.