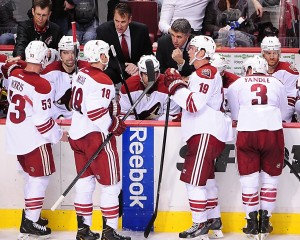 Current cap room: $1.9 million
Projected 2014-15 cap room: $16.1 million
The soon to be Arizona Coyotes are in tough in the realigned Pacific division amongst the likes of the Anaheim Ducks, San Jose Sharks and the Los Angeles Kings. It will be very difficult to get into the top two of that division for some years, so a wild card spot may be their best hope of returning to the playoffs next season.
After finishing only two points out of the final wild card playoff spot in the Western Conference the Coyotes have some decisions to make regarding their pending NHL free agents. With new ownership in place this will be a different off season for General Manager Don Maloney. He has shown in the past that he has a deft touch in finding useful players in NHL free agency for Head Coach Dave Tippett's system.
This off season will be no different, and here is a look at some of the decisions awaiting Maloney: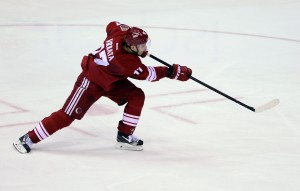 Radim Vrbata
2013-14 cap hit $3,000,000
Dollars per point: $58,823
Corsi Relative (5v5): 3.3
PDO: 990
Off Zone Start: 53.5%
Should the Coyotes try to resign him?
He just completed his sixth season in Arizona and has been in and around 20 goals and 50 points throughout his Coyotes career. This past season was also the first with the Coyotes that saw him post a minus rating. In his six year career in Arizona he has 137 goals and 151 assists and is a plus 41 through 428 games.
According to SportsReference.com Vrbata has contributed 35.5 point shares to the Coyotes during his time there. When you consider the Coyotes have accumulated 526 points during Vrbata's time with the team he accounts for nearly 7% of their points during that time. For a roster of 23 the average player may contribute up to 4% of the points, so clearly Vrbata has been a valuable player for the Coyotes.
However the 32 year old is no longer in the prime of his career and it appears as if his game may be slipping ever so slightly. With the acquisition of Martin Erat the Coyotes should be able to let Vrbata walk and replace his production internally.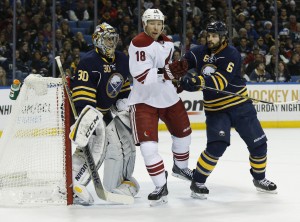 David Moss
2013-14 cap hit: $2,100,000
Dollars per point: $95,454
Corsi Relative (5v5): 4.4
PDO: 1004
Off Zone Start: 54.6%
Should Arizona resign him?
He has averaged nearly 16 minutes of ice time per game through his two years as a Coyote accumulating 42 point in 124 games. In light of his higher salary and what he brings to the team, his $2.1 million cap hit could be better utilized in other areas of the team. Currently sitting as a fourth line winger on the depth chart, the spot could be given to a younger player in need of ice time.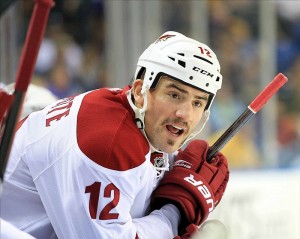 Paul Bissonnette
2013-14 cap hit: $737,500
Dollars per point: $92,187
Corsi Relative (5v5): 2.1
PDO: 1044
Off Zone Start: 57.1%
Should the Coyotes resign him?
While he may be better known due to his exploits on Twitter under his Biz Nasty pseudonym, his on ice contributions were negligible this season. The evidence of Head Coach Dave Tippett not trusting him to contribute is in his average of less than five minutes of ice time per game. The Coyotes would do well to let Biz Nasty move on at this point in his career.
Jeff Halpern
2013-14 cap hit: $600,000
Dollars per point: $50,000
Corsi Relative (5v5): -5.1
PDO: 972
Off Zone Start: 34.3%
Should the Coyotes resign him?
Unfortunately for Halpern since his terrible knee injury, suffered at the 2008 World Championships playing as Team Canada's captain, his skating has not been the same. Before the injury he was a solid defensive center that contributed nearly 40 points per season in upwards of 17 minutes of ice time per game.
Since the injury he has settled into a 20 point defensive center at less than 13 minutes of ice time per game. Due to his advanced age of 37, and the belief that a prospect from the American Hockey League level could fill the fourth line center role, it is time for Arizona to move on from Halpern.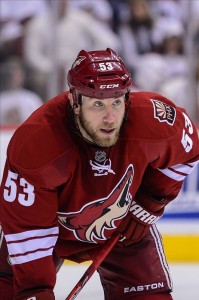 Derek Morris
2013-14 cap hit: $2,750,000
Dollars per point: $161,764
Corsi Relative (5v5): -1.1
PDO: 1000
Off Zone Start: 50.2%
Should the Coyotes resign him?
The now 35 year old defenseman has played the majority of his 16 year NHL career in Arizona (10 seasons with the Coyotes). With Brandon Gormley headed into his third professional season, and showing good development at the AHL level with 68 points in 122 games, it may be time to let Morris find employment elsewhere in the NHL.
Gormley is projected to be a very good two-way defender in the mold of a Kimmo Timonen or a Dan Boyle. It is time for him to start his full-time NHL career.
Chris Summers
2013-14 cap hit: $550,000
Dollars per point: $183,333
Corsi Relative (5v5): -15.9
PDO: 1019
Off Zone Start: 43.4%
The 26 year old was once a promising prospect, drafted in the first round in 2009, when he left the University of Michigan and played for the San Antonio Rampage of the AHL in 2009-10. However after 47 NHL games and only 6 points it is time to move on and give a chance to some of the younger prospects in Arizona.
Thomas Greiss
2013-14 cap hit: $750,000
Dollars per win: $75,000
The 28 year old goaltender from Germany spent the majority of his career with the San Jose Sharks until he signed in Arizona this past season. His numbers were actually better than Mike Smith's this season, albeit in less games played. However he is a solid number two goalie in the NHL and is a known commodity.
Unless he is asking for an atrocious amount of money the Coyotes would do well to bring him back as a stable option behind Mike Smith next season.
http://youtu.be/8SPQRtF93VQ
Salary numbers from CapGeek.com and advanced statistics from BehindTheNet.ca