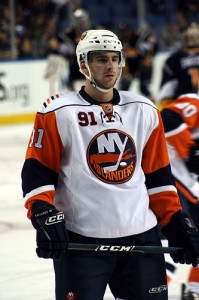 John Tavares was the number one selection in the 2009 NHL Entry Draft for a reason; he is a proven goal scorer that has the ability to dominate and control hockey games. Many wondered if Tavares was heading towards the title of a bust, having disappeared over a long stretch of hockey games before the Olympic Break. It was a rough stretch where barely any goals were scored, let alone points gathered.
However his teammates and coaching staff never lost faith in him, and John never lost faith in himself. When I interviewed him before the break, he acknowledged, as did almost everyone else, that some time away from the game would be beneficial for the 19-year old, both mentally and physically. So far it has been exactly that.
Over the past 9 games, John has scored 13 points, one in which he tallied a season high 5 points against the Vancouver Canucks, scoring 2 goals and 3 assists. This afternoon he was the number one star in a rock'em sock'em match up against the Ottawa Senators. JT had 1 goal and 1 assist and was all over the ice.
I had a few moments to talk to John after the game about his recent play. As fellow blogger Mike Schurlein put it, the Islanders live to die another day with their 4-1 win over the Sens. They are not mathematically eliminated from their playoff hopes, but it is still a drive that is all but out of reach. Therefore, I asked John about the importance of these final games of the year:
"Just to go into the summer feeling good knowing that you played good hockey at the end of the year; we're doing the right things," said John. "I think if you're approach coming into the season feels real good about what's ahead and what you can accomplish and what you can build on, so I think for us that's a good sign for everybody."
Since the break has been over for some time now, I asked John about how taking time away from the ice may have contributed to his recent accomplishments.
"It's good, I think," said John. "I was feeling pretty good physically, I think more towards around Christmas time I was feeling maybe more physically fatigued. But I am starting to feel a little better and I think just mentally I was able to look back and reassess a few things and realize what goes right and what goes wrong and correct those things and do those things that bring success."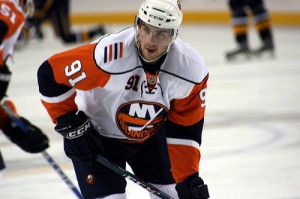 John has been shooting more, blocking shots, making crisp passes and even getting involved physically. He was called for an interference penalty after riding former Islander, Chris Campoli into the glass behind the Senators' net. To the rest in attendance, it looked like two guys competing for the puck and one player being out-muscled by the other.
There had to be at least one major turning point from the break that helped John turn up his game. Maybe it was something that was in the water in Ontario or maybe he started taking more of his vitamins. And that's when it hit me – it must be his mom's veal parm.
"(Laughs) Yeah, it's always nice to be at home around your family. They always help take your mind off things too so it was obviously a nice break."
Tavares is currently number one for the Islanders in points with 49, having scored 22 goals and 27 assists in 78 games played. Although he has heavy competition in the running for the Calder Trophy, he certainly deserves a nomination. If John can carry this production into the start of the 2010-2011 year, the Islanders may finally have the number one scoring threat they have lacked for several years.
As you can see, JT has been proving he is number one in many ways.