Wow.
They always say where there's smoke, there's fire, but in this case, the fire turned out to be the sun. P.K. Subban and Shea Weber switched teams, Steven Stamkos is staying Tampa, and of course, the New Jersey Devils have finally addressed the need for a superstar-caliber scorer by acquiring winger Taylor Hall from the Edmonton Oilers for defenseman Adam Larsson. Again, wow.
A Devil of a Deal
The Devils pulled off what many are calling a heist, or more cleverly, "Larssony". It was the biggest trade the team has made for a forward since surprisingly acquiring Ilya Kovalchuk from the Atlanta Thrashers in 2010, and the first big trade of Ray Shero's tenure as the Devils general manager.
Fans are undoubtedly thrilled about this trade, as they rightfully should be. Adam Henrique, Hall's linemate from 2008 to 2010 with the Windsor Spitfires, seems excited for a reunion. Hall will fill a major hole for a team that finished dead last in goal scoring last season. While Hall will be the talk of New Jersey in the coming days, the Devils now have another major hole to fill left by the man was traded to Edmonton.
Together again! @hallsy04 pic.twitter.com/i93uRfuOfD

— Adam Henrique (@AdamHenrique) June 29, 2016
There was a time when Adam Larsson was projected to be the next Niklas Lidstrom in the NHL. There was also a time when he struggled to earn playing time and was often put in former head coach Peter DeBoer's dog house. During the latter time, many fans wanted to see Larsson trade while he still had some value. Patience is a virtue.
Upon DeBoer being fired by the Devils, Larsson saw an immediate results under the three-headed coaching staff headed by Lou Lamoriello and later by John Hynes. Last season, Larsson flourished as a shutdown defenseman, logging top-pairing minutes with Andy Greene and consistently playing against opposing teams top lines.
Because the Devils front office had patience, Adam Larsson developed into a top-pairing defenseman and it enabled Ray Shero to cash in while his value was at it peak. Now that Larsson is gone, the Devils have a glaring hole to fill on their blue line, and Shero himself acknowledged it.
Filling the Hole Left by Adam Larsson
As it stands right now, the Devils will go into next season with only Andy Greene, Damon Severson, and John Moore under contract. Jon Merrill is a restricted free agent who was not made a qualifying offer, and David Schlemko is an unrestricted free agent. Needless to say, there's work to be done here for Ray Shero and company.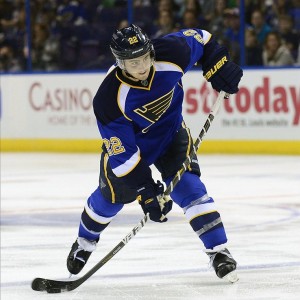 Other than Andy Greene, none of the aforementioned defensemen have been cornerstones on the Devils blue line. Damon Severson has the talent, but has yet to fully earn the trust of John Hynes. Moore and Schlemko were solid last year, but they will never be anything more than that to provide the Devils with a difference maker on defense.
The free agency pool for defensemen is extremely thin as well. The biggest names include the likes of aging veteran Brian Campbell, Jason Demers, Kris Russell, and yes, David Schlemko. While they are talented, none of them could possibly fill the void left by Adam Larsson.
Ray Shero could also elect to go the trade route for one of the big names that has been floating around this offseason, such as Kevin Shattenkirk of the St. Louis Blues or Cam Fowler of the Anaheim Ducks. While their price tags will be high, Shero has been stockpiling draft picks and prospects over the past year and a half. A trade for one of these two is not completely impossible.
Of course, there are also some kids in the New Jersey farm system waiting for their to make an impact in the NHL. The biggest names include Steven Santini, Joshua Jacobs, Reece Scarlett, and Vojtech Mozik. They will all certainly get a long look during training camp and the preseason.
While it would not be the best solution, the Devils could also patch the holes on defense with a combination of youth and veterans. There would not be an impact defenseman, but then again, there was not one when New Jersey went to the Stanley Cup Finals in 2012, or as Bryce Salvador popularly called it, the "No-Name Defense".
The Devils went to the finals with a blue line consisting of primarily Greene, Salvador, Anton Volchenkov, Marek Zidlicky, Mark Fayne, and Peter Harrold. Two of those players are not even in the league anymore, while Andy Greene is the only one still playing at a high level. Those six almost won New Jersey a Stanley Cup.
Whatever it is, Ray Shero will have to do something. When Cory Schneider plays, the Devils have a chance to win every night. While it is completely normal to be excited about Taylor Hall, just remember that Mr. Shero needs to fill the massive hole he created to get him. If he can successfully do that, hockey in April may finally be returning to New Jersey.