The Philadelphia Flyers entered the 2016 NHL Draft with the purpose of stocking the forward cupboards. However, there was also speculation that the team may move up in the draft to get a better prospect or even trade their pick for a player that was ready to enter the lineup right away.
A trade involving players never happened, though the Flyers did trade down in the first round and the type of players that Philadelphia wanted became evident after only a couple picks. Strong two-way players were the club's forte as the team took Russian center German Rubstov and Victoriaville Tigres center/winger Pascal Laberge in the first 36 picks.
As per his usual standards, GM Ron Hextall passed on any opportunities to make a big bang on the draft floor and instead continued to build up a prospect pool that was already considered one of the best among defensemen and goaltenders. With free agency starting Friday at noon and with names like Milan Lucic and Kyle Okposo hitting the open market, plus players like Taylor Hall already traded and Ryan Nugent-Hopkins supposedly on the trade block, Hextall will have a chance to make some big moves.
But don't expect Hextall and the Flyers to do anything major.
Flyers' Needs
It's pretty clear what the Flyers need. Scoring help, specifically in the top six and on the wings. Okposo, Lucic and Andrew Ladd would all be able to help that. They will all also sign contracts worth over $5 million a season.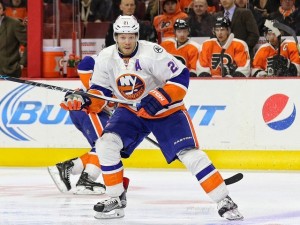 Hextall has said before he doesn't like to fill holes through free agency and despite having almost $12 million in cap space (without Brayden Schenn re-signed), he will likely stick to those guns. Signing any player to a $6 million contract will make it difficult for the Flyers to re-sign Schenn, Nick Cousins, Jordan Weal and possibly Brandon Manning.
However, the biggest reason to not sign one of the big names is that Philly is not ready to contend for the Cup right now. It makes more sense to stand pat, save money and when the time is right, go out and sign a big free agent that should help put the team over the top.
Philadelphia is fine on defense, and may even want to trade a defenseman if Ivan Provorov makes the team. The goalies are set with Steve Mason and Michal Neuvirth returning as the tandem.
But even though the top six seems to be a bigger problem right now for the Flyers, the team could use some help in the bottom six. Ryan White has still not re-signed and will probably explore free agency, and the team could use some scoring help on the bottom lines also.
Flyers' Options
Putting the top six, Lucic and Okposo in the rear-view mirror, things seem to be a bit easier for the Flyers in signing some free agents, even if that means things aren't that exciting. There are a good amount of third or fourth line options that could make an impact — young and old.
Some of the more talked about UFAs are Brandon Pirri and Michal Latta. The two weren't qualified as restricted free agents by the Anaheim Ducks and Washington Capitals, respectively, and are free to speak to other teams.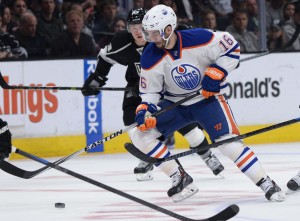 Pirri is 25-years-old, has a 20-goal season under his belt and is versatile throughout the lineup. Pirri doesn't put up a ton of assists, but playing with Claude Giroux or Sean Couturier could help the former Panther help on the score sheet in more areas.
Latta is also 25, but doesn't have the offensive numbers that Pirri has. He could instead be an effective fourth-line center for years to come.
With both players' ages and proven work, they will probably be hot commodities after the big names are gone. If Hextall wants either of them, he should act quickly before prices increase.
As for veterans, Teddy Purcell, Viktor Stalberg and Dominic Moore could be options. Purcell fits more the mold of Pirri as an offensive-type, though Purcell is a better play-maker.
Stalberg and Moore are both dependable defensive fourth-liners. Stalberg would also add some speed to the lineup, which is suddenly on the top of every team's list after the Penguins won the Stanley Cup behind their fast players.
The veteran defensive-reliable pair are more examples of what the Flyers should be interested in, instead of exact targets. Players like Vernon Fiddler, Michael Grabner and Riley Nash fit that mold also.
The Flyers could make a couple signings to improve their team on Friday and the days following. Chances are they will, but don't expect the news to be filled with Flyers signings.
Wes Herrmann graduated from Penn State with a bachelor's degree in journalism in 2014. He used to write hockey for Cardiac Cane and Broad Street Buzz and has loved the game since birth. Follow him on Twitter at @Wes_Herrm or contact him at wherrmann421@gmail.com