There are a lot of adjectives that come to mind when thinking of Team North America's abilities. Young, agile, nifty, gifted, and innovative are just a few things that could be described to use the young bunch. Despite the terrific speed and finesse that this team puts forth, the defensive aspect of Team North America is going to fly under the radar. The face at the forefront of that defensive game is Philadelphia Flyers center, Sean Couturier.
Couturier is just 23 years-old, but he brings a world of skill to whatever team he is playing for and has caused plenty of fits for star players in the past.
So, what exactly can the Arizona native bring to Team North America? Plenty.
An Offensive Threat With a Defensive Mind
If you were to walk up to any Flyer fan and ask them who the team's biggest scoring threat was, their answer would most likely be something along the lines of 'Claude Giroux' or 'Jakub Voracek', Couturier would most likely be an afterthought. In fact, his bread and butter are his defensive play, but that doesn't mean that he can't bring offense to the table.
So just how effective of a two-way forward is Couturier? Let's take a look.
For starters, he actually led the Flyers in even-strength points per 60 minutes at 1.96. When things are put into context, that is incredibly impressive.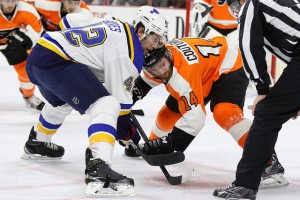 Couturier's zone starts are staggering, to say the least. Last season he took 56.6% of shifts in the defensive zone. That number is historically low for the five-year NHL veteran, over the course of his career, he's averaged 59.8% of his zone starts in the defensive zone. So what does that tell us? Couturier does an excellent job at clearing the zone and manages to create scoring opportunities, the hallmark of a two-way forward, but digging even deeper opens up even more staggering statistics.
You might be thinking as a third line center, that Couturier wouldn't be matched up against the best competition the NHL has to offer, that notion couldn't be further from the truth. Over the course of his career, he has been matched up against some of the most elite player's hockey has to offer. Take a look below at who Couturier has spent the most time on ice against over the course of his career(courtesy of Hockey Analysis):
John Tavares (182:28 TOI)
Kyle Okposo (125:08 TOI)
Alex Ovechkin (122:47 TOI)
Sidney Crosby (114:24 TOI)
Chris Kunitz (101:05 TOI)
Nicklas Backstrom (91:39 TOI)
Steven Stamkos (84:35 TOI)
Couturier has a Corsi percentage north of 50% against every single one of those players except for Crosby and Kunitz, and no player on that list has ever scored more than five points against him. That's remarkable.
Just as a metric of comparison, Patrice Bergeron, who is largely considered the best defensive forward in the league, has allowed seven points in just 102 minutes to John Tavares over the same time period.
The conclusion to all of this? Sean Couturier has a world-class defensive game and is still able to be a legitimate offensive threat, especially at even strength.
What Can He Do For You?
Couturier's two-way game has already been described in detail, so what does that mean for the team of youngsters in the World Cup of Hockey?
For starters, Couturier will be thrust into a completely different role than what he does for the Philadelphia Flyers. He has spent a large part of the past two seasons playing on a line with RJ Umberger and Matt Read, two players who have been virtually nonexistent in the scoring department. Towards the latter part of this season, Couturier saw time with different players and consequently had his best season in the points per game department, averaging 0.62 PPG.
Okay, let's roll. #TeamNA #WCH2016 pic.twitter.com/barbL25Y3c

— Team North America (@TeamNA_WCH) September 11, 2016
As you can see from above, he was paired with Dylan Larkin and Vincent Trocheck. That's a far cry from what he plays alongside in Philadelphia. This will allow him to expand his two-way game even further and create more scoring opportunities for that fourth line.
Make no mistake about it, the primary role of Couturier in the WCOH will be to neutralize some of the World's best players, but having him in the arsenal allows the North American team to present a viable offensive threat. That will prove to be invaluable.
Having him also has a direct effect on the rest of the team. Since Couturier has proven he can be an effective defensive deterrent against some of the top players in the tournament, that will allow North America to match some of their better lines up against the weaker lines of the opponent. Regardless of what the outcome is for the young group of players, Sean Couturier is going a skillset that may go overlooked, but will certainly be an integral part of Team North America.