The Edmonton Oilers have made plenty of newsworthy headlines to start September. The big story out of Edmonton was the professional tryout (PTO) signing of forward Kris Versteeg. Versteeg, 30, creates an interesting battle in training camp and has a legitimate shot at cracking the Oilers opening night roster; if he signs.
The Oilers' former home at Rexall Place also made headlines due to its unknown future. The arena that the Oilers called home for 42 years is tied up in political red tape.
Also, it's been several months since the Oilers acquired defenseman Adam Larsson and traded forward Taylor Hall. However, it's Hall that is still making headlines in Edmonton. More speculation regarding how the deal came to fruition and fan resentment has kept the story alive. Hall himself hasn't been shy regarding his feelings and has been quite vocal in the media.
Training camp is just a few weeks away but here is this week's roundup.
Kris Versteeg Signs PTO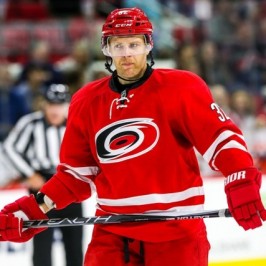 The big story out of Edmonton, as stated earlier, is the Versteeg PTO. The 30-year-old Alberta native is coming off a 38-point season split between the Carolina Hurricanes and Los Angeles Kings. He originally signed with SC Bern of the Swiss National League, due to an insurance issue. A veteran of 550 NHL games with 313 points, he's been a consistent 30-point scorer and may very well fit into a top-nine role with the Oilers. 
Related: Versteeg PTO Increases Pressure on Yakupov
Related: Versteeg Gets PTO… Cue the Speculation
Related: Oilers sign Versteeg to PTO
This signing will challenge  Jesse Puljujarvi, Nail Yakupov and Zack Kassian for ice time. Yakupov, 22, might be feeling the most pressure. The Russian forward has struggled through four seasons and is heading into a "show me" year.
It's likely Versteeg makes the Oilers and plays on the third-line, splitting time with Yakupov. It's entirely possible Yakupov could even start the year in the press box. The Oilers and general manager Peter Chiarelli should be able to get a reasonable bonus-laden one-year deal done for under $1 million. Edmonton has roughly $8.3 million in cap space, according to GeneralFanager.com, using 48/50 contracts. Defense prospects Ethan Bear and Caleb Jones are both on ELCs and likely to slide so the number of contracts is closer to 46/50.
Expect a modest 25-35 point season from Versteeg if he sticks. The Yakupov/Versteeg battle will make training camp worth watching.
---
Rexall Place in Trouble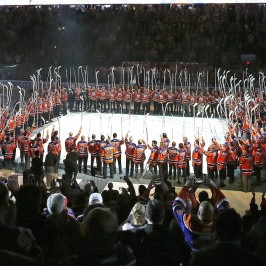 The Oilers are set to start their inaugural season at Rogers Place in downtown Edmonton. However, it's the rink they're leaving that is making headlines. Edmonton City Council recently nixed several proposals and still mulling ideas for the Oilers old barn.
Related: Oilers Home of 42 Years In Trouble
Edmonton city council has the arena tied up in political red tape and the latest ideas for the old barn are to turn it into a two-story six rink multiplex.
The city has a no-compete clause with the new downtown arena and needs approval from the Oilers Entertainment Group (OEG) to host any concerts, entertainment or sporting events. The no-compete will limit their options and ability to have any modicum of success. The new Rogers Place will seat 18,641 fans and had a public viewing on Saturday. The total cost of the new arena was $614.7 million USD.
---
Hall Still Making Headlines in Edmonton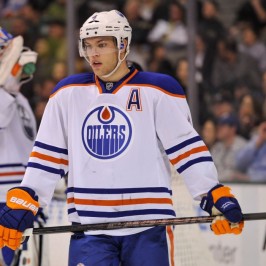 The Oilers traded Hall to New Jersey in late June. It's mid-September, and he's still making headlines in Edmonton. Oilers GM Chiarelli has revamped the team over two summers adding an underrated starting goalie (Cam Talbot), a potential top-pairing defenseman (Adam Larsson) and the likes of Milan Lucic and Jesse Puljujarvi. This team is much more balanced heading into 2016-17 but the trading of Hall is still receiving mixed reviews. 
Related: Hall Trade a Dressing Room Maneuver?
Related: Chiarelli says "No Buyers Remorse!"
Related: The Reason Behind the Hall Trade
Hall, 24, has made it known in the media that he felt he got the short-end of the stick with the Oilers. Chiarelli has been adamant that trading Hall was the cost of doing business and that he had no buyers remorse in doing so. There will be speculation for years, and until both players' careers play out, we won't know who truly won this deal. What we do know is that the Oilers got a lot better this summer with their additions of Lucic, Puljujarvi and Larsson, while only giving up Hall to do it.
---
Lineup Projections & Rumours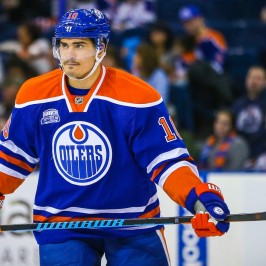 Yakupov might be the most polarizing figure amongst the media and fans in Edmonton. The 22-year-old Russian forward had comparables to Pavel Bure during his draft year and is coming off the worst goal-scoring year of his career. Yakupov put up just eight goals in 60 games and missed 22 games. Still, that total would at best pro-rate to 10 goals over a full 82 game schedule. The Oilers need better output from Yakupov, who has yet to capitalize on his opportunities to move up in the lineup. The Oilers lost 368 man games due to injury in 2015-16, and most of those were to their forward ranks.
Yakupov played up and down the lineup, with protected zone starts and was used primarily in an offensive role. Entering the final year of his contract which carries a $2.5 million cap hit, Yakupov will be a restricted free agent (RFA) this summer. He's been traded by fans on social media a thousand times over in the past few seasons, and he'll have tons of pressure this season to break out.
| | | |
| --- | --- | --- |
| LEFT WING | CENTER | RIGHT WING |
| Milan Lucic | Connor McDavid | Jordan Eberle |
| Benoit Pouliot | Ryan Nugent-Hopkins | Jesse Puljujarvi |
| Patrick Maroon | Leon Draisaitl | Nail Yakupov |
| Matt Hendricks | Mark Letestu | Zack Kassian |
| Iiro Pakarinen | Anton Lander | Jujhar Khaira |
Oilers radio personality Jack Michaels suggested that head coach Todd McLellan might move Leon Draisaitl to right wing to load up the top six. McLellan did something similar with his stars in San Jose, and it'll be interesting to see if he uses this strategy in Edmonton. If so that would once again put Yakupov on the third line.
On the PTO front, several media members in Edmonton speculated that the Oilers might've offered Mike Richards a PTO last week. Chiarelli said the team was looking at several unnamed free agents, but they're essentially done making moves. The Richards talk has seemingly died down, and it's looking like that might be more speculation than substance at this point.
Related: Is This Anton Lander's Last Year in Edmonton?
Related: Draisaitl Moving to RW? Richards Offered PTO?
Training camp is going to be big for a few Oilers. Anton Lander, 25, is entering the final year of his contract and coming off the worst year of his career. A healthy scratch in 19 of the final 32 regular season games, Lander is battling for one of the final roster spots. He's in danger of being passed over by several others including Iiro Pakarinen, Jujhar Khaira, Jere Sallinen and Drake Caggiula.
It'll be interesting to see how this shakes out, but this could very well be Anton Lander's final year in Edmonton.
Edmonton Oilers regular contributor providing insight on all things Oilers including club history, prospect profiles, trade breakdowns, and everything else in between. Check back regularly for new and exciting content. Follow on Twitter @SanderTHW.