This could very well be forward Anton Lander's last year with the Edmonton Oilers. The 25-year-old from Sweden has struggled to gain traction in the Oilers lineup and had the worst offensive year of his NHL career scoring just three points in 61 games. Over the past few seasons, Lander had bounced in and out of the lineup but nothing like last season.
Lander was a healthy scratch in 19 of the Oilers last 32 games of the regular season and saw his ice-time diminish to as low as 8:51 TOI during that stretch. That wasn't even his season low which was 7:02 TOI on December 2, 2015, against the Boston Bruins. It's alarming considering how he came on at the end of the 2014-15 season with 20 points in 38 games. Lander took huge strides forward at the end of that year under interim head coach Todd Nelson.
Related: Lander Signs Two-Year Extension with Oilers 
Related: Lander Finally Hitting His Stride with Oilers
It's why Todd McLellan coming in as the Oilers head coach in 2015-16 gave Lander every opportunity to improve his position in the Oilers lineup. McLellan even gave him a season-high 19:09 against the rival Calgary Flames on October 17, 2015. Lander went on a horrendous cold-streak scoring his first point in the Oilers 22nd game of the season. It took Lander until the Oilers 64th game of the year to score his first goal of the season. Those are some incredible cold-streaks when you really delve into the statistics.
With all the injuries the Oilers had in 2015-16, remember they lost 368 man games due to injury, you'd think Lander had a golden opportunity to break out. Instead, he had the worst year of his career and was passed over for several AHL call-ups who were given opportunities over him.
Oilers Current Offensive Depth Chart
Entering the 2016-17 season Lander finds himself battling for position as one of the Oilers extra skaters, the 13-14th forward spot. From all accounts, Oilers GM Peter Chiarelli said he is done making moves for the foreseeable future aside from offering an unnamed player a professional tryout (PTO) and waiting to hear back.
The Oilers GM is looking at a "few" other players but what we see is likely the Oilers roster heading into camp.
Related: Oilers Recap: Moving Draisaitl to RW, Richards Offered PTO?
Related: Health Will Be Key Factor in Oilers Success
There is the possibility that McLellan moves forward Leon Draisaitl from center to right wing thus opening a hole at center for Lander to possibly skate as the Oilers fourth-line center. Much of that is out of Lander's hands. If a center like Mike Richards walks onto the Oilers on a PTO and wins a roster spot it'll have a negative impact on Lander. The Oilers are high on the fourth overall pick Jesse Puljujarvi and by all accounts has a great opportunity to win the number two RW job in camp.
If Lander has a shot at making the lineup it'll be with 1) Draisaitl moving to RW combined with the Oilers sending Puljujarvi to the AHL and 2) if he outbattles Letestu in training camp which seems unlikely at this point.
| | | |
| --- | --- | --- |
| LEFT WING | CENTER | RIGHT WING |
| Milan Lucic | Connor McDavid | Jordan Eberle |
| Benoit Pouliot | Ryan Nugent-Hopkins | Jesse Puljujarvi |
| Patrick Maroon | Leon Draisaitl | Nail Yakupov |
| Matt Hendricks | Mark Letestu | Zack Kassian |
| Iiro Pakarinen | Anton Lander | Jujhar Khaira |
Lander Losing Ground to Next Crop of Oiler Forwards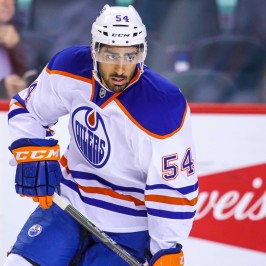 The biggest hurdle for Lander is going to be trying to stave off the next crop of Oiler hopefuls. Jujhar Khaira, 22, had a good showing in 15 NHL games scoring two points and playing a utility role in the bottom-six. Drake Cagguila, 22, is a college signing that Oilers brass is very high on. Anton Slepyshev, 22, has solid offensive instincts and is an ideal top nine forward for the Oilers if he continues developing. Slepyshev outbattled Lander in camp last year and started the year playing with Connor McDavid due to the Jordan Eberle injury. Taylor Beck, 25, was signed as a UFA and brings a similar skill set as Lander.
Jere Sallinen, 25, had tremendous showings in Europe and has returned to the NHL. The team hopes Sallinen can develop into a reliable two-way bottom-six forward. There's a guy who stuck with the Oilers all year in Iiro Pakarinen, 25, who has moved ahead of Lander on the depth chart thanks to a 15 point performance in 63 games. That's almost exactly the same number of games Lander played. Tyler Pitlick, 24, is also on his last legs with the Oilers and looking to make an impact after being the 31st overall pick in the 2010 NHL Draft.
There is a lot bubbling underneath Lander and he seems to be caught in no man's land right now as the 13-14th forward on the depth chart. A two-way center who thrived in junior and in Europe might be on the outs in Edmonton. The former 40th overall pick in 2009 projected as a solid shutdown center with scoring upside when he was drafted but outside of 20 points produced in 38 games two years ago. We're talking about a guy who was captain of the Swedish WJC team in 2011, the Oilers AHL captain for two years in Oklahoma City. His development has halted and he's a fringe NHLer at this point in his career.
There is too much talent ready to break into the Oilers bottom-six.
If Lander doesn't break out in 2016-17 he'll either be traded for a middling draft pick or be looking for a new team next summer.
Edmonton Oilers regular contributor providing insight on all things Oilers including club history, prospect profiles, trade breakdowns, and everything else in between. Check back regularly for new and exciting content. Follow on Twitter @SanderTHW.