The Edmonton Oilers officially signed Kris Versteeg to a professional tryout (PTO) on Friday. If this turns into an actual NHL contract, it adds some much-needed depth at the right-wing position for the Oilers, who currently have some question marks at that position. More importantly, if Versteeg wins a job on the Oilers right-side, it could signify the beginning of some changes to the Oilers current NHL roster.
— Darren Dreger (@DarrenDreger) September 9, 2016
Jordan Eberle
The least likely change, but one that has a few people with some big theories buzzing, is that Versteeg's arrival means Eberle is leaving so that the Oilers can land that much-needed offensive defenseman they have been coveting over the summer.
If Versteeg & Puljujarvi can play, Eberle is expendable & could return the 2nd pair RHD they need so badly.

Ebs for Hamonic redux? #Oilers

— Jim Roepcke (@JimRoepckeOilrs) September 9, 2016
I don't see this as a likely scenario. I suppose anything can happen in the NHL but Eberle is the only right-winger on the Oilers roster with a proven history of top-line success and productive offense in a top-six role. He's clearly a first-liner in the NHL and can be moved into a second-line role based on chemistry with his linemates. With multiple 60-plus-point seasons, he's the only right-wing that shouldn't be traded unless the return is too valuable to pass up.
Nail Yakupov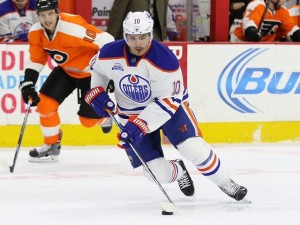 There were rumors of Yakupov being shopped during the summer and around the draft. The return was minimal so the expectation was that Yakupov would return to the Oilers to try and rebound with a strong season, eventually solidifying his value as a high-pedigree prospect or propping his value enough for a trade.
If Versteeg is successful in his bid to land or perhaps steal one of the right-wing spots on the roster, it could leave Yakupov on the outs. He's already being looked at as a prospect not suited for the third-line, but not warranting consideration on one of the top lines. If Yakupov can be moved or packaged to add a different piece, the Oilers may consider it.
The alternative is that Versteeg gives the Oilers some flexibility to try Yakupov in a first-line role with Connor McDavid, where he has a history of strong production. It moves Yakupov out of a third-line role where he's likely not well suited and into a role meant to showcase what is supposed to be a strong scoring prowess.
@SanderTHW @loc8ingoil yaks starting on line 1 bank on it versteeg battling for the 3-4 spot

— McCRISP (@Oilershockey365) September 9, 2016
The long-shot bet here is that Versteeg, who has a bit of experience playing center, is potentially a fit with Yakupov on a third-line that has some ability to score. Yakupov did have some success on a third-line a couples years back with Derek Roy and this move could be trying to rekindle that kind of chemistry.
Jesse Puljujarvi
Puljujarvi was drafted in this year's NHL Entry Draft at fourth overall. By all metrics, he appears NHL ready, but perhaps the Oilers are finally making moves not to rush a highly-touted draft pick into the NHL on day-one. If so, Versteeg gives the Oilers flexibility to start Puljujarvi in Bakersfield in the AHL and move him up only when he's ready.
If Oilers decide Puljujarvi better off starting in AHL, Versteeg can step in 3rd line. Or if Oil trade Yakupov for a dman, Versteeg covers.

— David Staples (@dstaples) September 9, 2016
This is simply a depth scenario for the Oilers that has no risk attached to it. The Oilers are not bound to Versteeg and if Puljujarvi shows that he is NHL ready out of camp, Edmonton has no obligation to offer Versteeg a contract.
My Speculation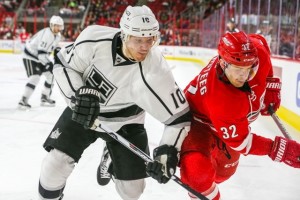 I wrote some earlier pieces about the Oilers trying Leon Drasiaitl at the wing. I also contemplated where exactly Ryan Nugent-Hopkins fits in on the Oilers depth chart. Versteeg adds more intrigue to all these questions, but also may provide a bit more clarity to the frame of mind of the Edmonton Oilers.
Three scoring lines in the NHL is a rarity, but it's not unheard of. Versteeg has multiple 30, 40 and 50-plus-point seasons on his NHL resume. He's not the biggest player in the NHL, but he's gritty, is a proven winner and has 550 NHL games experience to call upon. His potential signing adds depth and flexibility and creates the opportunity to ice a dangerously offensive third-line of Draisaitl, Patrick Maroon and Versteeg.
Because the risk to a PTO is non-existent to the Oilers, it makes giving Versteeg an opportunity on a team where he has a good chance of winning a job a no-brainer. It adds depth in the event of injury and it gives right-wingers with less experience time to get their feet wet.
I can see why fans of the Oilers will start to guess at ways the signing of Versteeg to a PTO means the other shoe is about to drop. For now, I view this move as a depth move with no downside. The Oilers will find a way to get everyone in the best possible spots to succeed and coach Todd McClellan will have a ton of options comes opening night of the 2016-17 regular season.