---
The Hockey Writers coverage of the World Cup of Hockey 2016 is being brought to you by PrimeSport, the official Fan Travel & Hospitality Package Partner of the World Cup of Hockey 2016.
The main thing we learned from Canada's two pre-tournament games against the U.S was that they play better without Sidney Crosby. (Don't worry, I'm absolutely joking). No, it wasn't the absence of Crosby, but rather the presence of Corey Perry that helped lift Canada over their bitter rivals. Perry played as he if he was trying to show management that not only should be in the lineup, but he should have been named to the original roster. Perry had two assists and played a feisty game that was much-needed against the US. What else did we learn? John Tortorella and his squad of goons clearly has a game plan.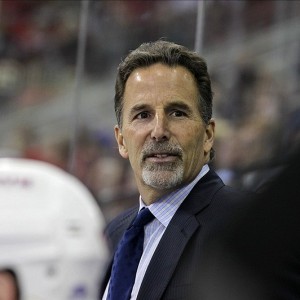 Team USA Lowered the Boom in Game 1
For an exhibition game that meant nothing in the standings, and was the first real contest for these players all summer, the intensity level had a playoff-like atmosphere. Canada and the US are major rivals on the international scale, and they played like it this past weekend. Ryan Kesler was ejected (of course he was), and several Canadian players found themselves nursing injuries throughout the contest. For one night at least, USA's physical brand of hockey appeared to work wonders, as they came away with a 4-2 in the first game.
A lot of America's skill is either on the under-23 team, or sitting back at home, so it seems pretty obvious they went the way of truculence and grit for this tournament. Don't get me wrong, there's a lot of skill in that lineup, but the style of play leaned heavily towards taking the body, and pushing Canada around as best they could. It's an interesting strategy, and perhaps that's why they chose Torts as their head coach. I would imagine NHL GM's were cringing the entire time, watching their million dollar investments get pummeled in the most unimportant of games.
Canada expected a lot of physicality, but they didn't seem to have a counter for it. Well, to be honest, it was Jonathan Quick they didn't have a counter for. The Kings goalie was spectacular at times, and other than a few outbursts by the Americans, Canada controlled the play, and had the majority of possession. They out-shot the Americans, and had the edge on the powerplay. You could argue they were the better team through both games, but couldn't find the results on Friday night. They handled themselves quite well in the second game, however, winning 5-2.
Goaltending Questions for Canada?
Another issue for the Canadians in the first game was the apparent rust from Carey Price. The good news was that he emerged from the game no worse for wear, and I would imagine he'll continue to get more comfortable as the tournament progresses. Braden Holtby allowed both US goals in the second game before Corey Crawford came in to finish. Crawford was perfect, and looked like the better of the three netminders. Unfortunately for him, he'll probably be watching from the press box when the games start to matter, but it's nice to know they have options.
McKenzie: "I don't think there's any doubt in my mind, or Mike Babcock's," that when Canada plays the Czechs, Price will be in net. #WCH2016

— Chris Nichols (@NicholsOnHockey) September 12, 2016
At the moment, the net is Price's to lose, but as we've seen in previous international games, a change will be made if necessary. Martin Brodeur lost the crease at the 2010 Olympics in favor of Roberto Luongo. Mike Babcock, who was the coach of that team, had this to say regarding the move: "We're in the winning business and to win in any game, at any level, you need big saves, you need momentum-changing saves." [Telegraph]. Now obviously the situation was slightly different, as Brodeur was 37 years-old and on a shorter leash.
It's to be expected that Price will have some ups and downs in his return from injury, but Canada won't wait on him to figure it out when games are on the line. Both Holtby and Crawford are extremely capable, so I don't see it as a drop down. In the 2014 Olympics, it seemed a given that Luongo would be the guy for Canada, but his season leading up the games was disappointing, and it was Price who was there in the end. Goaltending probably isn't seen as Canada's deepest position, but I have confidence in all three guys going forward.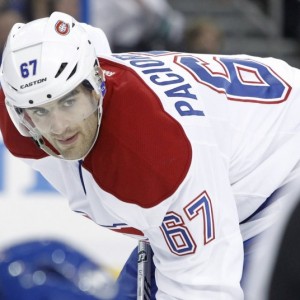 Line-Up News and Notes
Claude Giroux didn't practice with Canada on Monday. He was deemed to be taking a "maintenance day", though you have to wonder if he's 100% after taking some hits on Friday. I like the insertion of Perry, however, and wouldn't be surprised if he remains there for Canada's last tune-up game against the Czech Republic. I know a lot of fans don't care for Perry's brand of hockey, but he's a valuable player to have against the US because of his tendency to match their style.
On the American side, it looks like Max Pacioretty is already in the coaches doghouse. Coach Tortorella had this to say about the Habs captain's ice time: "He's got to give me some reason to give him more minutes here. We'll see where it goes. We know he's a really good player, great kid, we've just got to get a bit more out of him." [Ottawa Citizen]. Pacioretty is one of the more skilled players on the US side, but it seems as though Torts will continue going the route of dirty hits and cheap shots rather than trying to out-perform Canada.
The first real game between these two will be on September 20th. Canada isn't going to shy away from going toe-to-toe physically with the States, as they proved already, but they're the more skilled team, and they're going to play like it. The US is good enough to win, there's no doubt, but I suspect Canada will stick to what has made them successful in the past. Their defence so far hasn't been as smothering as it was in Sochi, the loss of Duncan Keith is likely one source of that. Not having Jamie Benn and Jeff Carter up front hurts as well.
But Canada is still stacked, and playing two games in a row vs. the USA gave them plenty of understanding of what the Americans plan to throw out there. I think Canada will be able to overcome it, but nothing is a guarantee. As I always say, that's why we play the games.
---
The Hockey Writers coverage of the World Cup of Hockey 2016 is being brought to you by PrimeSport, the official Fan Travel & Hospitality Package Partner of the World Cup of Hockey 2016.