There can only be one king, and no king can rule forever. For over a decade, Henrik Lundqvist has been the constant number one goaltender of Sweden. During those years, He's served as a lone monarch and the national team as his kingdom. But for how much longer? And who will replace him?
It is likely that the 2016-17 NHL season will go down as the spark of a shift in Swedish goaltending dominance. Although Lundqvist still rules the New York Rangers to some extent, truth be told that the 34-year-old has been questioned more than before. And "King Henrik" has, indeed, struggled.
Apart from reaching the milestone of 400 wins in the NHL, this year has been an unusually bumpy experience for him as he's been consistently inconsistent. That, however, isn't nearly enough to devastate his royal empire. Both in the NHL and, as importantly, internationally, wearing the Three Crowns jersey.
What Lundqvist has done for his country, with the 2006 Olympics gold medal as the undisputed highlight, no one can ever take away from him. You could even argue that he's the best goalie in Swedish history. You would probably be right.
That being said, there was a time before him, and, inevitably, there will be a time after. A post-Lundqvist era, if you will. My point is that we will be entering that period pretty soon. If we haven't already.
Lundqvist's Heritage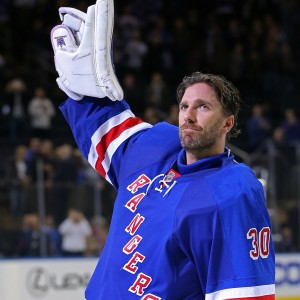 With this post, as you may have figured, I don't aim to re-evaluate Lundqvist's role within the Rangers, but instead to focus solely on the Swedish matter here. With the 2018 Olympics approaching, leaving the question of the NHL's participation aside, team Sweden's decision on which goalie they want to invest in as their first choice will be an interesting one to follow.
It's important to remember that Sweden's proud goalie tradition extends beyond the Lundqvist era, through historic names such as Pelle Lindbergh and Tommy Salo. Lundqvist, however, has helped to popularize the goaltender image in a whole new fashion. Basically, just by Henrik being Henrik, he is a contemporary icon in the eyes of both young and old hockey fans.
On the other hand, a game that is all about winning cannot be anything other than mercilessly unsentimental. And therefore, the best goalie should be put on the ice, with no exceptions. So, if Lundqvist is no longer the best goalie in Sweden, his crown should be passed on.
Two Suitable Successors
After the World Cup of Hockey in 2016, I wrote a speculating piece on the topic of how the Swedish roster would come to look like in four years time. Interestingly, as of now, it appears that team Sweden will remain rather unaltered by then. The three goaltenders that made the roster in 2016, is projected to do the same in 2020. Thus, these three goalies are likely to represent team Sweden in the 2018 Olympics — if they are allowed by the NHL.
Jacob Markstrom
In the article about team Sweden's 2020 World Cup roster, Markstrom was set out as the intended number one netminder. Not Lundqvist.
This season, Markstrom has played the role of a back-up, or perhaps more of an alternate, behind Ryan Miller of the Vancouver Canucks. With a save percentage of .910 in 26 games so far, the Swede has had nothing to be ashamed of. We know that Markstrom's top-level is extremely high, and as always his biggest concern is reaching that level more often. And with fewer dips.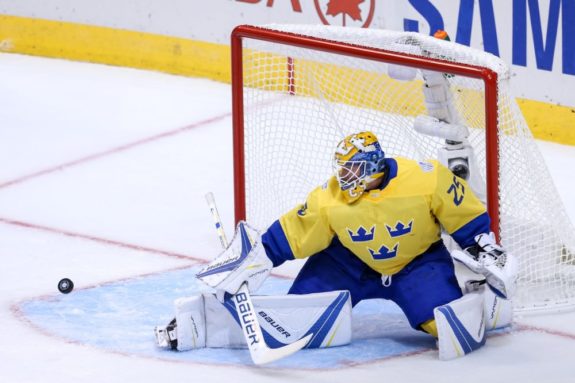 Can Markstrom live up to the responsibility of replacing Lundqvist in the future? Yes, potentially. For that to happen, however, he needs to step up his game even more and he needs to do it quite soon. At 27-years of age, he can't live on his unfulfilled talent and potential much longer. He can be better than that.
Robin Lehner
One of the most positive outcomes for the Buffalo Sabres this year is without question, Robin Lehner. Despite the fact that the wins haven't come regularly for the Sabres and Lehner, he still places himself at seventh place in the NHL's goaltender ranking in terms of save percentage. After 42 games, Lehner holds up to a solid .925 in that column, an improvement on his numbers from last year.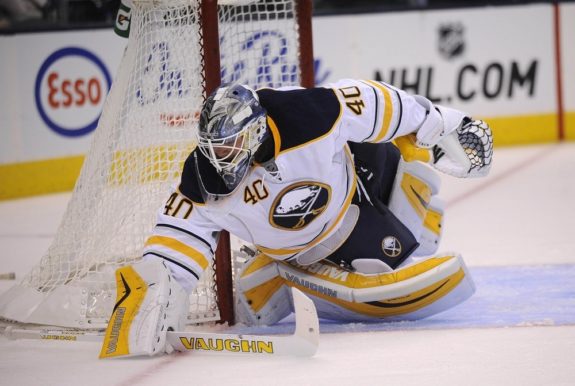 Lehner's performances this season has been so impressive that I would actually like to change my vote to him being Sweden's number one goalie by 2020, not Markstrom. Evidently, Lehner has found great power from great responsibility in Buffalo — and he is only 25-years old. In other words, time is on his side.
Still Number One
The discussion which I have drawn on here focuses as much on the future as on the present; we can only say something about tomorrow by looking at today.
So, to return to the two questions asked in the first paragraph — for how much longer will Lundqvist be the dominant force of Swedish goaltending? And who will replace him? Well, this is ultimately a question of which goaltender is the best in Sweden at this time.
In spite of Markstrom's elite-level potential and Lehner's sort of breakthrough season, I would argue that Lundqvist still belongs in a league separate from them. Therefore, he remains number one, at least for now. He acts within his own category, one might say. Which, of course, makes it even more grueling to admit there will be a future without him.
Having said that, I'm not at all worried about the future of Swedish goaltending. Not only Markstrom and Lehner, but a number of other next-generation goalies are on their way. Anton Forsberg, Felix Sandstrom and Linus Soderstrom to mention a few young prospects worth to keep an eye on.
Though, we should never overlook the impact on Swedish goaltending that Henrik Lundqvist has made during his career. If any king could rule forever, it would be him.