Hey. Hey you. Yes, you. Looked at the National Hockey League standings lately? No? Here, take a peek. Before you do, make sure to swallow any beverage you've been consuming.
Yes, you're reading that correctly; the Florida Panthers, once (well, let's be honest, more than once) the laughingstock of the NHL, are 8-1-1 in their last 10 games. Not only is that the best record in the entire league during that stretch, but it has vaulted them into a playoff spot. Yes, it is the second wild card spot, meaning they would likely face one of the Metropolitan Division powerhouses in the first round. And yes, we have indeed seen this before; the Cats won 12 straight games at one point last season.
Here Come the Panthers
However, points are points, and whatever way you slice it, the Panthers are in contention. In fact, heading into action against the Edmonton Oilers, Florida is only six points out of first in the Atlantic Division, with two games in hand on the division-leading Montréal Canadiens. The second-place Ottawa Senators have a rash of injuries to top-end talent. The upstart Toronto Maple Leafs, just a single point ahead of the Panthers – and having played one more game – are about as reliable as a mid-90s Ford. Panthers President of Hockey Operations (sorta, kinda, maybe) Dale Tallon has indicated that the team will be looking to buy at the trade deadline. Buckle up, folks. This is gonna get good.
Since the beginning of their streak, a 3-2 overtime loss to the Arizona Coyotes on Jan. 23, the Panthers have the second-most points in the NHL with 17. What's even more amazing is the fact that only one team has played fewer games during this stretch than Florida's 10 (the Boston Bruins, at nine). So what's behind all this success? Well, it turns out it's tough to figure.
Poor Possession Patch
The Panthers' Corsi-for numbers over these 10 games have been sub-par. Whether you put their 48.19 percent rating up against the league's 29 other teams for this stretch only or situate it within the entire 2016-17 season, the Panthers rank ninth-last in possession. In contrast, prior to this jolt of success, the Cats ranked ninth from the top in Corsi-for, at 51.28 percent.
Embedded within possession numbers are shots. Despite the 8-1-1 record, the Panthers are giving up the second-most shots against in the NHL, generating just 47 percent of a game's total shots. Correspondingly, Florida is generating the third-fewest scoring chances in the league. Neither figure is helped by the second-lowest faceoff winning percentage, at 45.63 percent.
Offensive Awakening
That said, the Panthers have struggled mightily all season on the offensive side of the puck, only expecting to score 2.27 goals per 60 minutes – fifth-fewest in the league. This number has literally not changed, despite the recent success. What has changed is the team's shooting percentage, which has jumped from a grisly 5.96 percent (second-lowest) to 10.39 percent (second-highest) over these 10 games. Any time 74 percent more pucks are going in, you're going to see success.
As a result, the 2.27 expected goals figure is wildly inaccurate. Whereas previously, the Panthers' actual goal production was 1.84 per 60, it has shot right past the expected marker to 3.12. Combine this with the solid, steady goaltending of Roberto Luongo and James Reimer – along with the fact that this hot spell has seen the tandem exposed to the fifth-fewest scoring chances, and you've got yourselves a team that is swiftly overtaking their wheel-spinning divisional rivals.
Confounds and Confusion
During a period such as this, one would expect to see at least some stats that jump out at the observer, providing an explanation for the anomaly. However, the Panthers' team save percentage, though decidedly good, is not otherworldly. Their power play has actually been worse than usual, converting a pitiful 12.9 percent of the time (compared to 14.9 percent on the season). A 90.6 percent penalty kill is a definite bonus, but the Cats are rolling at 85.2 percent for the year, so there is not much difference there, either.
If anything, the Panthers' play has regressed during the streak. They've gone from an even spread of shots – 31 for and against per 60 minutes – to a lackluster average of 30 shots for and 34 against, to go along with their aforementioned possession struggles.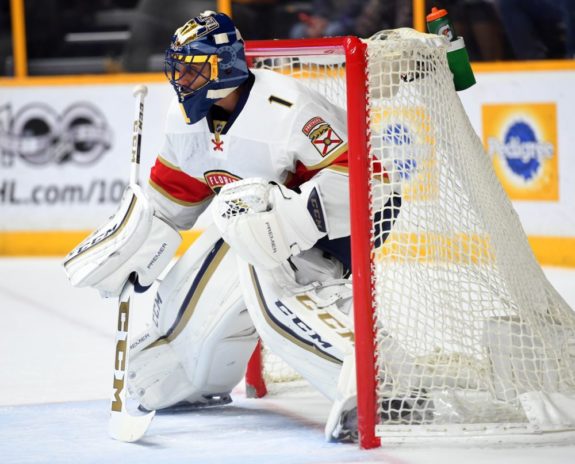 Buckle Up
We can scratch our heads and crunch the numbers as much as we like. Believe me, I have. Occam's razor suggests that the simplest explanation is often the correct explanation. So let's go with the assumption that the Florida Panthers have been exceptionally lucky during this streak. Surely, scoring nearly a goal per game more than expected cannot be indefinitely sustained. The same goes for continued success despite poor possession play.
However, the Panthers have been serious underperformers for most of the season. It got a coach fired, remember? Injuries to star forwards Jonathan Huberdeau and Aleksander Barkov didn't help, but it is reasonable to assume that the Panthers have been just plain unlucky this year – at least up until Jan. 23.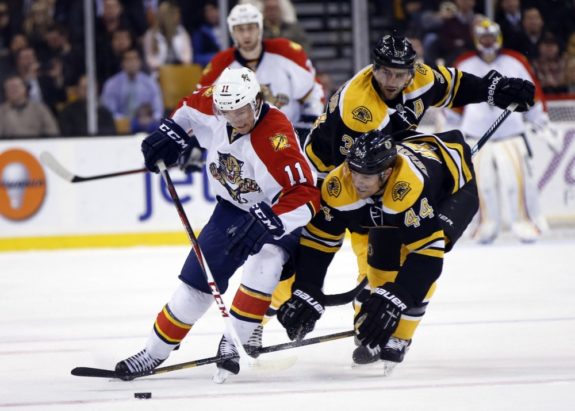 This is a team that won 12 straight games last season. They seem to be on another such streak again. Are they really THIS good? Well, no. But they aren't nearly as bad as we've seen for most of the year, either. The Cats were due for a run of good luck; now let's see how far they can take it.
Anybody else looking forward to the stretch run?
(All advanced stats are thanks to Corsica. All metrics are at five-on-five unless otherwise specified.)
Peter Ferrell covers the Florida Panthers and Toronto Maple Leafs, with a side of jersey and logo (over)analysis, for The Hockey Writers.