The Toronto Maple Leafs beat the Edmonton Oilers on Tuesday in dramatic fashion. An overtime loss now has the Oilers faced with their first two-game losing streak this season and in those games, Edmonton's leading goal-scorer and arguably the best player in the NHL has been held pointless. Is the fact that McDavid hasn't scored in two games a precursor to his breaking out with a multi-point explosion or is this something the Edmonton Oilers and its fans should be worried about?
Nazem Kadri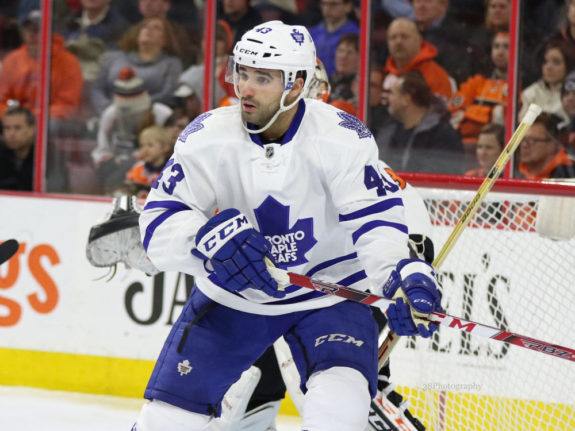 Credit where credit is due. Nazem Kadri had one heck of a game on Tuesday. Toronto's third-line center scored two goals — one being the game-winner in overtime — and was in the face of McDavid all night long. Kadri was the best player on either side of the ice and his performance should be something that pleases Maple Leafs fans.
Coach Mike Babcock used Kadri often when McDavid was on the ice. Compared to Auston Matthews relatively quiet 22 shifts in the hockey game, Kadri got 27 shifts and most of them were of the irritate McDavid variety. It was a strategy that worked effectively.
Kadri was asked after the game to comment on his assignment to play opposite McDavid and he said this about one of, if not, the best players in the NHL:
He's a great player and if you're not hard on him he's going to embarrass you. I didn't feel like getting embarrassed tonight. Like I said, he's a special player and if you give him space he's going to make you look bad so I tried to just limit his time and space.
Maple Leaf coach Mike Babcock was also pleased with Kadri's game and made reference on his approach to playing against McDavid. In his press conference after the game Babcock noted:
You jam a guy out there every shift, like three in a row, it's hard to have the same pop. I never expected the guy to play that much. He's a good player and all, but so is Nugent-Hopkins.
Is Babcock Onto Something?
At the end of the day, an Oilers team that was leading the NHL in goals scored now has only two goals in its last two games and currently ranks eighth in the league.  The Leafs were able to shut down McDavid by hounding, mauling and hanging off of him on almost every play.
Toronto's game plan of mauling McDavid with impunity works to perfection. I kinda wonder about the impunity part but what do I know

— Bruce McCurdy (@BruceMcCurdy) November 2, 2016

In the first period of Tuesday's game, McDavid played over eight minutes and of those eight minutes Kadri was often in McDavid's grill, offering a shove or a push after the whistle. It was a strategy McDavid often laughed off and the type of play he's probably used to seeing with his elite skill level, but it worked. 
The Oilers tried to overcome the obstacle by playing McDavid more. He played the most time of any forward receiving 22:46 over 32 shifts. It wasn't far off from the 22:20 of ice time McDavid received versus the Senators. The basic philosophy lately has been, if the Oilers can't get that spark they need, they call upon McDavid. 
The Oilers Without McDavid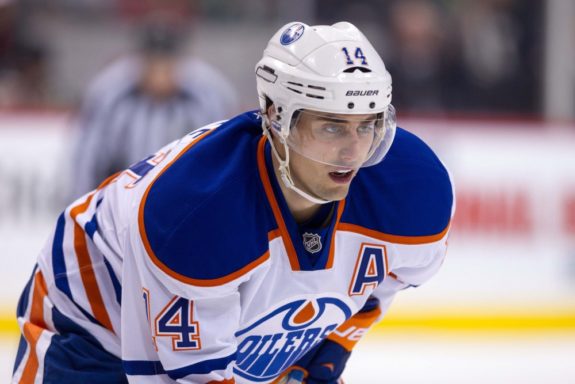 McDavid is clearly the best player on the ice in any given game, but is this too much? Are the Oilers and the coaching staff relying too heavily on their superstar?
Perhaps McDavid saw 32 shifts because he's just that good. Perhaps it's because his teammates aren't offering the necessary support required to keep him from having to play all the time. Over the last two games, making it exclusively about McDavid hasn't worked and he could use a little help. 
When McDavid isn't going, the Oilers have issues. That said, it's not for a lack of shot production. Unlike earlier seasons contests where the Oilers were out-shot but winning games, against both Ottawa and Toronto, Edmonton out-shot their opposition. Against the Leafs, Edmonton managed 46 shots at goaltender Frederik Andersen. Four of those were from McDavid. Against the Senators, it was a 37 shot performance, only two of which came from the Oilers captain.
McDavid- tough night. His wingers have to provide more support -they know it. 83 shots last 2 GP-2 goals. Not greasy enough around the goal

— Bob Stauffer (@Bob_Stauffer) November 2, 2016
Plain and simple, the rest of the team is shooting but coming up short. There is little scoring support and the shots being fired at the opposition aren't of the dangerous scoring chance variety. For the Oilers to be effective, something needs to change. If McDavid is going to get jammed up all game long, the rest of the Oilers need to see this as an opportunity to get in there and make the opposition suffer for ignoring them. 
Is There a Solution?
Two losses in a row mean people are going to suggest switching lines and making changes. In some ways, like the Oilers ineffective power play, that's required and a sound idea. However, in other ways, the Oilers are still playing well enough to win, they simply need to make subtle changes and keep two philosophies in mind.  
'Philosophy A' should always be — never to let teams take liberties with your star player. 'Philosophy B' should be — if your opponent is going to spend that much time and effort shutting down your superstar, your depth scoring needs to make them pay for it.
In that last two games, the Oilers haven't followed either philosophy very effectively. Can they? Or, will McDavid just find a way around the problem? He is that good, so perhaps it's possible. It would be nice, however, if he didn't have to.