Each Friday, Ten Fantasy Thoughts brings you valuable insight to line changes, buy-low candidates and updates on why a player may be struggling or surging for the past few weeks. This week, Ten Fantasy Thoughts will be discussing Kurtis Foster's powerplay potential, Darryl Sutter's new lines in LA and more.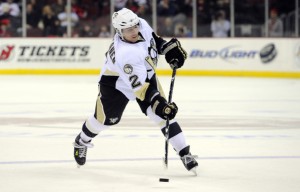 Kudos to the quarter of leagues that have Matt Niskanen on their teams. In the remaining three quarters, he is sitting as a free agent. Niskanen has been spectacular over the past couple of weeks playing on the top powerplay unit for the Pittsburgh Penguins. He has eight points in his last six games with five of them coming with the man advantage.  Kris Letang has not yet returned to the ice for practice, giving Niskanen the opportunity to continue his offensive dominance.  As long as Evgeni Malkin keeps producing, Niskanen will keep drawing assists.

Justin Faulk will be dearly missed by the American World Junior team.  Faulk has played over twenty minutes a night for the Carolina Hurricanes since his fourth game of the year. He may sit at minus-nine for Carolina, but who isn't a minus player in Raleigh? Since Tomas Kaberle was dealt to the Canadiens, Faulk has been playing top powerplay time alongside Jaroslav Spacek. The nineteen year-old sits at 0% owned on Yahoo!. Speaking of the World Juniors, here is a roster breakdown by NHL teams: https://thehockeywriters.com/world-junior-roster-breakdown-by-nhl-team/

A little over a week ago, Kurtis Foster was involved in a minor trade to the Devils and it is proving to have great implications for the fantasy world.  Foster has been playing on the top powerplay unit next to Russian sniper, Ilya Kovalchuk. With the addition of Foster, the Devils powerplay no longer needs to rely solely on the traditional Kovalchuk one-time blast but can now draw some more focus from an alternate scoring route.

Carl Hagelin has not skipped a beat since being called up by the New York Rangers. The former Michigan Wolverine star has recently been lining up next to playmaker extraordinaire, Brad Richards and the hard-nosed captain, Ryan Callahan. Hagelin has seven points in fourteen games this season despite playing less than twelve minutes in eight of those games. Hagelin also adds a boost to the shorthanded category having two shorthanded goals on the year. Carl Hagelin shorthanded goal on Martin Brodeur

Mark Barberio currently leads the AHL in points for a defenseman playing for the Tampa Bay Lightning's farm team, the Norfolk Admirals. He has 26 points in 28 games and holds a fantastic plus-nineteen rating.  He has a left-handed shot and with the Lightning holding a weak pipeline for defenseman, the stars could be aligning for Barberio to take over in a year or two.
Kyle Turris finally picked up his first point of the season on Tuesday, which was also his first game as an Ottawa Senator.  While he did look tentative in front of the Ottawa crowd, he played a smart game, which holds a lot of weight in rookie coach, Paul Maclean's strategy.  He'll be playing on the Senators second line and when Michalek eventually returns, Turris will have either Alfredsson or Michalek as a likely linemate.  Turris was a former first rounder in 2007 and was drafted by Gretzky's crew.  If The Great One saw something, shouldn't he eventually be an NHL talent?
A little bit of a shakeup to the Kings lines as Richards returned and Darryl Sutter made his coaching debut: Gagne-Richards-Lewis; Richardson-Kopitar-Brown and Penner-Stoll-Williams. Despite a deep forward chart, the Kings still only managed to score two against the Ducks last night. The powerplay returned to its old formation from when Richards was healthy (Brown-Richards-Kopitar up front, Doughty/Johnson on the back-end).

Top seven forwards with the most shots and a shooting percentage under seven percent: Eric Staal – 123 (5.7%), Gabriel Landeskog – 108 (5.6%), Daniel Winnik – 97 (5.2%), R.J. Umberger – 94 (6.4%), Michael Cammalleri – 91 (6.6%), Justin Williams – 85 (5.9%), Tyler Kennedy – 80 (5%).

Since returning from a serious vertebra injury, Mason Raymond has seven points in nine games. (Icon SMI)

Since returning from serious vertebra injury, Mason Raymond has looked incredible playing for the Vancouver Canucks.  He has seven points in nine games and has been flying on both ends of the ice. Continuing to play at such a pace and alongside Ryan Kesler and Chris Higgins five-on-five, Raymond could be the driving force to the Canucks' secondary scoring.

When contemplating making a trade, one important factor to consider is the players' games played.  Two players could have the same amount of points, but if one player has reached that number in five less games, would you not prefer owning him? The teams with the highest number of games played: Montreal (36), Minnesota (36), Carolina (35), Florida (35), Ottawa (35), and Calgary (35). The teams with the lowest number of games played: San Jose (31), Islanders (32), Rangers (32), Boston (32) and Washington (32).