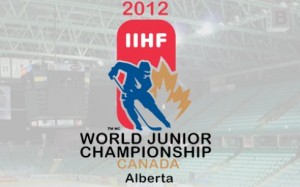 Over 220 of the world's best junior hockey players will hit the ice in Calgary and Edmonton this holiday season for the annual IIHF World Junior Championships. With so many players representing so many teams, figuring out who to cheer for can be a bit complicated.
In the interest of cheering clarity, here is a breakdown of the prospects represented at the tournament, broken down by NHL parent club.
Note: Player stats are now final.

ANAHEIM DUCKS (6)

F Devante Smith-Pelly – Canada (#22) – 2010 second round pick (42nd overall)
0 points, even in 1 game played [Won bronze medal]
Did not dress in five games (Games 9, 11, 19, 26, 30)

F Max Friberg – Sweden (#14) – 2011 fifth round pick (143rd overall)
9 goals, 2 assists, plus-4 in 6 games played [Won gold medal]

F William Karlsson – Sweden (#17) – 2011 second round pick (53rd overall)
1 goal, 1 assist, even in 6 games played [Won gold medal]

F Rickard Rakell – Sweden (#24) – 2011 first round pick (30th overall)
2 goals, 3 assists, plus-2 in 6 games played [Won gold medal]

G John Gibson – United States (#35) – 2011 second round pick (39th overall)
1 loss in 1 game played
F Emerson Etem – United States (#10) – 2010 first round pick (29th overall)
4 assists, minus-1 in 6 games played
BOSTON BRUINS (2)
D Dougie Hamilton – Canada (#17) – 2011 first round pick (9th overall)
2 goals, 4 assists, plus-7 in 6 games played [Won bronze medal]

F Alexander Khokhlachev – Russia (#19) – 2011 second round pick (40th overall)
4 goals, 1 assist, plus-5 in 7 games played [Won silver medal]

BUFFALO SABRES (2)
D Mark Pysyk – Canada (#5) – 2010 first round pick (23rd overall)
0 points, plus-7 in 6 games played [Won bronze medal]

F Joel Armia – Finland (#10) – 2011 first round pick (16th overall)
5 goals, 2 assists, plus-2 in 7 games played
CALGARY FLAMES (3)
F Markus Granlund – Finland (#11) – 2011 second round pick (45th overall)
2 goals, 5 assists, plus-5 in 7 games played
F Sven Baertschi – Switzerland (#15) – 2011 first round pick (13th overall)
0 points, minus-2 in 2 games played
Did not dress in four games (Games 16, 18, 21, 28)

F Bill Arnold – United States (#14) – 2010 fourth round pick (108th overall)
3 goals, 3 assists, even in 6 games played
CAROLINA HURRICANES (2)
F Victor Rask – Sweden (#18) – 2011 second round pick (42nd overall)
1 assist, minus-1 in 6 games played [Won gold medal]

F Gregory Hofmann – Switzerland (#13) – 2011 fourth round pick (103rd overall)
1 goal, 1 assist, minus-2 in 6 games played
CHICAGO BLACKHAWKS (5)
F Ludvig Rensfeldt – Sweden (#23) – 2010 second round pick (35th overall)
1 goal, 5 assists, plus-2 in 6 games played [Won gold medal]

F Joakim Nordstrom – Sweden (#19) – 2010 third round pick (90th overall)
4 goals, 1 assist, plus-6 in 6 games played [Won gold medal]

G Johan Mattsson – Sweden (#35) – 2011 seventh round pick (211th overall)
Only dressed for Game 14, but did not actually play [Won gold medal]

D Adam Clendening – United States (#5) – 2011 second round pick (36th overall)
1 goal, 4 assists, plus-2 in 6 games played
F Brandon Saad – United States (#22) – 2011 second round pick (43rd overall)
1 goal, 5 assists, plus-8 in 6 games played
COLORADO AVALANCHE (1)
G Sami Aittokallio – Finland (#30) – 2010 fourth round pick (107th overall)
3 wins, 2 losses, 1 shutout in 5 games played
COLUMBUS BLUE JACKETS (5)
F Boone Jenner – Canada (#20) – 2011 second round pick (37th overall)
2 assists, even in 5 games played [Won bronze medal]

F Lukas Sedlak – Czech Republic (#29) – 2011 sixth round pick (158th overall)
0 points, minus-3 in 6 games played
F Petr Straka – Czech Republic (#21) – 2010 second round pick (55th overall)
1 assist, plus-2 in 6 games played
G Anton Forsberg – Sweden (#1) – 2011 seventh round pick (188th overall)
1 win in 2 games played [Won gold medal]

F T.J. Tynan – United States (#19) – 2011 third round pick (67th overall)
1 goal, 3 assists, even in 6 games played
DALLAS STARS (4)
D Jamie Oleksiak – Canada (#2) – 2011 first round pick (14th overall)
0 points, plus-4 in 6 games played [Won bronze medal]

D John Klingberg – Sweden (#9) – 2010 fifth round pick (131st overall)
3 assists, plus-1 in 6 games played [Won gold medal]

D Patrik Nemeth – Sweden (#12) – 2010 second round pick (41st overall)
5 assists, plus-7 in 6 games played [Won gold medal]

G Jack Campbell – United States (#1) – 2010 first round pick (11th overall)
3 wins, 2 losses in 5 games played
DETROIT RED WINGS (5)
G Petr Mrazek – Czech Republic (#2) – 2010 fifth round pick (141st overall)
3 wins, 3 losses, 1 shutout in 6 games started
F Teemu Pulkkinen – Finland (#6) – 2010 fourth round pick (111th overall)
6 goals, 4 assists, plus-4 in 7 games played
F Marek Tvrdon – Slovakia (#17) – 2011 fourth round pick (115th overall)
3 goals, 1 assist, minus-4 in 6 games played
F Tomas Jurco – Slovakia (#13) – 2011 second round pick (35th overall)
1 goal, 7 assists, plus-4 in 5 games played
Did not dress in one game (Game 29)

D Mattias Backman – Sweden (#5) – 2011 fifth round pick (146th overall)
3 assists, plus-5 in 6 games played [Won gold medal]

EDMONTON OILERS (5)
D David Musil – Czech Republic (#6) – 2011 second round pick (31st overall)
0 points, plus-5 in 5 games played
Did not dress in one game (Game 17)

F Kristians Pelss – Latvia (#9) – 2010 seventh round pick (181st overall)
1 goal, 2 assists, minus-7 in 5 games played
Did not dress in one game (Game 16)

D Martin Marincin – Slovakia (#21) – 2010 second round pick (46th overall)
1 goal, 2 assists, plus-2 in 6 games played
D Martin Gernat – Slovakia – (#25) – 2011 fifth round pick (122nd overall)
1 goal, 1 assist, plus-1 in 6 games played
D Oscar Klefbom – Sweden (#6) – 2011 first round pick (19th overall)
1 goal, 1 assist, plus-8 in 6 games played [Won gold medal]

FLORIDA PANTHERS (7)
F Quinton Howden – Canada (#21) – 2010 first round pick (25th overall)
3 goals, 3 assists, plus-4 in 6 games played [Won bronze medal]

F Jonathan Huberdeau – Canada (#11) – 2011 first round pick (3rd overall)
1 goal, 8 assists, plus-8 in 6 games played [Won bronze medal]

F Joonas Donskoi – Finland (#27) – 2010 fourth round pick (99th overall)
2 goal, 3 assists, plus-1 in 7 games played
F Yaroslav Kosov – Russia (#18) – 2011 fifth round pick (124th overall)
2 goals, 2 assists, plus-5 in 7 games played [Won silver medal]

F Nick Bjugstad – United States (#27) – 2010 first round pick (19th overall)
4 goals, 2 assists, plus-3 in 6 games played
F Connor Brickley – United States (#23) – 2010 second round pick (50th overall)
0 points, minus-3 in 3 games played
Did not dress in three games (Games 7, 24, 28)

F Kyle Rau – United States (#20) – 2011 third round pick (91st overall)
3 goals, 2 assists, plus-1 in 6 games played
LOS ANGELES KINGS (3)
G Christopher Gibson – Finland (#31) – 2011 second round pick (49th overall)
1 win, 1 loss in 2 games played
D Derek Forbert – United States (#4) – 2010 first round pick (15th overall)
2 assists, even in 3 games played
Did not dress in three games (Games 19, 24, 28)

D Kevin Gravel – United States (#12) – 2010 fifth round pick (148th overall)
1 goal, plus-2 in 6 games played
MINNESOTA WILD (6)
F Mikael Granlund – Finland (#20) – 2010 first round pick (9th overall)
2 goal, 9 assists, plus-4 in 7 games played
G Johan Gustafsson – Sweden (#30) – 2010 sixth round pick (159th overall)
3 wins, 2 shootout wins, 1 shutout in 5 games played [Won gold medal]
Did not dress in one game (Game 14)

D Jonas Brodin – Sweden (#25) – 2011 first round pick (10th overall)
4 assists, plus-2 in 6 games played [Won gold medal]

F Johan Larsson – Sweden (#10) – 2010 second round pick (56th overall)
6 assists, plus-3 in 6 games played [Won gold medal]

F Jason Zucker – United States (#16) – 2010 second round pick (59th overall)
3 goals, 4 assists, plus-1 in 6 games played
F Charlie Coyle – United States (#3) – 2010 first round pick (28th overall) [by San Jose]
4 goals, 1 assist, plus-2 in 6 games played
MONTREAL CANADIENS (5)
D Nathan Beaulieu – Canada (#28) – 2011 first round pick (17th overall)
1 assist, minus-1 in 6 games played [Won bronze medal]

F Brendan Gallagher – Canada (#12) – 2010 fifth round pick (147th overall)
3 goals, 3 assists, plus-5 in 6 games played [Won bronze medal]

F Michael Bournival – Canada (#10) – 2010 third round pick (71st overall) [by Colorado]
1 assist, minus-1 in 5 games played [Won bronze medal]
Missed one game due to the flu

F Daniel Pribyl – Czech Republic (#15) – 2011 sixth round pick (168th overall)
Late addition to Czech roster
1 assist, plus-1 in 5 games played
D Jarred Tinordi – United States (#24) – 2010 first round pick (22nd overall)
1 goal, 1 assist, plus-7 in 6 games played
NASHVILLE PREDATORS (2)
F Miikka Salomaki – Finland (#22) – 2011 second round pick (52nd overall)
3 goals, 3 assists, plus-1 in 7 games played
F Austin Watson – United States (#26) – 2010 first round pick (18th overall)
3 goals, 6 assists, plus-6 in 6 games played
NEW JERSEY DEVILS (2)
G Scott Wedgewood – Canada (#1) – 2010 third round pick (84th overall)
2 wins, 1 shutout in 3 games played [Won bronze medal]

D Jon Merrill – United States (#15) – 2010 second round pick (38th overall)
4 assists, plus-5 in 6 games played
NEW YORK ISLANDERS (2)
F Ryan Strome – Canada (#18) – 2011 first round pick (5th overall)
3 goals, 6 assists, plus-9 in 6 games played [Won bronze medal]

F Johan Sundstrom – Sweden (#13) – 2011 second round pick (50th overall)
1 goal, 4 assists, plus-5 in 6 games played [Won gold medal]

NEW YORK RANGERS (2)
D Peter Ceresnak – Slovakia (#14) – 2011 sixth round pick (172nd overall)
0 points, minus-4 in 6 games played

F J.T. Miller – United States (#11) – 2011 first round pick (15th overall)
2 goals, 2 assists, plus-3 in 6 games played
OTTAWA SENATORS (4)
F Mark Stone – Canada (#16) – 2010 sixth round pick (178th overall)
7 goals, 3 assists, plus-10 in 6 games played [Won bronze medal]

F Jakub Culek – Czech Republic (#14) – 2010 third round pick (76th overall)
1 goal, 3 assists, plus-2 in 5 games played
Did not dress in one game (Game 17)

D Fredrik Claesson – Sweden (#7) – 2011 fifth round pick (126th overall)
0 points, even in 6 games played [Won gold medal]

F Mika Zibanejad – Sweden (#20) – 2011 first round pick (6th overall)
4 goals, 1 assist, plus-3 in 6 games played [Won gold medal]

PHILADELPHIA FLYERS (0)
PHOENIX COYOTES (3)
G Mark Visentin – Canada (#29) – 2010 first round pick (27th overall)
3 wins, 1 loss, 1 shutout in 4 games played [Won bronze medal]

D Brandon Gormley – Canada (#3) – 2010 first round pick (13th overall)
3 goals, 3 assists, plus-4 in 6 games played [Won bronze medal]

F Alexander Ruuttu – Finland (#9) – 2011 second round pick (51st overall)
3 goals, even in 7 games played
PITTSBURGH PENGUINS (3)
D Scott Harrington – Canada (#6) – 2011 second round pick (54th overall)
1 goal, 3 assists, plus-7 in 5 games played [Won bronze medal]
Missed one game due to injury (Game 30)

F Dominik Uher – Czech Republic (#23) – 2011 fifth round pick (144th overall)
1 goal, 2 assists, plus-1 in 6 games played
F Josh Archibald – United States (#21) – 2011 sixth round pick (174th overall)
2 assist, minus-2 in 6 games played
SAN JOSE SHARKS (1)
F Freddie Hamilton – Canada (#13) – 2010 fifth round pick (129th overall)
1 goal, 6 assists, plus-6 in 6 games played [Won bronze medal]

ST LOUIS BLUES (3)
F Jaden Schwartz – Canada (#8) – 2010 first round pick (14th overall)
2 goals, 3 assists, plus-2 in 6 games played [Won bronze medal]

F Dmitrij Jaskin – Czech Republic (#20) – 2011 second round pick (41st overall)
1 goal, 1 assist, plus-1 in 6 games played
D Jani Hakanpaa – Finland (#7) – 2010 fourth round pick (104th overall)
1 goal, 2 assists, plus-3 in 7 games played
TAMPA BAY LIGHTNING (4)
F Brett Connolly – Canada (#14) – 2010 first round pick (6th overall)
5 goals, 1 assist, plus-4 in 6 games played [Won bronze medal]

D Nikita Nesterov – Russia (#29) – 2011 fifth round pick (148th overall)
2 goals, 3 assists, plus-7 in 7 games played [Won silver medal]

F Nikita Kucherov – Russia (#9) – 2011 second round pick (58th overall)
2 goals, 5 assists, plus-4 in 7 games played [Won silver medal]

D Adam Janosik – Slovakia (#3) – 2010 third round pick (72nd overall)
1 assist, even in 6 games played
TORONTO MAPLE LEAFS (1)
D Petter Granberg – Sweden (#8) – 2010 fourth round pick (116th overall)
1 assist, even in 5 games played [Won gold medal]
Did not dress for opening game

VANCOUVER CANUCKS (1)
F Nicklas Jensen – Denmark (#17) – 2011 first round pick (29th overall)
2 goals, 4 assists, minus-13 in 6 games played
WASHINGTON CAPITALS (1)
F Yevgeni Kuznetsov – Russia (#25) – 2010 first round pick (26th overall)
6 goals, 7 assists, plus-6 in 7 games played [Won silver medal]

WINNIPEG JETS (2)
F Mark Scheifele – Canada (#19) – 2011 first round pick (7th overall)
3 goals, 3 assists, plus-2 in 6 games played [Won bronze medal]

F Ivan Telegin – Russia (#23) – 2010 fourth round pick (101st overall)
1 goal, 1 assist, even in 6 games played [Won silver medal]
Did not dress in one game (Game 26)