Denmark enters the 2012 IIHF WJHC having earned a spot in the main tournament after winning the Division 1 Tournament last year in Slovenia, going 4-0-0-1.  Denmark's Nicolai Meyer, the top scorer at the tournament with 12 points in 5 games, is expected to play in Edmonton.  Currently Denmark sits 13th in the world in mens ice hockey.  The main goal of this tournament is to avoid relegation and play again next year with the likes of Canada, Russia and the United States.
Coaching
Coaching Denmark's team is Todd Bjorkstrand, a Minneapolis-born former NCAA center with the University of Maine.  After a successful four year career with the university, where in his senior year he tallied 52 points in 32 games, he continued his playing career in North America, playing in the IHL and ACHL before going to Denmark, where he was arguably the Danish league's most dominant player for several seasons, posting point totals 121, 101 and 115 between the 1994-95 and 1996-97 seasons.  He spent his entire hockey career in Denmark playing for Herning and after he retired following the completion of the 2001-02 season he immediately began coaching the team.  As Head Coach he has guided the club to 5 championships in 9 seasons, including last year.  He was also the Head Coach of Denmark's entry in the Division 1 WJC Tournament last year, and guided the team to a first place finish and a birth in this year's main tournament.  There are no better qualified Danish coaches than Bjorkstrand, whose success as both a player and coach are unmatched.  Bjorkstrand will employ whatever tactics he can to win games, including practicing the infamous 1-3-1 forecheck made famous by the Tampa Bay Lightning and Guy Boucher.  The only way Denmark can win games is to shut down opposing teams and grinding out the 1-0 and 2-1 victories.  That is a task far easier said than done in a group featuring Finland, the United States and Canada.
Goaltending
The template for most European teams facing extreme odds (which Denmark is) depends heavily on not solid but spectacular, out-of-this-world goaltending.  Unfortunately for the Danish the talent between the pipes isn't at that level this year.  The likely starter for the tournament will be Christian Larsen, who plays in the Swedish junior league for Malmo and has a 0.908 save percentage in 16 games this season.  Denmark's backup should be Dennis Jensen, who has put up very solid numbers in Denmark's pro league this season.  Expect Larsen to play most of the tournament.
Defence
Denmark's defence is similar to Finland's in the sense that there is no true puck-moving, offensive defenceman.  They will have to rely on sound defence and limiting the opposition's scoring chances.  Tobias Hansen is one of the oldest players at the tournament, and will be relied on to use his size (6'5, 216 lbs) to wear down forwards and protect the Danish crease.  Martin Rahbek is their best all-round defenceman, in spite of his lack of size at just 5'10 and 159 lbs.  Rahbek will be used on the powerplay and is the Danes best puck rushing defenceman.  All Danish defencemen play their pro hockey in Denmark.
Forwards
The Danes have some firepower amongst their forwards.  The man likely to carry the team to any amount of success is Oshawa Generals (OHL) power forward and Vancouver Canucks 1st round draft pick Nicklas Jensen.  Behind him are coach Bjorkstrand's sons Oliver and Patrick.  Patrick was draft eligible in 2010, and this year is a point per game player with his father's Herning team.  Oliver is draft eligible in 2013, and his numbers are similar to what Jensen posted at his age.  Nicolai Meyer, last year's scoring leader at the WJC Division 1 Tournament, has had a strong season in Sweden and will also be counted on.  Another forward to watch is Thomas Spelling, who played under Bjorkstrand last year as well, posting 7 points in 5 games.  This is an underrated group of forwards, and could surprise fans and media during the tournament.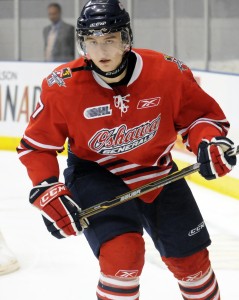 Will Denmark Avoid Relegation?
It is tough to say; but it will be a difficult task for the Danes, in a division featuring Finland, Canada and the United States, to come out with a respectable record.  With medal possibilities slim to none, the "real" tournament for Denmark begins in Calgary on January 2nd in the Relegation Round.  With their likely competitors being the Czech Republic, Latvia and Slovakia the Danes should be returning to the main competition next year.  Their offense is better than it has been in recent years.  Overall Danish hockey has improved leaps and bounds and it a national program that has progressed greatly from previous years, however it will still take time before they can set their sights on medalling at this tournament.
The 2012 WJC are coming to THW.  Myself and Chris Ralph have been granted full media access for the duration of the tournament, including all round robin and medal games.  Together we will bring breaking news, game analysis, player interviews and stories to THW.
Follow Salim Valji on Twitter for the latest WJC updates
Like Salim Valji on Facebook to join in on the WJC discussion