Only 13 days after having his nose and orbital bone broken by a puck to the face, Martin St. Louis pulled off a seasonal miracle by not only suiting up against the San Jose Sharks on December 21, but also playing more than 20 minutes and scoring a goal for the Tampa Bay Lightning.
While many fans may have missed the west coast game, Dave Mishkin – who does the radio play-by-play for the Lightning – discussed St. Louis' play with THW.
"Nobody would have expected Marty to return so quickly after such an injury, but it's another example of his courage, determination and leadership", said Mishkin. "After missing five games, he certainly didn't look like he had any issues with the game pace. For him to score last night was a nice sidebar, but I'm sure he would have gladly traded the goal for two points in the standings."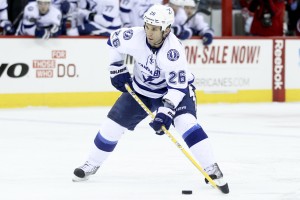 On December 8, St. Louis was struck in his face near his left eye by a backhand shot during a morning skate. He left the ice bleeding heavily and was later transported to hospital by ambulance.
His facial injuries, which required stitches above and below his left eye, were further complicated by a blood clot. Until that clot dissipated, St. Louis couldn't exert himself physically.
No schedule was released for his recovery, and St. Louis was pronounced out of the lineup indefinitely. A struggling Lightning squad could hardly get worse news.
For many, the St. Louis situation was no doubt a reminder of the gut-churning injury suffered by Tampa Bay GM Steve Yzerman, who was hit in the left eye by a deflected slapshot during the 2003-04 playoffs. His orbital bone was broken and cornea scratched. Following the incident, Yzerman wore a visor for the rest of his career.
His previous resistance notwithstanding, St. Louis has suggested that he will wear a visor once he removes the full cage that he is currently wearing to protect his broken nose.
Despite the lack of information and grisly nature of the injury, speculation began to mount that St. Louis might be closer to returning than previously thought when he traveled with the Lightning to San Jose.
St. Louis then practiced with Lightning on December 20, requiring eye drops, but apparently feeling good after the skate, as reported by Erik Erlendsson of the Tampa Tribune.
"I feel that I've come a long way in the past few days, so it's encouraging", St. Louis said after the practice. "It was nice to get into a hockey situation. I've skated the past couple of days by myself, but you don't get to test yourself until you are put in hockey situations with the guys, with NHL speed."
Even then, Bolts' head coach Guy Boucher suggested that a return before Christmas on December 25 was unlikely.
Yet, when the puck dropped in the HP Pavilion on the night of December 21, St. Louis was suited up and ready to play.
He certainly didn't look like he had any issues with the game pace." – Dave Mishkin, radio play-by-play man of the Tampa Bay Lightning
St. Louis even provided one of few bright spots in an otherwise disappointing Lighting outing when he fired a wrist shot from the low slot that found the back of the net over San Jose Shark's goaltender Antti Niemi's glove at 7:45 of the second period.
The 35-year-old contributed three shots on goal, and despite his significant ice time in the disastrous 7-2 loss to the Sharks, he was one of only a small handful of Bolts who did not finish the night as a minus-player.
No one in today's NHL would want to lionize a rushed return from injury, especially those injuries involving a player's head, but it's hard not to marvel at St. Louis' recovery. Not only is the man supremely talented, and apparently ageless, but we must add fearless and tenacious to his list of wonders.
Boucher often talks about being relentless with his players, and it would be hard to find a better example than Martin St. Louis.
But Marty, your fans (and likely your GM) would all agree – please consider putting on a visor.