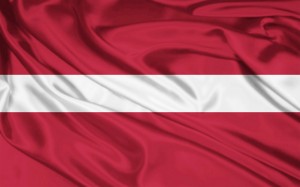 Up to date Team Latvia World Juniors 2012 Roster: via Elite Prospects
 

#

Player
A
Born
Birthplace
Ht
Wt
S
Ctrct
 
#1
 Rihards Cimermanis

(G)

18
1993-03-22
Riga, LAT
179
70
L
Junior
 
#25
 Kristers Gudlevskis

(G)

19
1992-07-31
Aizkraukle, LAT
190
86
L
11/12
 
#30
 Elvis Merzlikins

(G)

17
1994-04-13
188
83
L
Junior
 
 
 
 
 
 
 
 
 
 
 
#10
 Kristers Freibergs

(D)

19
1992-07-03
185
87
L
Junior
 
#26
 Krists Kalnins

(D)

19
1992-09-13
187
86
L
11/12
 
#3
 Nikita Kolesnikovs

(D)

19
1992-10-30
Jelgava, LAT
193
98
L
Junior
 
#18
 Kriss Lipsbergs

(D)

18
1993-04-03
Riga, LAT
182
80
L
Junior
 
#2
 Kristaps Nimanis

(D)

18
1993-07-21
Liepaja, LAT
186
88
L
12/13
 
#6
 Arturs Salija

(D)

19
1992-05-15
Riga, LAT
180
87
L
Junior
 
#4
 Edgars Siksna

(D)

18
1993-01-15
182
83
R
Junior
 
#7
 Pauls Zvirbulis

(D)

18
1993-02-24
Riga, LAT
172
78
L
Junior
 
 
 
 
 
 
 
 
 
 
 
#23
 Toms Andersons

(RW)

18
1993-11-25
180
81
R
Junior
 
#21
 Teodors Blugers

(C/LW)

17
1994-08-15
Riga, LAT
183
80
L
Junior
 
#16
 Maris Dilevka

(LW/RW)

19
1992-03-03
Riga, LAT
179
80
L
Junior
 
#22
 Zemgus Girgensons

(C/RW)

17
1994-01-05
Riga, LAT
184
84
L
11/12
 
#14
 Vitalijs Hvorostinins

(LW/RW)

19
1992-08-17
Preili, LAT
183
80
R
Junior
 
#31
 Nikita Jevpalovs

(RW)

17
1994-09-09
Riga, LAT
183
82
R
Junior
 
#19
 Edgars Klavins

(RW)

18
1993-03-10
Talsi, LAT
190
90
L
Junior
 
#12
 Arturs Kuzmenkovs

(C/RW)

18
1993-12-01
183
84
L
Junior
 
#11
 Roberts Lipsbergs

(C)

17
1994-07-29
179
80
L
Junior
 
#9
 Kristians Pelss

(LW)

19
1992-09-09
Preili, LAT
182
90
L
Junior
 
#17
 Davis Straupe

(RW/C)

19
1992-08-05
Riga, LAT
170
67
R
Junior
 
#15
 Juris Ziemins

(LW)

18
1993-09-15
Riga, LAT
176
88
L
Junior
 
Position: G:3 D:8 F:12 | Av Age: 18.17 years | Av Ht: 182.43 cm | Av Wt: 83.13 kg

While Latvia may not conjure up images of a hockey super power, when I do think of Latvia and hockey I quickly think of three things – Arturs Irbe, Sandis Ozolinsh and passionate hockey fans. After this tournament and definitely after the 2012 NHL draft, you can, at the very least easily, add a fourth item to that list – Zemgus Girgensons.  Stay tuned and read on below for more on Zemgus.
Latvian Hockey History
Earlier this month, the Latvian Hockey Federation celebrated 80 years of existence. As IIHF.com reported:
The Latvian Hockey Federation first joined the IIHF in the pre-Soviet era in 1931 and took part in five IIHF World Championships and the 1936 Olympic Winter Games before World War II.

The Latvians never lost their passion for the sport and continued to produce great players like Helmuts Balderis during the Soviet era. Dinamo Riga was among the best teams in the Soviet league outside of Moscow. Its best result came in 1988 when Riga lost the Soviet championship in the final series against CSKA Moscow, 3-1.

The 1988 roster already included several players who would later become stars on the national team after Latvia restored independence in 1991 like Arturs Irbe, Olegs Znaroks, the late Sergejs Zoltoks and some years later Sandis Ozolins.
The 2012 Latvia World Juniors Squad
By no means do I make any proclamations that I am a Latvia Hockey expert. Thus, I deferred to my trusted colleague Didzis Rudmanis who passed along the following insight after Latvia's first exhibition game a couple days back. Note that this conversation took place prior to Latvia impressive 5-1 exhibition win (albeit over Denmark) Thursday night:
Although Latvia lost it's first preparatory game last night 1:7 to the Czechs, Latvian team's starting goaltender Kristers Gudļevskis proved to be all ok, while he played only first half of the game, allowing one single puck. In the second half of the game 1994-born Elvis Merzlikins most likely simply lost in the fight for being the second goalie at the tournament.

As you can notice, the team is quite young – 1992 is generally considered to be a weak year in the Latvian hockey program. There is no particular reason for that. Latvian team will be the shortest one at the tournament, also team's weight is slightly below average. But you can't really expect anything better from such a small country as Latvia. Regarding height/weight the oddest thing about the Latvian team is a 173 cm tall defender Pauls Zvirbulis being on the roster.

The team will undoubtedly be led by Zemgus Girgensons, as he did it already last year at the Division 1 tournament, being just 16 years old. As of other players, Oilers prospect Kristians Pelss might attract attention as well as late round 2012 draft prospect Teodors Blugers and defender Nikita Kolesnikovs who is currently having an unexpectedly solid season in the QMJHL.

The official aim for the team is to remain in the Elite for 2013 which, with the new format, is certainly easier to achieve than in the three previous attempts, of which one (2009; 8th place) was successful.
Zemgus Girgensons
Potential 2012 1st rounder, and possibly even a candidate to go in the Top 10 of the draft, Zemgus Girgensons is the obvious key to any success Latvia will have in this tournament. He has described his game in the mould of feisty Vancouver Canucks two-way centreman Ryan Kesler. Still others liken his game to former NHLer Rod Brind'Amour and his savvy style of play.
Kelly Friesen of Yahoo Sports discussing Zemgus Girgensons:
The 6-foot, 185-pounder shouldn't be that overwhelmed with this pressure. He's already relied on heavily by his Dubuque Fighting Saints. And he's yet to disappoint, the team captain has been almost a point a game player with the Fighting Saints since joining the team, scoring 30 goals and 70 points in a total of 71 games.

Scout's take: "Latvia will lean on Girgensons similar to the way Switzerland leant on Niederreiter during the WJC in Saskatoon and Regina," says MacLean. "If Latvia can get some timely goaltending and Girgensons scores like he can, Latvia could surprise some teams. Unfortunately, as good as Girgensons is, Latvia will be in tough to score enough goals to survive their preliminary pool."
Keys To Success For Latvia
Dean Millard (Coming Down The Pipe) in addition to Zemgus, contrived these keys to success for Latvia:
2. Kristians Pelss: The Edmonton Oil Kings forward and Oilers draft pick will likely be the only one to take the pressure off Girginsons. Pelss at times has looked dominant in the WHL and he'll enter the tournament on a hot streak with 9 points in 8 games including a 7 game point streak.

3. Latvian Fans: It's well known that the tiny Baltic country has some of the best fans around when the World Championships are held in Europe. Will they make the trip to Canada for the event? If so they'll be loud and proud for their boys and will be very entertaining. Also watch for Calgary fans to adopt the team as a feel good story.

Wild Card:

Teodor Blugers is a 17 year old centre who was born in Riga, Latvia but developed in North America. He's currently in his 3rd season with Shattuck St. Mary's prep school where he's torching things up with 33 points in 20 games. Next year he's set to join Minnesota State University (Mankato). Blugers is also 2012 draft eligible.
Zemgus And Beyond
Mike Morreale of NHL.com in his analysis of Team Latvia noted:
Latvia has never finished higher than eighth in two other appearances at the top-level World Junior Championship — ninth in 2010 and eighth in 2009. This year Latvia will be in Group A along with Russia, Sweden Slovakia and Switzerland. The teams in Group B are Canada, the U.S., Czech Republic, Finland and Denmark.

Highlighting the Latvian roster is 2012 NHL Draft-eligible prospect Zemgus Girgensons, who plays for the Dubuque Fighting Saints in the United States Hockey League. Girgensons, who is committed to the University of Vermont next season, is considered by many to be the best prospect available from the USHL. In 18 games this season, Girgensons has 9 goals, 20 points and a plus-3 rating. He also leads the team with 8 power-play points and 62 shots on goal.

Another player to keep an eye on is 2012 draft prospect Theodor Blueger, who plays at Shattuck-St. Mary's Prep in Faribault, Minn. According to NHL Central Scouting, Blueger, who is committed to Minnesota State for 2012, is a 'B Watch' player — meaning he could be drafted anywhere from the third to fifth round in June.

The only player on the roster drafted by an NHL team is left wing Kristians Pelss, who was taken by the Edmonton Oilers in the seventh round (No. 181) in 2010. Pelss is one of five returning players from last year's team that won the gold medal at the 2011 WJC Division I Group A in Belarus. He has 12 goals and 18 points in 28 games with the Edmonton Oil Kings of the Western Hockey League this season.
***
While Latvia are definitely in tough to land themselves in a medal position, they are in a position to potentially surprise a team taking them too lightly and looking ahead to the following game.
On any given ice time, in any one particular game – any team is capable of great and even improbable feats.
***
Chris is THW's senior draft/prospect analyst and a Managing Editor. Watch for "The Next Ones" Prospect Profile series, exclusive rankings, mock drafts, as well as the annual THW NHL Entry Draft Guide. Follow @ChrisRalphYQ on Twitter as he infiltrates, dissects and analyzes all happenings of hockey prospects and the NHL entry draft. Email: cralph[at]thehockeywriters[dot]com