Each Tuesday, Ten Fantasy Thoughts brings you valuable insight to line changes, buy-low candidates and updates on why a player may be struggling or surging for the past few weeks. This week, Ten Fantasy Thoughts will be discussing some key pickups to replace some injured stars, a goaltending controversy and much more.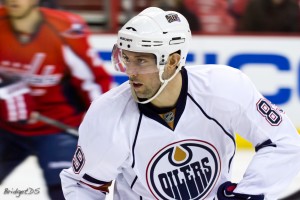 1. This Predators' 4th round pick traded his seat on an AHL bus for a seat on Nashville's bench right out of University. Craig Smith started the season with a bang, accumulating fourteen points in his first fifteen games. Unfortunately, for the past month he has cooled down to the point of frostbite. The struggling former Wisconsin Badger has only two points in his last ten games. As a result his ice time has evaporated, playing less than fourteen minutes a night in his last three games. Since the lockout, the only players to be drafted later than the second round and produce fifty points in their rookie season have been Kris Versteeg, Marek Svatos and Jussi Jokinen.
2. Sam Gagner sits at a lowly 8% owned on Yahoo fantasy hockey despite his recent surge in production. The former sixth-overall pick has accumulated fourteen points in his last sixteen games and is currently riding a five-game point streak. With injuries to key team members Ryan Nugent-Hopkins and Jordan Eberle, Gagner has become a much important asset to the Oilers offensive viability. Playing alongside sophomore superstar, Taylor Hall and playmaker-extraordinaire, Ales Hemsky leads one to suspect that the surge has just begun.
3. Jordan Staal will miss at least the next four weeks and James Neal is out indefinitely with a 'broken foot', and the world knows that there is no timetable for the franchise player, Sidney Crosby. So who does that leave aside from Evgeni Malkin and Chris Kunitz for the Penguins' offense? Tyler Kennedy—who is on pace for a series of career highs, starting the season with 19 points in his first 29 games and playing an average 14:50 a night for the Pens. With three key players missing, Kennedy has an immediate opportunity to take on an offensive role and run with it for at least the next month.
4. Since James Reimer's concussion, he has a 3-4-3 record, .894% and a 3.09 goals against average. These numbers have allowed Jonas Gustavsson to take a shot at the starting role and 'the Monster' has managed three straight wins with a 2.00 goals against in those starts. Gustavsson's yearly numbers may not trump Reimer's since his concussion, but as long as he keeps winning, the opportunities to gain confidence from the coach will continue. Each point matters, so the wins against the perennial star-studded Red Wings, the playoff-bubble Jets and the struggling Bolts have earned him another start for tonight.
5. Players shooting over 20% on the year: Stamkos (20.1%), Glencross (23.3%), J. Staal (21.7%), Filppula (21.2%), Lucic (21.5%), Kelly (21.7%), Hudler (20.3%) and Zubrus (20%). In the last four seasons, only three players have scored over twenty goals while shooting over twenty-percent. Those players are Sergei Kostitsyn (2010-11), Loui Eriksson (2008-09) and Brad Boyes (2007-08).
6. As I wrote a few weeks ago, the stars were aligned for a Mason Raymond breakout season. Unfortunately, he only has two points in his last ten games and lined up with Cody Hodgson and Maxim Lapierre last night instead of his usual Kesler and Higgins line didn't help his performance. Jannik Hansen held his spot, but the playoff virgin David Booth is hoping to return this week and resume duties next to that pairing. Booth had sixty points back in 2008-09 for the Panthers, so he has tremendous potential while playing for the number four ranked offense in the NHL.
7. Derick Brassard could also make for an interesting pickup for the next few weeks. With Jeff Carter injured, Brassard has slid in-between Rick Nash and Vinny Prospal. Brassard has seven points in his last nine games and with a new coach, important changes are undoubtedly on the horizon. Keep a close eye on how Todd Richards rolls his lines, big changes seem to be inevitable as Columbus' offence couldn't get much worse.
8. Through this season, the home team is averaging 2.92 goals per game and the road team is scoring 2.54 goals per game. The Senators have one home game in the next ten, the Sabres have one in the next nine, the Avalanche have two in the next eight and the Wild have two home games in the next seven. On the flipside, the Canucks play six of their next seven at home (after tonight), the Blues play seven out of their next eight at home (after tonight) and the Devils play the next five in a row at home.
9. An interesting statistic – Players with 33 points on the year: Vrbata, Moulson, Alfredsson, O. Jokinen, Weiss, Parenteau, Campbell, Ovechkin, Iginla, Marleau, M. Koivu and Thornton. It doesn't really mean much, but its fun to look at if you own any of the surprises.
10. Top 10 Point-Producers for the last month under 50% Owned: Glencross (33%), Ryder (40%), Wheeler (38%), Henrique (33%), Parenteau (40%), Desharnais (6%), Downie (44%), Stepan (25%), Peverley (26%) and Perron (16%). Wheeler, Henrique, Parenteau, Stepan and Perron all see first line time.