With the Chicago Blackhawks on a four game losing skid many a fan have been asking for some sort of shake up, well I suppose they got it as we learnt that the 'Hawks will be without prominent goal scorer Patrick Sharp for three to four weeks. Although we all know this isn't the change many a fan have wanted it will cause Joel Quenneville to really shake up the line up and look for some new chemistry which the team desperately needs.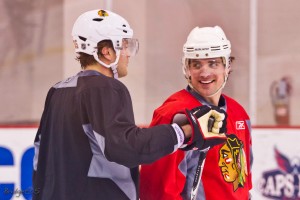 The likely call up for the 'Hawks during Sharp's absence will be winger Ben Smith who has been strong in the AHL this season and coupled with last seasons playoff heroics it seems like a logical choice. Quenneville confirmed that Smith would be an option for the 'Hawks in Sharp's absence. Another option for a call up could be winger Jeremy Morin, Morin has also been solid in the AHL this season and plays a similar role as Sharp in that he is a sniper would like to shoot. Morin also brings a physical edge to his game which the Blackhawks can always use in their lineup.
However many believe that the 'Hawks should go out of the organization and make a trade to not only help the 'Hawks while they are with out Sharp but also for down the road. Names who have been mentioned as players the 'Hawks could target include, Tuomo Ruutu, Paul Gaustad, Sam Gagner and the most unlikely of the bunch Ryan Getzlaf.
With losing Sharp for 3-4 weeks and centerman Marcus Kruger still out with and upper body injury the 'Hawks are very thin down the middle and could use the likes of Gagner, Gaustad and even Getzlaf. However we are only half way through the NHL season and even teams in the basement of the NHL still believe they have some chance at the playoffs so they are unlikely to want to move any of their key personnel. A trade would be a more likely solution as we approach the trade deadline or at least after the All-Star break.
So in the interim the 'Hawks will likely need to depend on their stars to step up and hope that some of their young guns (i.e. Shaw and Hayes) can continue to produce at the NHL level. Although a trade may be the flashy route and the route that most fans want their team to take but at this point of the season the 'Hawks are going to need to rely on their veterans and hope that their youngsters can keep up the effective play.