The Minnesota Wild made a huge move this past week, signing former Anaheim Ducks coach Bruce Boudreau.
Boudreau is undoubtedly going to become a great asset for this organization, but before he steps behind the bench, I think it's important to take a moment to appreciate the coach that preceded him: John Torchetti.
Torchetti to the Rescue
The Minnesota Wild's 2015-16 season didn't exactly go as planned. Halfway through the year, the Wild found themselves in a downward spiral, losing game after game. What was supposed to be a promising season turned into a disaster by the middle of January. The Wild were struggling, and the future wasn't looking bright at that point.
Enter Torchetti.
After the Wild lost 12 of 13 games throughout January and February, coach Mike Yeo was fired, and Torchetti, the former head coach of the Iowa Wild, stepped in as his replacement. And as the saying goes, the rest is history.
We all know how things went after Torchetti took over. The Wild won four straight games, scoring more goals in those four games than they had in almost a month under Yeo. They put on an incredible show in Minnesota's first outdoor game. And most importantly, they somehow found a way to squeeze into the playoffs. None of this would have happened with Yeo as head coach.
Thank You, Torchetti
Now I don't believe Torchetti should have become the Wild's official head coach. He served his purpose by motivating this team when they needed it most, and Minnesota clearly needs something more – like Boudreau. However, Torchetti still deserves a thank you from the State of Hockey.
Torchetti was thrown into an ugly situation in Minnesota. He was handed an unmotivated team that lacked passion, energy and the ability to win. And somehow he managed to get them to play.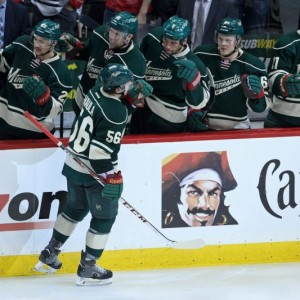 He gave players like Haula and Niederreiter a chance to show their skills, and he proved the Wild's roster was full of talented players. He found a way to break the losing streak. He pushed this team into the playoffs. That's no small feat considering what the Wild looked like only days before Torchetti took over. This team may have "backed in" to the postseason, but they still made it, and I have a hard time believing that would've been the case with Yeo behind the bench all season long.
The Wild have high hopes for the next four years with Boudreau, and I truly believe he's going to do great things for this organization. But Torchetti also deserves some recognition for what he accomplished in his short time with the Wild.
So, on behalf of Minnesota: Thank you, John Torchetti. Thank you for stopping the downward spiral. Thank you for benching veterans when they didn't deserve to play. Thank you for giving the young players a chance to shine. Thank you for motivating this team to score, for pushing them into the postseason, and for trying your hardest to make something great out of something terrible.
This past season didn't go the way it was supposed to, but it could've been a lot worse. Thank you, Torchetti, for making sure that wasn't the case.