Evander Kane hasn't worn a Winnipeg Jets jersey in eight months and he's still finding ways to make headlines in the prairie city. Such is the divisiveness of his personality that, despite being months removed from Winnipeg, Kane can still be a source of controversy here.
Given his desire to be in the spotlight, it would doubtless please Kane to learn the people of Winnipeg were still talking about him months after his departure. His comments to The Hockey News regarding Winnipeg were recently made public, and Kane was once again a hot topic in a city he was, apparently, quite eager to be shot of.
It would be easy to dismiss Kane's comments as sour grapes or attention seeking, as many no doubt will. While it appears his former teammates and coach didn't agree with his comments, it also appears they're prepared to dismiss them out of hand, as they should. They've got games to win, and a playoff appearance to repeat, and in the words of captain Andrew Ladd, the Jets have moved on.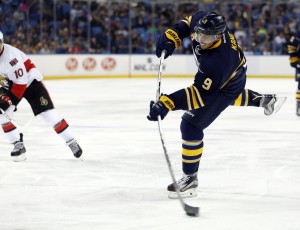 What We Lost
Perhaps the biggest source of debate surrounding Evander Kane during his time here was his on-ice usefulness. Much was made of his rumoured off-ice behaviour in some circles, culminating in the now-infamous track suit incident, but the most debated issue was where he fit with the team, and ultimately what the talented winger's ceiling would be. It was a question Jets fans never seemed to tire of.
There was no denying Kane's talent. Kane was (and is) a big, fast forward with a mean streak and a wicked shot. All the elements of a premier power forward were present in him during his time here, and it was speculated in some circles, notably by Winnipeg Free Press writer Gary Lawless, that he could one day be a 40 goal scorer for the Jets. The old Jets had once had their power forward in Keith Tkachuk, who scored 50 goals in a Jets uniform and put up over 150 penalty minutes four years running. Perhaps the new Jets would have, in the same mould, Evander Kane.
The trouble with Kane, whether stemming from off-ice distractions or not, was that he never seemed to put all those elements together at once. Few indeed were the games where Jets fans saw all the tantalizing elements of Evander Kane's impressive skill set at once, and those games were all the more frustrating for the flashes of brilliance. All the tools were undeniably there; they just needed to show up at the same time. That, according to many observers during Kane's first season in Winnipeg, was just a matter of maturity. For a time, it seemed they would be right.
Some of the finest moments of the Jets first season came thanks to Kane, and he seemed the most promising player of the Jets' future. The player Evander Kane could one day become was an exciting thought for Jets fans.
For one reason or another, however, it became evident the player Kane could become was never going to emerge in the River City. The excitement of his potential turned to a taunt, a teasing thought that would appear true for fleeting moments before disappearing again due to injuries or inconsistent play. The former was perhaps the biggest problem for Kane in Winnipeg (it certainly contributed to the latter) and unfortunately that's not the sort of thing a change of scenery can cure. Kane had played no more than eight games in a Buffalo Sabres uniform before succumbing to the injury bug once again.
Coach Byslma says Evander Kane has an MCL injury; he'll be out 4-6 weeks.

— Buffalo Sabres (@BuffaloSabres) October 26, 2015
Kane's injury history, perhaps a function of his competitive and hard-charging style of play, held him back in Winnipeg in a way the persistent and irritating off-ice rumours never could. When he was finally traded on February 11th of 2015, he was still on the Jets injured reserve.
What We Gained
Trading Kane was to be no simple thing, especially with his status as an injured player, and no doubt Kevin Cheveldayoff was wary of being fleeced. As most experts now agree, he managed to at the very least avoid that, pulling off a a true blockbuster trade with Buffalo. So far, in fact, he seems to have won the trade, though little time has past and it's too early to say for certain which team came out on top.
If Jets fans can be thankful to Kane for anything, it's the haul he netted them in that trade along with Zach Bogosian (who is also hurt at the moment and has yet to return to the ice, a recurring theme for him as well). Tyler Myers is going to be a top-tier defenseman for the Jets for years to come. Drew Stafford, though he lacks Kane's flash and dash, is a more consistent, mature player, who has been putting up strong numbers in a Jets uniform. It's worth noting that Stafford now has five goals this season. Kane, despite playing with phenom Jack Eichel, has scored only one, and won't be scoring again for at least the next four to six weeks.
All this is to say nothing of the prospects the Jets acquired, Brendan Lemieux and Joel Armia, or the first round pick the Sabres threw in (which turned into promising prospect Jack Roslovic). None of them have yet proven anything at the NHL level, encouraging though the early signs may be.
In @NCAAIceHockey action @MiamiOH_Hockey @JRoslovic96 with winning goal in 1-0 win. @NHLJets #ScoresWhenItMatters

— Craig Button (@CraigJButton) October 24, 2015
Thank You, Evander
I know Evander Kane felt the fans and media in Winnipeg gave him the short end of every possible stick. I know he felt they perpetuated ugly rumours and made him seem generally more dislikable to a fanbase that, in his mind, disliked him already. I know he felt they dumped on him at every possible opportunity, and would do so again. If Mr. Kane were ever to read this (I don't flatter myself by thinking that likely), then he will find no such dumping here.
To Kane, on behalf of all Jets fans, I would simply say thank you. Thank you for some of the finest memories of the Jets early seasons here. Thank you for the goals, the hits, and the fights. Thank you for giving Jets fans plenty to talk about, even if some of them talked in ways unbecoming of true fans. And most of all, thank you for the players you allowed us to acquire from Buffalo with your talent. They're doing great here, and I wish you the same success with the Sabres. The NHL has too few true power forwards, and I would still like to see you become one.
Now, taking the advice of Andrew Ladd, let's both of us move on.