The NHL Trade Deadline (Feb 29th 3PM ET) is now just a few days away. Will the Stars be active participants or will they sit this one out? Time will tell.
Since taking over as general manager in 2013, pretty much everything Jim Nill has touched has turned to gold. While he seems incapable of making a bad trade, the Stars have had a few head-scratching moves in their trade history.
For the most part, when you review the Stars trade history you realize they have been on the winning side of most of them. Unlike many NHL teams, the Stars haven't crushed fans' hearts by trading away a superstar.
Edmonton Oilers fans lived through the Gretzky trade. It was a trade that left Montreal Canadians fans watching Patrick Roy in a Colorado Avalanche sweater. Boston Bruins fans watched with mixed emotions as long-time captain Ray Bourque hoisted the Cup over his head in 2001 for Colorado.
Meanwhile, Stars fans have experienced little agony due to a trade. However, Dallas did come up short on the following trades:
Stars Trade Perry Pick to Ducks
Ironically, the Stars' biggest trade error led to the birth of a hated rival.
When the Anaheim Ducks visit the American Airlines Center it's no mystery who the least favorite Duck is – Corey Perry. As much as Stars' fans dislike him, Perry's talent is undeniable.
It was Draft Day back in 2003 when the Stars traded their first round pick (28th overall) for two second round picks (36th and 54th overall). Anaheim used their pick to select Corey Perry, while the Stars picked Vojtech Polak and B.J. Crombeen. The former played five career NHL games while the latter is a journeyman 4th liner who is willing to drop the gloves. Crombeen played just 23 games with Dallas.
Crombeen's career stats: 445 games 34 goals 46 assists 850 PIM.
Perry's career stats: 780 games 319 goals 324 assists 915 PIM.
Stars Trade Turek to the Blues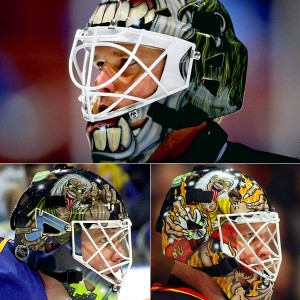 Roman Turek was perhaps as famous for his Iron Maiden mask as he was for acrobatic saves. However, don't take that as a knock. Turek, originally a Minnesota North Stars draft pick, backed up Eddie Belfour during the Stars' magical Cup run in 1998-99. The Czech native actually matched Belfour in save percentage (both .915%) but had a smaller sample size, appearing in 26 games compared to Belfour's 61.
After winning the Cup, Dallas moved Turek to St. Louis on Draft Day for a second round pick.  The Stars used the pick to select defenseman Dan Jancevski late in the second round. Jancevski would go on to an NHL career of just 9 games and produced 0 points.
Turek's debut season with the Blues was a success. He led the league with seven shutouts and the Blues won the Presidents' Trophy. Since the Blues gave up the least amount of goals in 1999-00 Turek was also awarded with the William M. Jennings Trophy. Despite a phenomenal regular season the Blues flopped in the playoffs, with Turek turning in a poor performance.
Unfortunately for Turek, the sub-par playoff trend would continue in his second season with St. Louis and it ultimately played a large role in his end with the organization, as he was traded to the Calgary Flames the next season. Turek played for the Flames for three seasons before returning home to the Czech Republic to finish his career.
Who knows how Turek's career may have turned out if he remained in Dallas.
Turek's career stats: 159 wins 115 loses 2.31 GAA .907 SV%
Goligoski Acquired for Neal and Niskanen
Perhaps the most questionable move of Joe Nieuwendyk's tenure as Stars GM was trading goalscoring winger James Neal and defenseman Matt Niskanen for Penguins defenseman Alex Goligoski.
This trade isn't a knock on Goligoski. Trading Neal or Niskanen even-up for Goligoski would have been palatable, but trading both was simply too much. The trade was widely scrutinized when it happened, however, since both Neal and Niskanen are no longer with Pittsburgh and Goligoski's game has improved, some consider this more of an even trade.
Goligoski has clearly established himself as part of the Stars' top pair on defense, but really would be better suited as a second pair defenseman, if the team had better top pair options. Neal scored 40 goals in his first season with Pittsburgh and has scored 21 or more the past 4 seasons. In 2013-14 Niskanen had 10 goals and 36 assists to go with a whopping plus 33 rating. He hasn't come close to those numbers since, but is a top 4 defenseman on a league-leading Washington Capitals team.
Goligoski's career stats: 541 games 54 goals 211 assists
Neal's career stats: 541 games 205 goals 184 assists
Niskanen's career stats: 632 games 42 goals 180 assists
I have a Bachelor of Arts Degree is Sociology from Bridgewater State College. I have covered amateur hockey prospects with Texas roots for the scoutingreport.org, and I am a Dallas Stars writer for The Hockey Writers. I can be reached via Twitter @EdTexmass09.