Since the turn of the century the Blackhawks, like many teams, have had some home run draft picks and some draft picks that didn't quite pan out, or as we like to call them, busts. We couldn't possibly go through every pick the Blackhawks have had in those fifteen years of drafting, so I am just examining the first round selections of those 16 drafts.
2015:  No first round pick
2014:  Nick Schmaltz 20th overall
2013:  Ryan Hartman 30th overall
2012:  Teuvo Teravainen 18th overall
2011:  Mark McNeil 18th overall and Phillip Danault 26th overall
2010:  Kevin Hayes 24th overall
2009: Dylan Olsen 28th overall
2008:  Kyle Beach 11th overall
2007:  Patrick Kane 1st overall
2006:  Johnathan Toews 3rd overall 
2005:  Jack Skille 7th overall 
2004:  Cam Barker 3rd overall
2003:  Brent Seabrook 14th overall
2002:  Anton Babchuk 21st overall
2001:  Tuomo Ruutu 9th overall and Adam Munro 29th overall
2000:  Mikhail Yakubov 10th overall and Pavel Vorobiev 11th overall 
5. Kevin Hayes – Right Wing
The Chicago Blackhawks drafted Kevin Hayes with the 24th pick right out of high school. An impact in the NHL was not immediately expected, but they hoped in a few years that Hayes would develop into a skilled power forward at the NHL level. He did exactly that, but he wasn't wearing a Blackhawks sweater doing it.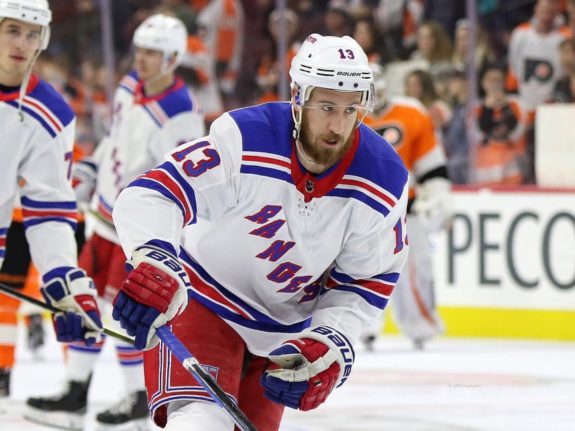 Hayes, who exercised his ability to become a free agent after completing college, spurned the Blackhawks and signed a two-year deal with the New York Rangers. He registered 17 goals, 28 assists, and was a plus-15 in 79 games during his first season in the big apple. His numbers are not "bust" worthy, but since the Blackhawks failed to sign him and he had a pretty successful rookie season, I consider this a bust on Chicago's part.
4. Jack Skille – Right Wing
Jack Skille was another American-born player selected by the Blackhawks. He attended the University of Wisconsin and made an immediate impact with the Badgers, leading all freshmen in scoring. This was a good sign – Skille was beginning to develop into the player the Blackhawks hoped he would.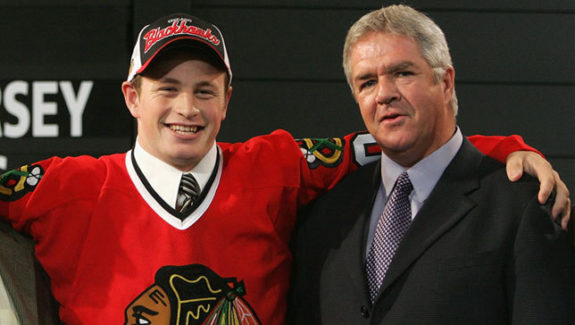 He signed his entry-level deal with Chicago, and tallied 25 points in 79 games in a Blackhawks sweater over four seasons. He went on to play with the Florida Panthers, Columbus Blue Jackets, Colorado Avalanche and Vancouver Canucks before moving overseas in 2017 to play in the Russian , Swiss and German leagues.
Still on the board when Skille was picked were Anze Kopitar and Marc Staal.
3. The 2000 Draft
The Blackhawks had consecutive picks in the 2000 NHL Entry Draft, at number 10 and 11 – they picked Mikhail Yakubov and Pavel Vorobiev, respectively. Yakubov played in 40 games for the Blackhawks and registered just 11 points. Regarded as a highly-touted center from Russia, he never adjusted to the North American game and left for the KHL in 2005.
Vorobiev, a speedy winger, registered 25 points in 57 games before also heading back overseas to play in the KHL in 2005.
Still on the board after these two were picked were Brooks Orpik, Anton Volchenkov, Steve Ott and Niklas Kronwall.
2. Kyle Beach – Center
Kyle Beach was a big, nasty center who many believed could have been a top-five pick, but he had a bit of an attitude. This didn't stop the Blackhawks from taking a chance on the mean center. Beach had at least 60 points in his previous two WHL seasons prior to being drafted. In the 2009-10 season with the Spokane Chiefs of the WHL he netted 52 goals and 86 points in 68 games. Beach was ready for the NHL right? Wrong.
Beach never played a game for the Blackhawks. He was traded to the New York Rangers in exchange for Brandon Mashinter. Beach is still trying to make a living in the European leagues. 
Tyler Myers, Erik Karlsson, Michael Del Zotto and Jordan Eberle were all still on the board when Beach was drafted.
1.  Cam Barker – Defense
The 2003-04 season was not a good one for the Blackhawks. Finishing the season with just 20 wins and 59 points, they were in a prime position to have the first pick in the draft. 
The Blackhawks thought that getting an NHL ready D-man with the third pick wasn't all that bad.  Cam Barker wasn't a bad defenseman for the Hawks, but he was expected to be a cornerstone of their blueline for years.  Barker's career high in points was 40, which he achieved during the 2008-2009 season, a year before being traded to the Minnesota Wild for a young defenseman by the name of Nick Leddy.