They're household names in Vancouver and within the homes of anyone who knows anything about hockey. But, are Henrik and Daniel Sedin on the trading block? The rumor mill is abuzz with such eyebrow-raising speculation.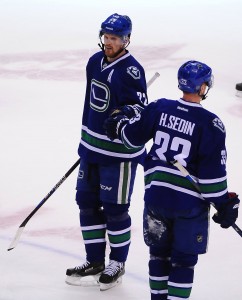 NBC Sports' Jason Brough recently reported that the Sedin twins were asked by a Swedish news publication if they feared a trade. The Sedins replied that it was their hope that they were staying put – even if a trade involving a Stanley Cup contender emerged. Brough goes on to note that neither Daniel nor Henrik ruled out waiving their no-movement clauses.
Players often let nuggets of information slip when they return to their homelands and allow interviews with their local media outlets. Away from the North American NHL reporters' lights, players are a little more relaxed and speak their minds more freely. However, the Sedins were coy on their futures, leaving their intentions (and the Vancouver Canucks' intentions) suitably oblique.
Turn to Twitter though and you'll see a bevy of Sedin trade rumors from some of the usual suspects along with well-informed fans who, by speculating on a Sedin twins trade, are emoting 'rebuild time' in their tweets. When is that rebuild going to occur? And will it involve the Sedins? Probably after next season and – yes – of course the Sedin twins will be shipped in a rebuild.
Lindquist said if it's the Sedins' choice, they prefer to stay in Van til end of cont, but if #Canucks want to move them, they'd be willing

— omarcanuck (@omarcanuck) July 22, 2015
It's plausible that the twins would be fine going to separate teams. Let's face it though, they'll almost certainly want to see out their remarkable careers on the same team. If the Canucks' management wanted to trade the twins, the latter's no-movement clauses aren't the only obstacles in the way. Both Sedins earn $7 million per season and have three years left on their current deals; there aren't many current NHL teams who would be willing to take on Henrik and Daniel's combined $14 million a year paychecks.
Just praying we get a 3rd rd pick back if we trade the Sedins #TraderJim — TheTangReport (@KrisIetang) July 29, 2015
.@rmcleave Next up: the keep the Sedins around until their trade value is next to nil and finally forced to move them for pennies.

— Kent Wilson (@Kent_Wilson) July 28, 2015
Can the Sedins Help Secure the Cup?
Trading one aging veteran is doable – trading twin aging veterans is problematic. And, age is an issue. They turn 35 in September and their peak was years ago. The biggest question is if the Canucks would be better off trading the twins now, or is waiting the better plan?
Ultimately, it comes down to Stanley Cup potential. I think the Canucks are three to five years away from contending for a Cup, and the most sensible move would be to deal the Sedins as soon as possible to get some kind of financial return on them.
It's a roll of the dice though. Some experts (but mostly fans) believe that the current team could contend for a Cup by the last year of the twins' contracts and that Henrik and Daniel could actually be the reason the team might win a championship.
Stats wise, the Sedins proved that they can hold their own among the elite and finished in the top 10 for NHL scoring last season. Don't be surprised though if they move in the next year or two, especially if the Canucks are poor out of the gate in 2015-16.