Some people never bother to develop a taste for the AHL, but if you want to forecast the next wave of NHL talent, then tracking pro hockey's triple-A league is simply a must.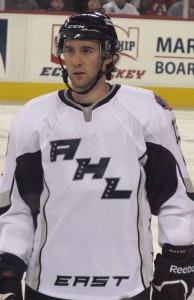 There will always be other-worldly talents like Crosby and Stamkos who, due to talent (and the needs of their team), step straight into the NHL. There will also always be those like Claude Giroux, James Neal, Louie Eriksson, and Jonathan Quick who first laced 'em up in the AHL – spending time riding the bus before making their mark in the bigs.
But predicting success isn't an easy task.
The AHL is league rife with split personalities. As the top developmental league for NHL talent, many of the franchises are owned by their parent NHL empires and stress player development, playing their young talent even when not necessarily in the team's direct interest.
Meanwhile, a few AHL teams remain independent and place more emphasis on winning. Depending on which club a young skater plays for will impact his development curve, and in turn any analysis by observers.
Further, some players are juggernauts in the AHL, but for one reason or another their game doesn't translate to the NHL. It's a basic fact of the AHL: not every top scorer is going to make it to the NHL, never mind thrive there. Or, as is case with this past season's fifth place point-potter, Keith Aucoin, the A's best scorers are sometimes those who have had already their day in the NHL.
How exactly, then, does one establish a player's trajectory with confidence?
While admittedly crude, one of the best discriminators remains age. Most great NHL players spend only a season or two in the AHL, leaving behind the minors behind at a young age.
But this method is not perfect, of course. Some NHL teams – like the Detroit Red Wings for much of the past decade – can afford to let their prospects distill for longer periods of time. So successful predictors pay attention to positions and parent-club needs while tracking the young talent.
With that in mind, here are the AHL's top 25 scorers for 2011-12 under 25 (overall league scoring rank in parentheses). You haven't heard the last from these guys.
1 (2). Cory Conacher, LW, Norfolk Admirals (TB), 75 GP, 39 Gs, 80 Pts, born Dec 1989.
Obscure college career. Undrafted. Insulin-pump dependent. Pro rookie. 2012 AHL MVP. Signed by Tampa Bay Lightning. Calder Cup champion? Wow.
2 (3). Patrick Maroon, LW, Syracuse Crunch (ANA), 75 GP, 32 Gs, 74 Pts, born Apr 1988.
Maroon has bounced back from whatever mysterious incident caused his dismissal from the Philadelphia Phantoms in October 2010, continuing the goal-scoring that earned him notice going back to his days as a London Knight. DobberHockey thinks he should make the jump to the NHL full time this coming season…but based on the sandpaper he adds to a line-up rather than the lamps he lights.
3 (7). Tyler Johnson, C, Norfolk Admirals (TB), 75 GP, 31 Gs, 68 Pts, born Jul 1990.
A member of the 2010 WJC gold-medal winning American team, Johnson made a splash during his rookie AHL campaign this year. He finished strong by putting together a 13-game goal scoring streak in March.
4 (11). Jonathan Audy-Marchessault, LW, Connecticut Whale (NYR), 76 GP, 24 Gs, 64 Pts, born Dec 1990.
Initially undrafted and playing in the ECHL, A-M was spotted and signed by the New York Rangers in June 2011. He promptly went out and led the Whale in points this past season (tied). Plus, he's got his own website.
5 (17). Mark Barberio, D, Norfolk Admirals (TB), 74 GP, 13 Gs, 61 Pts, born Mar 1990.
Bolts Prospects places Barberio ahead of Johnson on the Lightning's prospect list, and as the top defensive prospect after Keith Aulie.
6 (19). Peter Holland, C, Syracuse Crunch (ANA), 71 GP, 23 Gs, 60 Pts, born Jan 1991.
Holland was selected in the first round (15th overall) by the Anaheim Ducks in the 2009 NHL entry draft. He's already scored a game-winner against Roberto Luongo – no word, however, on how much this pumped the young skater's tires.
7 (23). Chris Terry, LW, Charlotte Checkers (CAR), 75 GP, 16 Gs, 59 Pts, born Apr 1989.
Terry has averaged 57 points per year over his three season in the AHL. In that same time period, he's added 15 points in 24 playoff matches.
8 (24). Kyle Palmieri, RW, Syracus Crunch (ANA), 51 GP, 33 Gs, 58 Pts, born Feb 1991.
Another first rounder (26th overall) from the 2009 draft, this former US National Development Team member has already played 28 games in the NHL for the Ducks. Palmieri has notched five goals NHL (eight points) over those games.
9 (26). Tomas Tatar, LW, Grand Rapids Griffins (DET), 76 GP, 24 Gs, 58 Pts, born Dec 1990.
Red Wings GM Ken Holland summed up the problems of young, skilled players in a recent piece by long-time Wings reporter, Ansar Khan. "(The NHL) is a hard league to be good at when you're 21, unless you're a superstar. He's got to continue to mature as a player. He needs to come to camp and keep developing. He competes hard, has good hands. He needs to get quicker in terms of leg strength."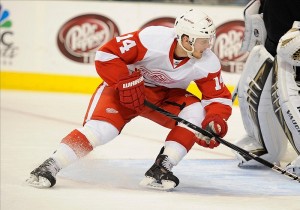 10 (27). Gustav Nyquist, LW, Grand Rapids Griffins, 56 GP, 22 Gs, 58 Pts, born Sep 1990.
The Bleacher Report has Nyquist ranked as the Wing's second most important prospect (after Defenseman Brendan Smith). And Holland has said that Nyquist will be given a chance to make the team in the fall.
11 (29). Ben Street, C, Wilkes-Barre/Scanton Penguins (PIT), 71 GP, 27 Gs, 57 Pts, born Feb 1987.
12 (32). Brandon Pirri, C, Rockford Icehogs (CHI), 66 GP, 23 Gs, 56 Pts, born Apr 1991.
13 (34). Matt Fraser, F, Texas Stars (DAL), 73 GP, 37 Gs, 55 Pts, born Apr 1990.
14 (36). Justin Fontaine, RW, Houston Aeros (MIN), 73 GP, 16 Gs, 55 Pts, born Nov 1987.
15 (37). Jason Akeson, F, Adirondack Phantoms (PHI), 76 GP, 14 Gs, 55 Pts, born Jun 1990.
16 (40). Andy Miele, C, Portland Pirates (PHX), 69 GP, 16 Gs, 54 Pts, born Apr 1988.
17 (42). Colton Sceviour, RW, Texas Stars (DAL), 75 GP, 21 Gs, 53 Pts, born Apr 1990.
18 (47). Francis Pare, RW, Grand Rapid Griffins (DET), 75 GP, 16 Gs, 52 Pts, born Jun 1987.
19 (48). Phil Varone, C, Rochester Americans (BUF), 76 GP, 11 Gs, 52 Pts, born December 1990.
20 (51). Joakim Anderson, C, Grand Rapids Griffins (DET), 73 GP, 21 Gs, 51 Pts, born Feb 1989.
21 (52). Justin Azevedo, C, Manchester Monarchs (LAK), 63 GP, 28 Gs, 50 Pts, born Apr 1988.
22 (53). Spencer Machacek, RW, St. John's Icecaps (WIN), 61 GP, 18 Gs, 50 Pts, born Oct 1988.
23 (54). Bobby Sanguinetti, D, Charlotte Checkers (CAR), 60 GP, 10 Gs, 50 Pts, born Feb 1988.
24 (57). Mike Hoffman, LW, Binghamton Senators (OTT), 76 GP, 21 Gs, 49 Pts, born Nov 1989.
25 (58). Rhett Rakhshani, RW, Bridgeport Sound Tigers (NYI), 49 GP, 20 Gs, 49 Pts, born Mar 1988.
Some of these skaters will suit up in NHL dressing rooms this fall. Some will slog out another season developing their skills and growing stronger, faster, or smarter as required.
But all are worth tracking if you have any interest in predicting the next wave of NHL talent.