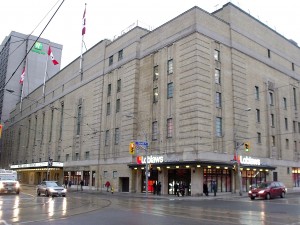 Change is, as most folks will tell you, inevitable. Frankly, the NHL is loaded with change, be it franchises moving cities or introducing new uniforms, changing styles in play, and of course players' moving to different teams. So it is that teams from time to time leave their old arena for a new address, a situation accelerated in the past few decades as NHL franchises leave old buildings in favor of new, modern facilities capable of increased usage, and with additional means of revenue generation.
For the so-called 'Original Six' teams, it meant leaving behind traditional homes that had become as much a part of hockey's history and identity as the logos, uniforms and players themselves. Madison Square Gardens (III), the Detroit Olympia, Chicago Stadium, Boston Garden… nothing is left of those buildings; MSG's site now a plaza, the Olympia site being used by the National Guard as an armory, and the other 2 sites now serve as parking lots for new arenas. Montreal's historic Forum became the Pepsi Forum, a movie theatre and shopping complex with many reminders of the building's storied past and the fabled team that played there until 1996.
When Maple Leaf Sports + Entertainment (MLSE) acquired the Toronto Raptors, they also got what would become the Air Canada Centre. Maple Leaf Gardens' last NHL game occurred in February 1999. The last tenant was the Toronto Rock of the National Lacrosse League, winning championships in 1999 and 2000 before moving on to the ACC. Since then, 60 Carlton Street has lay essentially dormant.
There was much discussion about what to do with the old Carlton Street Cashbox. Designated under the Ontario Heritage Act in 1991, and made a National Historic Site in 2007, the building has undeniable history. Whether hockey, concerts or boxing, wrestling, indoor soccer… it's easy to find people who had some connection, through radio, TV or in person. But time moves on, and numerous proposals and issues arose when trying to find a use for Maple Leaf Gardens.
Current Ottawa Senators owner Eugene Melnyk attempted to buy the Gardens to move his St. Mike's Majors there, but MLSE balked at the idea of having the Gardens continue as a venue competing with their own ACC. The idea of condos built inside the shell proved unachievable due to the original construction. In its design to provide unobstructed sightlines, there were few pillars inside. Instead, the lower bowl serves as a buttress to hold up the outer walls. Remove it, the building collapses. Further, the domed roof was described as integral to the history of the building, meaning nothing could be built on top. The public and MLSE wrestled with what would become of what was quickly becoming a deteriorating icon.
Some suggested a public skating rink, but that idea never took root. Let's face it, there was no way to restore, maintain and run a building like MLG based on a couple hundred kids skating on weekends through the winter. Some suggested the Hockey Hall of Fame move to the building, but they had only moved to their new 50,000 sq.ft. home in the old Bank of Montreal in 1993. It made no sense to move so soon.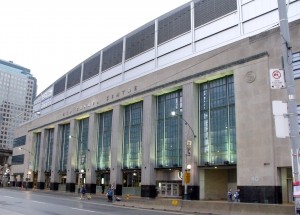 Lest you come away with the idea that MLSE has no sense of history, that's not quite true. As it turns out, 2 of MLSE's current arenas incorporate the history of their current locales. The ACC actually sits south of Toronto's historic Union Station, on a what used to be the Canada Post Delivery Building site. Much of the facades of that building are incorporated into the ACC on the south and east sides. The Marlies play in Ricoh Coliseum, formerly the CNE Coliseum, opened in 1921, and home to the Royal Agricultural Winter Fair. It was renovated for the 2003 arrival of the Oiler's farm team, the Roadrunners. That team played there 1 season before being moved to Edmonton, after which MLSE purchased the Coliseum and moved their farm team there.
It would have seemed at least possible that the Marlies could have given MLG a new lease on life. While the building was inadequate for NHL, the 15,700+ seat arena may have been modified to provide more luxury boxes and amenities. A return of the Marlies to the building that housed not only the parent club, but also the OHL Marlboroughs, seemed a perfect fit. But, a recently renovated Ricoh sitting without a professional sport tenant must have been too attractive, and in 2004, Maple Leaf Gardens was sold to Canadian grocery giant Loblaw. After a long 7 years, it's finally ready to re-open November 30, 2011… as a grocery store.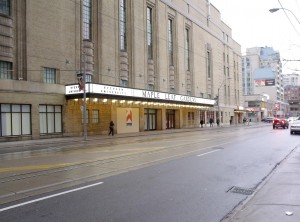 Well, according to Loblaw, not just any grocery store. It will be a flagship store, and one of the few large stores available to the downtown Toronto area. It's a compromise that doesn't sit well with everyone, some feeling as nice a grocery store it may be, it's beneath the history of the building. After all, the walls inside which dreams were born (and some fulfilled) to the voices of Paul Morris, Foster Hewitt and Bob Cole will now echo with "clean up, aisle three!" But, the idea of the Gardens remaining simply a hockey arena was unfeasible. In fact, even Loblaw's plan to be retail only was not possible, as the costs of restoring a then 75-year-old structure, unused for more than 5 years, posed a problem. Ultimately, a partnership with Ryerson University to turn the ice pad into a 3000-seat NHL-size rink and athletic centre helped defray the costs, allowing the project to move forward.
Ultimately, one of hockey's shrines, now 80 years old, will remain. Loblaw has restored the building to its 1940s exterior (save Loblaw's own signage). Hockey will still be played there once Ryerson is able to move in, sometime in 2012. True, there are those who feel it should have been demolished. But, it is such an integral part of how so many grew up… listening on radio, watching on rabbit-eared televisions, imagining themselves taking the pass from Apps or Keon or Sittler or Clark. In books and pictures and videotape, the memories are preserved. But, that Maple Leaf Gardens will continue standing means that despite the sale of bread and cheese inside, kids will still be able to see the building where those memories were created.