The Edmonton Oilers are enjoying somewhat of a resurgence this season. After 10-plus dreadful years of failed draft picks, underachieving stars and curious trades, the Oilers are finally on the right track. The future certainly looks bright in Edmonton.
They are in the running for a playoff spot, and they have a franchise player inciting dreams of the Stanley Cup. The Oilers have boasted some of the best players in the world over the years. But not all of them were able to achieve the ultimate greatness over the course of their pro hockey careers.
Curtis Joseph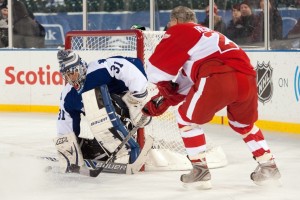 "Cujo" is widely considered to be one of the best goalies of his era. Despite never taking home any individual awards, Joseph backstopped his teams to 14 playoff appearances and etched his name on the list of goalies to reach 300 career wins.
He won a gold medal with Canada at the Salt Lake City Olympics and played in three All-Star games. His best years probably came in Toronto when he reached the Conference finals and was a runner-up for the Vezina Trophy. But Joseph did leave his mark in Edmonton.
Joseph was an Oiler for two-plus seasons and lifted them to consecutive playoff series victories. The one thing that eluded Joseph in his NHL career was a Stanley Cup. He played for six NHL franchises but never made it to the promised land.
Roman Hamrlik
A veteran of over 1,300 NHL games, Roman Hamrlik was one of the most solid defenceman of his time. The three-time All-Star won a gold medal at the 1998 Olympic Games and was the first overall pick in 1992. Hamrlik was traded to the Oilers in 1997 and remained with the team until 2000.
He was the prototypical power play quarterback, putting up 638 career points. He was a part of the Oilers playoff run in the late 90's but eventually left in free agency. Despite suiting up for seven NHL teams, Hamrlik never reached the Stanley Cup finals.
Shawn Horcoff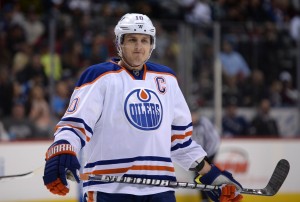 Horcoff played 12 seasons for the Edmonton Oilers. He was named team captain in 2010 and was part of the magical Oilers run in 2006 where they came within one win of a Stanley Cup championship. Horcoff was never the biggest offensive catalyst but he did score 511 career points and was selected to his only All-Star game in 2008.
Horcoff was known more for his hard-nosed play and became a fan favorite during his long tenure in Edmonton. He was eventually traded in 2013, and his playing career came to an abrupt end in 2016. The Finals appearance in 2006 would the closest he ever came to winning it all.
Dwayne Roloson
When then-Oilers general manager Kevin Lowe made the trade for Dwayne Roloson, it was met with criticism. But those complaints were quickly quelled when Roloson led the Oilers to an unexpected Stanley Cup final berth in 2006. The Oilers weren't considered anything close to a contender, but they got hot at the right time, and a lot of that was due to the play of Roloson.
Unfortunately, and we'll never know what would have a happened, an injury in game one of the Finals sidelined Roloson for the remainder of the series. Roloson never quite re-captured the magic as a member of the Oilers, but he will always be remembered in Oilers lore for his stellar play during that postseason run.
Roloson came close again in the 2010-11 season a member of the Tampa Bay Lightning, but that effort ultimately fell short. He retired in 2012, without a Stanley Cup, but with the memories of being the Oilers miracle man.
Ryan Smyth
Playfully known as "Captain Canada", Ryan Smyth was perhaps one of the most beloved Oilers of all-time. A member of the franchise for parts of 15 seasons, Smyth was part of seven playoff runs with Edmonton, including the Stanley Cup final appearance in 2006.
One of the most memorable moments of Smyth's career was his trade to the New York Islanders, where his tearful farewell would stick in the minds of Oilers fans for years to come. He eventually would return to the Oilers but was never as effective as he was during his prime years.
Smyth has several gold medals as a member of team Canada and was a veteran of over 1,200 NHL games. He ranks sixth on the list of all-time points leaders in Oilers franchise history. Smyth may not have been the most skilled of players, but he gave it his all on ever shift, he sacrificed his body for the team, and he was a great leader.
Taylor Hall (*)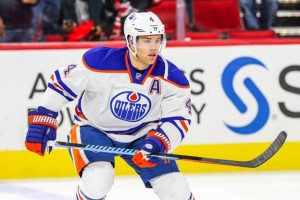 Former Oiler Taylor Hall is still an active player in the NHL, and can still win a Stanley Cup before his career is over, but it won't be while wearing the blue and orange. Drafted first overall in 2010, Hall was supposed to be the franchise player that helped lead the Oilers back to respectability.
But for many reasons, not all of which are his fault, Hall never made the playoffs as a member of the Oilers and was traded away rather unceremoniously. Some Oilers fans still lament his absence. He's a gifted goal-scorer with an edge, but things simply never came together while he was an Oiler. His 328 points ranks 17th on the all-time Oilers points list, and he has five gold medals for Canada at various levels of international competition.
Hall made no qualms about his displeasure in leaving Edmonton. And the circumstances around the trade didn't exactly leave the door open for an eventual return some day. In other words, Hall's days as an Oiler are surely over. He never did reach his goal while with the Oilers, and though he may do that some day with another franchise, his legacy with the team that drafted him will always leave much to be desired.