Things have shaped up nicely at Heinz Field in preparation for the NHL's Coors Light Stadium Series event where the Pittsburgh Penguins will host the Philadelphia Flyers. In fact, just as the official Heinz Field Twitter account showed us last week, things were coming together in a hurry.
It's starting to take shape. 🏈➡️🏒#StadiumSeries #HereWeGo pic.twitter.com/AEnH0yJdO7

— Heinz Field (@heinzfield) February 16, 2017
In just four short days, these cross-state rivals will take the ice in what's certain to be a beautiful setting in the home of the Pittsburgh Steelers. Weather patterns in Pittsburgh could make things a bit tricky but with rain forecasts leaving the area earlier in the day — so far — things will hopefully go as planned when puck drop arrives.
The paths lying in front of the Penguins and Flyers couldn't be more different. While Pittsburgh will look to build upon their success this season and get healthy in time for their stretch run and playoffs, the Flyers are fighting for their postseason lives. Considering the strength of the Metropolitan Division and their current record, a wild card spot looks to be their only hope. As it stands, they trail the Boston Bruins by three points for the eighth and final seed while going just 4-5-1 in their last 10 games.
Beating Pittsburgh at home, outdoors, and in front of this many fans would be huge in getting them back on track.
Stadium Series Offers a Shot at Redemption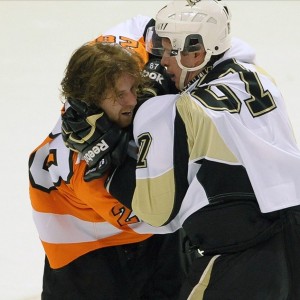 Ask the players about this game, and it's just another two points up for grabs, albeit a very important two points. However, in the grand scheme of things, this is much more than that and deep down inside these guys know it.
This is a battle of Pennsylvania on one of the biggest stages available for professional hockey. And this is a chance for Pittsburgh — who already has three outdoor games under their belt — to right the ship in that regard.
Things haven't necessarily gone their way at these events.
Pittsburgh was part of the NHL's first regular season outdoor hockey game in the United States when they faced the Buffalo Sabres on Jan. 1, 2008 at Ralph Wilson Stadium (now known as New Era Field). It was a site to behold with wintry conditions, a sold-out crowd, and a game that was impacted by the elements of playing outdoors. It was truly reminiscent of playing on your nearest pond, if you happen to live in an area where that's possible. It was also a storybook ending for the Pittsburgh faithful and the NHL, as the league's biggest star had the opportunity to end it in a shootout.
Unsurprisingly, with the amount of star power they deploy, the Penguins were featured in two more outdoor games in 2011 and 2014 where they faced the Washington Capitals and Chicago Blackhawks, respectively. Neither game ended the way Pittsburgh had hoped and in 2011 — at the exact same venue they'll play on Saturday — Sidney Crosby was blindsided by Washington's David Steckel. That hit proved to be the beginning of his troubling bout with concussion symptoms that ultimately led to 108 games missed.
Needless to say, they'd like things to turn out differently this time around.
The 2017 Stadium Series game between these two rivals provides Crosby and the Penguins an opportunity to shine yet again on a huge stage, in front of millions, just as they did when they hoisted the Stanley Cup last summer.
Viewership Boost Expected?
The common feeling these days is that the NHL is overdoing it with outdoor games. What started as an annual game, played on New Years Day, has turned into a series of matchups across the country. There's a sense that they're lessening the thrill of these sort of events by over saturating.
This one will prove whether that theory holds water.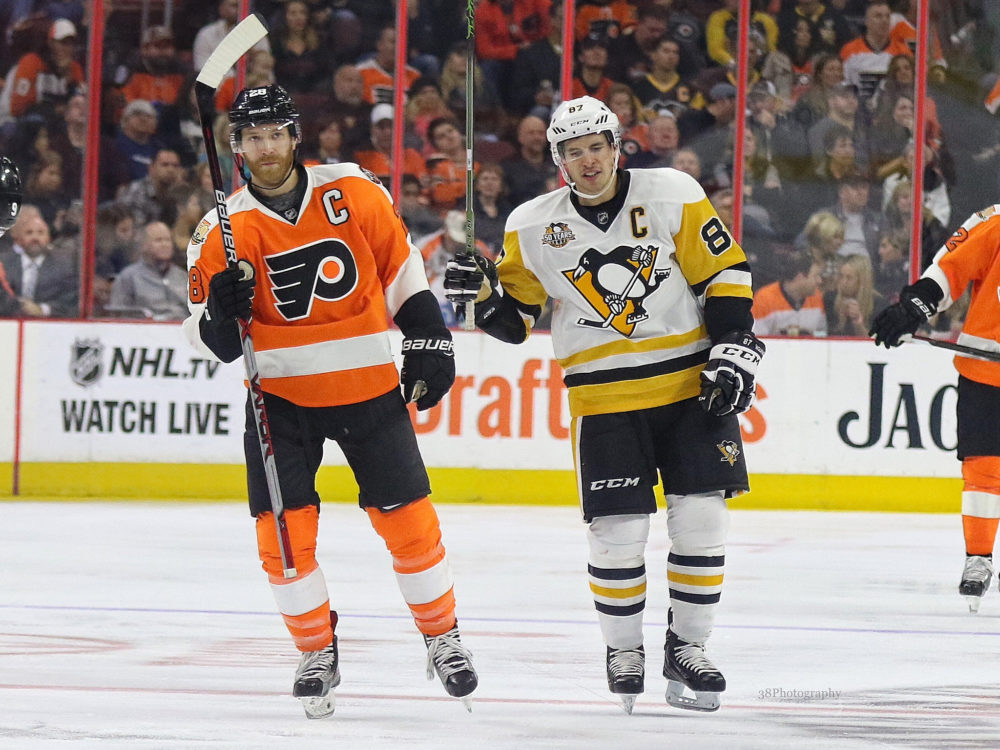 Viewership among the NHL's outdoor games spikes when rivals meet. I know, shocking development, right? The 2011 Winter Classic between the Penguins and Capitals is currently the most watched outdoor game with 4.50-million viewers, with the 2014 and 2009 Winter Classics tied for second at 4.40-million. Both of those games featured the Detroit Red Wings, and they played the Toronto Maple Leafs and Chicago Blackhawks, respectively. So, you had Crosby vs. Alexander Ovechkin at the height of their personal rivalry and then two great matchups at the time these contests took place.
Penguins vs. Flyers should, in theory, provide the same type of interest. Of course, anything remotely close will be a big boost over the rest of 2016's Stadium Series events, which topped out at 1.86-million viewers when the Blackhawks faced the Minnesota Wild. Can this contest hit similar numbers to this year's Winter Classic, which hit 2.78-million? I don't see any reason why it couldn't.
The stage is set and things will be heated on Saturday night — and no, I'm not talking about the temperatures in Pittsburgh. The Penguins are coming off a win against the Carolina Hurricanes that despite the score, was one of their uglier performances this year. They'll want to follow that up with a solid performance.
The Flyers, determined to turn things around in time for a shot at the postseason, will be coming off a game against the Capitals that's sure to be quite eventful. In other words, both parties will be ready to battle (for Pennsylvania).
Enjoy the show.
Pittsburgh Penguins writer for TheHockeyWriters.Com and PittsburghHockeyNow.Com. Youth hockey coach, and student of the game.