In the last two weeks, the Boston Bruins became one of the most polarizing teams in the NHL.
They traded away the organization's eventual #1 defenseman for a lousy return, followed by one of the team's most popular players for a decent return, in two separate deals. They re-signed a defenseman who played in only 78% of games over his career with the team to a four-year deal.
They made three consecutive picks in the first round, with the latter two players not projected to be picked until later in the draft, leaving other top prospects on the board.
This was in the span of about six hours. But don't worry, it gets better. Two days later, they traded a 2016 third round pick for a player who has as many career suspensions (eight) as he has career goals. Seriously.
But then, it actually does get better.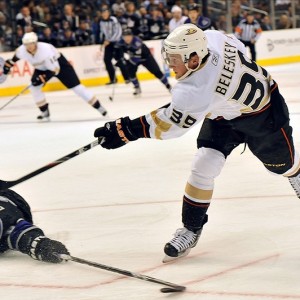 On July 1, Sweeney and the Bruins signed restricted free agent Ryan Spooner to a two-year deal worth $950,000 annually. Then, they trade Reilly Smith and his $3.4 million contract for RFA Jimmy Hayes, and signed Matt Beleskey to a pretty reasonable five-year, $19 million contract. A few days later, Sweeney signs Hayes to a three-year, $6.9 million contract and Brett Connolly to a one-year deal worth a tad over $1 million.
The sentiment around the Bruins offseason went from oh-this-is-embarrassingly-bad to Don-Sweeney-you-brilliant-son-of-a-gun in less than 12 days. Both are extreme, but both are pretty telling for the upcoming season, too. The Bruins aren't going to win the Stanley Cup next year – not even close – but they're going to be more than what last season's team was: they're going to be fun to watch.
For starters, the Bruins are banking on a lot of things to go right on both sides of the ice that went really, totally wrong last season.
On defense, they're banking on Chara to be healthy for most of, if not the entire year; Dennis Seidenberg regaining his form; Torey Krug improving his defensive game; and Adam McQuaid to be a top-four defenseman.
All of these scenarios are possible, of course, with the added expectation that Zach Trotman becomes a top-pair guy, and Colin Miller transitions his game from the AHL to the NHL. With that said, the defense as it stands right now is a giant "who knows?" The Bruins will likely add a player to the mix soon because if they're going to compete, and it looks like they will, this defense isn't going to cut it.
And then, there's the offense. The Bruins are taking some chances here, too. They're banking on last year to not be a fluke for Beleksey. They're banking on Hayes to be an upgrade from Smith. They're banking on Connolly to play up to his potential. And they're banking on more production out of already consistent players such as Brad Marchand, Loui Eriksson, and David Krejci. It's not a lot to ask, especially since this group of top nine forwards is already a big upgrade from what the Bruins had to begin last season.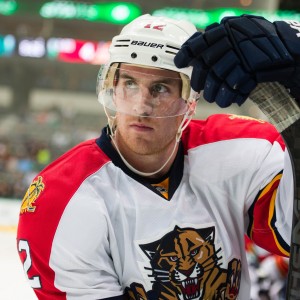 Consider this: the Bruins scored 209 goals last season; 171 came from the offense. The forwards who are no longer on the Bruins accounted for 37% of that goal production. Now, the Bruins will get a full season of production from Connolly, Pastrnak and Spooner, plus whatever Beleskey and Hayes bring to the table. They didn't have that last season. Last season, Beleskey was responsible for 11.8% of the goal production amongst all Anaheim forwards while Hayes was at 11.2% amongst the offense in Florida. The biggest individual contributor that the Bruins will lose next season is Lucic, responsible for 10.5% of all goals from forwards.
The Bruins are actually gaining more production from wingers who will be playing aside better centers in Boston. They're probably going to score more goals. That's a good thing, but the Bruins are still hoping that a lot goes in their favor.
It's going to be different next season. The Bruins are no longer a preseason favorite to be an Eastern Conference contender. They're not a top-ten team in the NHL anymore. They might not even be a playoff team right now.
Maybe instead of skating through the motions, completely devoid of passion and finish like they did last season, they won't be so entitled. Winning isn't going to come naturally for a Bruins organization that has been spoiled in recent years. One Cup, two trips to the Final, one President's Trophy – the Bruins were groomed to succeed and that might have been what made them so complacent. Now, they're going to have to want it more than they have in awhile. And it won't come easy.
There are better teams in the East, but the Bruins are still going to compete and will be a tough game for opponents.
If the start of this offseason is any indication on what could come for the Bruins, it's going to be tough to ignore this team. We just don't know if that's a good thing or not.
Follow Mike on Twitter for more Bruins news, updates, and commentary.