Each year the Calder Memorial Trophy is handed out to the league's top rookie.  Past winners include now household names like Malkin, Ovechkin, Forsberg and Bure.  Only a few games past the half way mark, we take a look at who might be the next name to grace the trophy.
Early in the year it looked like #1 overall pick and Oilers phenom Ryan Nugent-Hopkins was the odds on favourite to take home the hardware.  However, now sidelined with a shoulder injury, along with the emergence of other freshman stars around the league has made this far from a foregone conclusion and has turned into a race that looks like it's just heating up.
Here are are the top ten candidates going forward into the second half.
*As of January 21, 2012
Honourable Mention:  Carl Hagelin, LW, New York Rangers (28GP 8G 8A 16PTS +13)
Young Swede might be the fastest player on this list and has been a solid contributer for John Tortorella since being called up November 25, getting some time alongside Brad Richards for the Eastern Conference leading Rangers.
10.  Sean Couturier, C, Philadelphia Flyers (42GP 10G 8A 18PTS +16)
The 8th overall pick in this past draft, was perhaps a surprise to start the year with the Flyers, but Couturier has excelled in his role this year for Peter Laviolette.  Centering the team's fourth line, he is also one of the top penalty killers over the boards for the Flyers and has drawn rave reviews for his 2 way play.  He leads all rookies with a +16 rating and after returning to the lineup Dec.29 from injury, he has been productive with 9 points in his last 10 games.
9.  Justin Faulk, D, Carolina Hurricanes (34GP 4G 7A 11PTS -9)
The ice time leader among rookies playing 22:22 per night, Justin Faulk has picked up the slack from Joni Pitkanen's absence and has emerged as the ice time leader for the Hurricanes as well, playing in all situations.  While Faulk started the year with the big club he was sent down for seasoning after 3 games.  He was recalled November 18 and hasn't looked back.  He ranks 4th among rookie defensemen with 11 points but is closing the gap fast and so is his rise on this list.
8.  Craig Smith, C/RW, Nashville Predators (46GP 10G 17A 27PTS -8)
An unknown commodity to start the season, Smith is slowly gaining notoriety around the league.  With 26 points in 45 games he trails only Martin Erat and David Legwand for the team lead.  He leads all rookies with 6 powerplay goals and trails only Ryan Nugent-Hopkins with 13 powerplay points among freshmen.  Those 6 goals also lead the Preds roster with the man advantage.  Yet another Nashville product from the Univesity of Wisconsin, Smith's continued offence will be needed for the Predators to maintain their playoff spot in the increasingly tight Western Conference.
7.  Gabriel Landeskog, LW, Colorado Avalanche (48GP 9G 13A 22 PTS +11)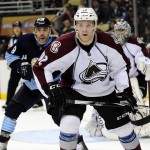 The #2 pick in this draft, Landeskog was considered the most NHL ready player available, and he hasn't disappointed.  He has done everything the Avalanche have asked him to do and more.  He has produced on the scoresheet and in the dressing room showing a maturity beyond his 19 years.  The most glowing report might be the comparison he has drawn to another former Colorado Swedish star, Peter Forsberg.  Perhaps the most impressive stat on the young winger is his +11 rating.  Not only does that lead the Colorado roster, he is the only plus forward on the team that has played at least 14 games, and by a wide margin, the next closest Ave's regular is Ryan O'Reilly at -3.  All of this playing 18:03 a night on an Avalanche team fighting to make the playoffs.
6.  Adam Larsson, D, New Jersey Devils (45GP 2G 13A 15PTS -6)
The top defenseman chosen in the 2011 draft, going #4 overall to the Devils, Larsson gives New Jersey potentially their most talented defenseman since the days of Scott Stevens and Scott Niedermayer.  His 15 points lead all rookie defensemen and he leads all New Jersey defensemen playing 21:40 on average per night.  While his numbers alone aren't overwhelming he shows uncommon poise for a defenseman his age, rarely seen by a 19 year old in his first year playing that position.  Simply put, there are very few holes in his game.
5.  Colin Greening, LW, Ottawa Senators (50GP 11G 15A 26PTS -4)
Playing most of the year on Ottawa's top line with Jason Spezza and Milan Michalek, Greening has been a major contributer in the surprising resurgence of the Senators.  A good complement to the slick passing Spezza and the sniper Michalek, Greening is a smooth skater with good size and is not afraid to get his nose dirty in high traffic areas.  He does most of the grunt work for the talented trio and has given Ottawa increased depth up front.  His 11 goals rank 3rd among his fellow rookies and he has played in all 50 Senators games.
4.  Cody Hodgson, C/W, Vancouver Canucks (48GP 13G 16A 29PTS +7)
Once considered the top prospect in hockey, a combination of injuries and inconsistent play cost Hodgson most of his last 2 seasons.  Finally healthy and given the opportunity Hodgson has cemented himself as a regular in the Canucks lineup.  No rookie has done more with less ice time, playing only 12:41 per night, his 13 goals and 5 powerplay goals rank second among rookies.  A solid all around talent, he has also shown his versatility in Vancouver this year, playing both wing and centre and anywhere from 2nd line to 4th line for one of the Western Conference's best teams.
3.  Matt Read, RW, Philadelphia Flyers (43GP 15G 16A 31PTS +14)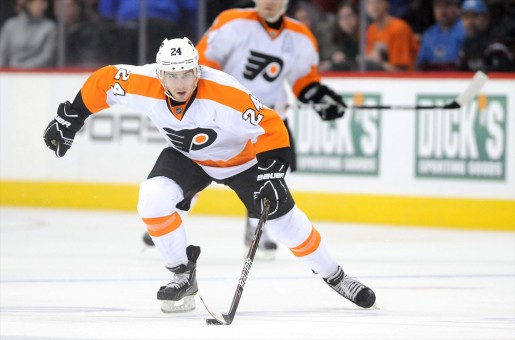 Slated for AHL duty going into training camp, Read impressed enough to earn a spot on opening night.  He has emerged as the goal scoring leader among rookies with 15 goals and is third with 31 points.  A scoring star with Bemidji State in college, Read has carried his success into the NHL and has been a consistent producer for the Flyers all year.  Perhaps the hottest player on this list, he is heating up in 2012 scoring 8 points in his last 7 games.
2.  Adam Henrique, C, New Jersey Devils (42GP 13G 21A 34PTS +7)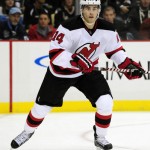 His ranking on this list may be for only a matter of days as he has all but closed the gap on Ryan Nugent-Hopkins.  A 2-time Memorial Cup winner with the Windsor Spitfires playing on a line with Taylor Hall, he now centers one of the most explosive lines in hockey, playing between Zach Parise and Ilya Kovalchuk on the Devils top unit.  Henrique has also shown his worth as one of the team's top penalty killers and has 4 shorthanded goals which leads the NHL. One of the most well rounded prospects in hockey,  he ranks second among rookies in goals, assists and points, and until RNH returns from injury, it's only a matter of time before he takes over top spot.
1.  Ryan Nugent-Hopkins, C, Edmonton Oilers (38GP 13G 22A 35PTS +0)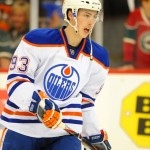 Centering the most exciting young line in hockey, playing alongside other top prospects Taylor Hall and Jordan Eberle, RNH was producing at close to a point a game pace before getting injured.  He still leads all rookies in assists (22), points (35) and powerplay points with 18.  The questions and doubts that swirled around the Oilers in training camp about whether he would stick, seem ridiculous now.  A creative playmaker and intelligent player, he possesses great hands and a knack for being in the right place.  The runaway Calder favourite for the first 3 months of the season, a mini slump (1 assist in last 5 games) and a subsequent shoulder injury, have made his grip on the top spot tenuous at best.  Nugent-Hopkins retains the #1 ranking on this list….for now.
twitter:  @maloney3383  ¦   Carl's Archive
Carl covers the Edmonton Oilers for THW as well as providing additional prospect coverage. Follow him on twitter @carlTHW, connect on Facebook or contact at carl.maloney@hotmail.com for questions, comments or if you're interested in him writing for you.