This off-season is an important one for the Buffalo Sabres.
It's been a long, long time since the franchise was in a state of flux quite like this. Lindy Ruff, long-time head coach and security blanket of sorts is gone.  No longer can Sabres fans point to him as the longest-tenured coach in the game as if that were somehow more important than the fact that he hadn't won a Stanley Cup in his 15 years with the team.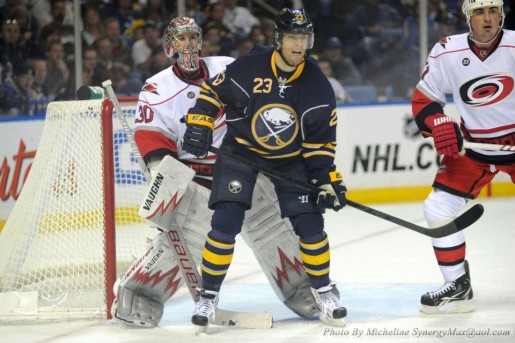 Gone is captain and star winger Jason Pominville, who's contract and productivity in a sea of inconsistency and poor effort helped him stand out enough to land him a ticket out of town and out of the losing culture which seems to have engulfed the team in the last few years.
General Manager Darcy Regier remains, somehow.  Maybe because his moves at the deadline, which were astoundingly quality – turning Pominville and defenders Robyn Regehr and Jordan Leopold into two high-quality prospects, four second-round picks, a conditional fifth-round pick, and a first-round pick – or maybe because there were no definitively "better" options out there. Hell, there weren't even comparable options.  No sense in downgrading, right? Sure, Darcy only constructed the mess that needs restructuring.
Obviously, the draft will be a huge key to this "new regime" for the Sabres.  In a loaded draft like this, they could find multiple pieces to fortify themselves for the future or perhaps package them to make a bigger splash. Time will tell.
One of the biggest decisions to be made will be in regards to forward Ville Leino and whether or not the team should use one of their two amnesty buyouts on him.
Leino, the 29-year-old Finnish forward, hasn't exactly endeared himself to Buffalo fans in his two year stint with the team.  Which is the nice way of saying "most of the fan base hates him and would have cut him loose ages ago if they'd had the choice."  It's hard to argue that mindset when, after doling out a six-year, $27M deal to the former Detroit Red Wing/Philadelphia Flyer, he proceeded to produce a whopping eight goals and 25 points last year before being sidelined for all but eight games this year (he did register six points in those games).
Not only that, because it's easy to just look at stats, but watching him infuriated the average Sabres fan.  He might have to be standing wide-open five feet in front of the net to actually take a shot.  Not only that but, given that he'd come in with a reputation for being strong in the puck possession game, you would think he'd be better at it than he was.  He routinely held the puck for far too long before making a bad decision with it or just outright giving it up. Now we know where Tyler Myers gets it.
So with all that said, you would think the decision to buy him out would be a slam-dunk given he has four more years left at $4.5m/year. Well I'm here to tell you why the Sabres should keep him around.
Still New In Town
Consider this season a wash of sorts. He's really only had one year with the team so far and, yes, it was bad.  His eight goals and 25 points in 71 games were miserable and a huge drop from the 19 goal, 53 point effort that landed him the big contract in the first place.
Leino was clearly hesitant and indecisive; a problem that was surely exacerbated as the season wore on and fan unrest began to pile on.  Hearing all of the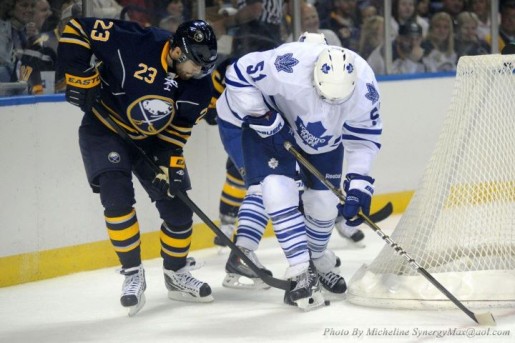 complaints, already knowing he was having a miserable season, had to weigh heavily on Leino. Criticisms about "they're professional athletes!" apply to an extent but try to remember that they are people who deal with adversity too, not robots programmed to entertain.
Secondary players need time to acclimate to their new surroundings and Leino was never really afforded the opportunity.  When he came in, he was supposed to help at center but when he struggled, Ruff juggled his lines and Leino never got the chance to find comfort and consistency at one spot.
He Improved In Year Two
Yeah, caveats apply about year two only being eight games but still. Extrapolate his stats (two goals, four assists) out over the full 48 games and he has a 12-24-36 line. For 48 games, that's fantastic.  Obvious caveat about extrapolating stats apply here as well but you get the point.
Watching him, you can see that he's smarter with the puck and he only turned it over twice in his eight games (down from .39 turnovers/game from last year).  He's not as hesitant to make the next move – be it pass, dump, or shoot – and he seems more confident in what he's doing with the puck this time around which has made that puck possession game we heard about before he signed on come to light.
More importantly? He's shooting the puck more.  Granted, he'll never be an Ovechkin-type who slings everything at the net from 30 feet or closer but his per game averages are slightly up.  Not to mention his shooting percentage dipped from 16.2% during his career year with Philly to just 10.3% last season.  Very small sample sizes applying here but he was back up to 18.2% this season.  If he can produce around 15% or so he'll be fine.
A Complete Dearth of Talent
This isn't the best of reasons but, really, who else are they going to put out there? Pominville is gone and Thomas Vanek could be as well by the time draft weekend ends. After Hodgson/Ennis/Vanek/Stafford/Ott, there isn't much other than an AHL pu pu platter.  Mikhail Grigorenko could find a spot, ditto for one of this year's draft picks (though not likely), and maybe one other surprise prospect. If management doesn't think many of the youngsters are ready, spots will need to be filled.
So that opens up opportunities for someone like Leino who can be a solid third-line presence with the pressure off of him.  Give him matchups against third pairings and a healthy season to show he's worth his deal and I think Buffalo will be pleasantly surprised with him.
The popular move this off-season will be to let Leino go.  I understand that fully and wouldn't be terribly upset to see him go but I think that, given what he's shown in limited action this season, Ville Leino can only go up.  It'd be really hard for him to top his disastrous 2011-12 season. It would be the epitome of everything that is Buffalo sports to see him get worse but I'm hoping for this "revert to the mean" stuff to be true.
Don't make me look bad, Ville. I'm begging you.
Follow me on Twitter: @RWTFC
A long-time (and long-suffering) Buffalo sports fan. Sometimes optimistic, always weary. I write other stuff for a lot of other people.