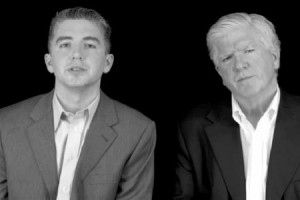 The announcement of Jason Collins coming out as the first gay athlete still actively playing was a monumental event and a great moment for the LGBT community. Numerous NBA players have voiced their support for Collins for his announcement. The NFL is slowly, but surely, getting ready for it's first player to come out with strong supporters like Minnesota Vikings punter Chris Kluwe and Baltimore Ravens linebacker Brendon Ayanbadejo.
One question still remains though, when will he see a gay NHL player on the ice?
Movement is progressing on this front with a foundation called "You Can Play". The You Can Play Project was started by Patrick Burke, the son of former Toronto Maple Leafs general manager Brian Burke, Brian Kitts, and Glenn Whitman. The project "is dedicated to ensuring equality, respect and safety for all athletes, without regard to sexual orientation,"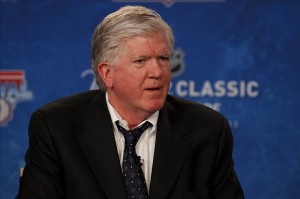 This project is near and dear to the Burke family as it was started in tribute to Patrick's brother and Brian's son, Brendan. Brendan Burke was the team manager for Miami University in Ohio's hockey team and he was also gay. Brendan tragically perished in an automobile accident in February 2010.
Although the Burkes were very accepting of Brendan's sexuality, Patrick Burke was concerned about how homophobia would stunt his playing career and thus, the You Can Play Project was formed. The project released numerous videos trying to end homophobia in the NHL
The message is simple: If you can play, you can play. Isn't that the way it should be anyways? If a player has a wicked slap shot or is a tremendous blue liner, do you really care if he is gay or not? The You Can Play Project has a lot of firepower in terms of support with stars like Zdeno Chara, Scott Hartnell, Duncan Keith, Henrik Lundqvist, Rick Nash, Corey Perry, and Steven Stamkos just to name a few. The NHL is perhaps the most active league participating in You Can Play and rightfully so, but its working to end homophobia in all sports.
The NHL, and the world in general, has come a long way. The game of hockey is, mostly, a conservative sport, but with a groundswell of support and the You Can Play Project, it's really opening a lot of eyes to this cause. Ottawa Senators captain Daniel Alfredsson has said about players coming out,
"If [a player was] gay, it would probably be really hard to have to hide it all the time. There will always be people opposed to it, I suppose, but I have a feeling that, overall, it would be accepted…I wouldn't personally have an issue or feel anything [negative] toward someone who is gay."
Of course you'll always get the lunkheads like Tyler Seguin tweeting "No Homo" before quickly deleting it (Patrick Burke is planning on speaking with him about it). Then you'll have people saying that NHL players coming out will damage the game and damage children playing the game of hockey, but the NHL, out of all the leagues, is prepared the most of a gay player. The You Can Play Project has done a tremendous job of educating both players and fans on the issue of homophobia and has become the template for all other leagues to follow.
So, simply is the NHL ready for a gay player: Yes. As long as a player can help a team win the Stanley Cup, I don't care if he's black, white, Asian, gay, straight, and really that's all that matters in the end.
Mark Wallace Graham has been a writer for TheHockeyWriters.com since March 2013. Growing up in New England, Boston Bruins hockey was in my blood. Follow me on Twitter, @MarkWGraham