The last team of the Central Division is the Colorado Avalanche. Kevin Goff of the Burgundy Brigade was kind enough to take on our Avalanche questions, sit on the hot seat, then fire back some unexpected answers. It was fun and here we let you go along for the ride. Amazingly there are only seven Q&A's to go after this one. The rest will have in season questions and we apologize but it will make for a unique experience.
======================================
1. The Colorado Avalanche had one of those magic carpet seasons last year. What caught you most off guard about this team?
The thing that was the most surprising to me, and I think the rest of the NHL, was the consistency the Avalanche showed a season ago. In the recent pass we've seen the Avs put together a few winning streaks here and there, but there was always a point where they fell off and went on an equally bad, or exponentially worse losing streak. The way the Avalanche were able to identify and correct mistakes, and never allow themselves to go on a long losing streak was the biggest surprise. Many of us thought that this team had playoff potential, but how they just managed to keep accumulating points and win the division was pretty astounding.
2. Ultimately the team would fall to Minnesota in seven games, what ultimately doomed the Colorado Avalanche?
It was a combination of things. The Avalanche had a lot of injuries going into the series and then lost Tyson Barrie who was one of the team's biggest game-changers last season. Most of the players on the team didn't have much playoff experience and their playoff immaturity really showed with most of their road performances. And they wasted two absolute gem efforts from Varlamov in games 3 & 4. Varly was lights out but he seemed to be the only member of the team that made that particular road trip. It was kind of a perfect storm.
3. Patrick Roy versus Bruce Boudreau in a war of words. Who wins and why?
Patrick has always been the victor in the war of words going back to one of the greatest playoff chirps in history with Jeremy Roenick in the 1996 Stanley Cup Playoffs. Until somebody unseats the king, Patrick will always reign there.
(Simply this is flat out crazy but yes Nathan MacKinnon is this absurdly talented.)
4. Nathan MacKinnon had three goals on 69 shots at one point then caught fire and won the Calder. What is next in year two for the 2013 number one overall pick?
MacKinnon has the potential to absolutely explode this year. His offseason work gives a preview of things to come. MacKinnon put on about 15 pound-worth of muscle in the offseason, but has not lost any speed. Watching MacKinnon in training camp and preseason, he has a whole new element of power in his game that wasn't really there a season ago. It wouldn't be stunning to think MacKinnon could push Matt Duchene for the team lead in points this year.
5. Semyon Varlamov had a trying start to the season but ended up quite well. Can he duplicate his breakout season or will he slide back a bit?
It's hard to expect any goalie to put together two seasons like the ones Varlamov had a season ago. Even Patrick Roy, who is the greatest goalie to ever play the game, only won 40 games once in his career. Would it be considered sliding back if he only won 36 games this season? By some, probably, but Varlamov is still going to be a goalie that will give the Avalanche a chance to win every night.
6. Jarome Iginla was a 30-30 player for Boston. What can he do this year in Colorado?
I see no reason why he couldn't easily produce 30 & 30 again this season. It seems there's already been some tinkering in the top six, but the initial placement of Jarome Iginla was with Matt Duchene and Ryan O'Reilly. By the end of preseason, he'd played with several other players as well, so we'll see exactly where he ends up, but the talent on the Avalanche is easily on par, or even better than what he had in Boston. Forgetting that, Iginla still has a nose for the net that is equalled by very few in the history of the game. There are some guys that the puck just finds, and Iginla has been that way his whole career. I'm also very excited to see how he helps the Avalanche power play, as well.
7. Much has been made about this whole PDO, advanced stats debate, and the Adrian Dater stance. Are the Colorado Avalanche a product of luck or can they sustain last year's level of play?
Any successful team in the NHL will be the beneficiary of some luck throughout a season and playoff run. So yes, there was obviously some luck involved. At the same time, the Avalanche still had to go out and and put up the goals to win the games. So it's both. I've never been one to rely completely on one view point to analyze anything because it takes away so many aspects of the game. The Avalanche recognize that they need to do a better job possessing the puck, but it's about so much more than just what their overall corsi or fenwick was. The Avalanche also accept the fact that their system is one that is going to give up some chances because they want to skate and open up the game. There's no need to change who they are as a team because of one set of stats. Can it help shape the way they go about improving the team? Absolutely. After all, the most important stat of any game is who is ahead on the scoreboard by the end.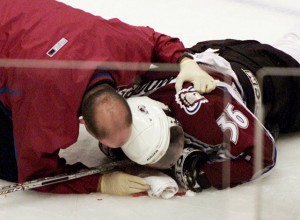 8. The Steve Moore saga is finally over. What are your thoughts now that the end is here?
It's nice that there is some closure on this. It's been a stain on the league for a long time and I know that the league has to be pleased that this was settled out of court. Personally, I have a lot of very strong feelings about the whole situation that I will boil down to its most basic point so I don't go off on a large rant that would take over this whole column. Even though there is a substantial settlement coming Steve Moore's way, there is still one gigantic injustice from this whole situation. That injustice is that Todd Bertuzzi was allowed to continue playing after what was the most cowardly and gutless assault of a helpless individual that many of us have ever seen. I'd love to see the Avs do SOMETHING to acknowledge Steve Moore, even if it's just to invite him to a game and ask all the players and crowd to acknowledge him at intermission or after a timeout. That, however, will most likely never happen.
9. Who is the biggest threat in the Central Division to the Colorado Avalanche?
It's hard to pick just one, the Central Division is loaded. The five teams that made the playoffs from the division a season ago are all so close that choosing a division winner seems like a game of Yahtzee. It could come out in so many different ways. Dallas might be the biggest threat in the division this season. They have some questions on defense, but they were very active in the offseason and definitely made some moves that should prompt the whole league, not just the division, to turn their heads.
10. What is in the prospect cupboard that we should be looking at this upcoming season?
The Avalanche made some very savvy moves in the off-season to add to their prospect pool. Guys like Cody Corbett, Sam Henley, Roman Will, Borna Rendulic and Dennis Everberg have added great depth, skill and size to the team. Defensive prospects Chris Bigras, Duncan Siemens and Mason Geertsen have all made strides in the past season. Bigras and Geertsen are both back with their junior teams for the season, so all eyes will be sharply focused on Duncan Siemens who will have his second season in Lake Erie this year. Roman Will was the darling of training camp, making a huge impression in the crease. There was a lot of talk that Will might have stolen the starting role in Lake Erie from other goalie prospects, Calvin Pickard and Sami Aittokallio.
Guys that have a chance to see action for the Avalanche this year are Everberg, Rendulic and Joey Hishon are guys that have a shot at seeing some time with the big club. Depending on trades, injuries, etc., it might be possible to see Duncan Siemens.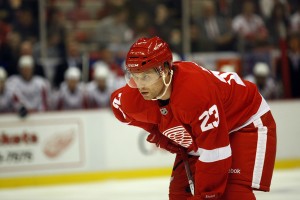 11. If there was one thing that worries you to death about Colorado this year, what would it be?
Defense is still a big question for the Avalanche. They know what their shortcomings were and didn't manage to get too much help on the blue line. Brad Stuart is an upgrade, but the question is whether or not he'll be able to thrive playing top-pairing minutes. Zach Redmond appears to be an excellent pickup for the Avalanche. He's a very smooth skater, has an excellent first pass out of the zone and loves to join the rush. He also has a very solid shot from the point. It seems that some improvements have been made, but it's going to be hard to tell until we see things get underway.
12. How far does the Colorado Avalanche make it in 2014-15? Playoffs? Conference Finals?
This is still a playoff team, no question about it. Advanced stats or not, the Avalanche will compete for a Central Division title again. Whether or not they win it is hard to say because this division is so stacked. Will the Avalanche put up 112 point and franchise records in wins and points again? Probably not, but the moves the Avalanche made to bring in players with more playoff experience have set them up to be a much better playoff team whether or not they do as well in the standings as they did again. I can see the Avalanche in the conference finals, I can also see them losing in the first round again. Time will tell with this as we see how much the Avalanche have matured from last season to this season. They are set up for success again, though. We're all very excited to see how this season plays out in Denver.
=======================================
Next up the Pacific Division…thanks for reading.