On Saturday afternoon, the Chicago Blackhawks traded defenseman Nick Leddy and goaltender Kent Simpson to the New York Islanders in exchange for defensemen T.J. Brennan and Ville Pokka, along with goaltender Anders Nilsson. It was a necessary move to get under the salary cap, but will the the Hawks regret trading the 23-year-old as they are once again Stanley Cup contenders?
How much did Leddy mean to the Hawks?
Hawks fans may remember Leddy as the last player on the team to touch the puck last season.
Some might look at the deal as a non-factor. The Blackhawks have a stacked defense, headlined by two-time Norris winner Duncan Keith. Add Olympians Brent Seabrook, Niklas Hjalmarsson, and Johnny Oduya to the mix and it almost shouldn't matter who rounds out the group. Leddy is not a lock-down defenseman and maybe he never will be, but at such a young age, it appeared that he was heading towards being a legitimate top-four D-man and will be given the chance to do so on Long Island. At 16:22 MPG, his role has drastically decreased over the past two seasons though and it's possible his growth is being hampered by playing behind four stud defensemen.
His puck-moving skills are well documented, but with a $2.7 million cap hit and restricted free agency looming next offseason, perhaps this was the best time to move him. Any further improvement this season would all but ensure his desire for a lengthy contract extension, but therein lies the problem. The Blackhawks have so much money locked into their core that a Bruins-esque "cap jail" situation is in their foreseeable future. Oduya and Brandon Saad will probably have to hit the market too unless a major move is made, but that's an issue for another time.
What will the Blackhawks D look like this year?
With Leddy gone, there are a few less-experienced players aiming to take his spot. First is Kyle Cumiskey, who is set to begin the season on the NHL squad. Although he debuted for Colorado back in 2006-07, he only logged 132 games over five seasons before giving the Swedish Elite League a try. David Rundblad, who turns 24 on on Wednesday, is still looking to play his first full NHL season. According to CSN Chicago insider Tracey Myers, he has been skating with Oduya while Cumiskey has skated with Hjalmarsson. When Michal Rozsival returns from injury, he will be looking for time as well. This leaves out Trevor Van Riemsdyk, whose contract would push the Blackhawks back over the limit pending another transaction.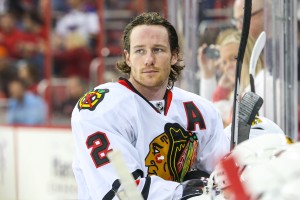 While the lack of Leddy may not be a huge deal, splitting up Oduya and Hjalmarsson could create some problems. Figuring out how the veterans play with these new faces could cause mixed results for a while. In a division and conference where points are hard to come by, the Blackhawks don't want start out on a slide because climbing back will be difficult. They will probably be in a comfortable situation down the stretch, but maybe they will have to look to the newly acquired Brennan, that is if he clears waivers.
Chicago's core four all logged over 20 minutes a game last season and may even need to raise that up a notch this year, but it's hard to imagine their defense being substantially worse because of Leddy's absence.