On this date, Feb. 7, 1976, Toronto Maple Leafs Hall of Famer Darryl Sittler set an NHL record with 10 points in one game — he scored six goals and added four assists in an 11-4 Toronto win over Boston, at Maple Leaf Garden. 
To honour that performance we thought it would be appropriate to re-publish this great compilation of NHL records held by the Maple Leafs, or individual players who were playing for Toronto when the feat was accomplished.
Originally written by former THW contributor Mike Moore and published on Oct. 11, 2010.
---
---
I have to chuckle a bit to myself when somebody calls the Toronto Maple Leafs a "storied" franchise. Not because it isn't true. It's just that most of the good stories are from the franchise's first 50 years in the NHL and up until 1967. Toronto has had an NHL team since Day 1, having been granted a franchise on November 22, 1917. The team is in its 94th year (2010), changing names twice along the way from the Arenas to the St. Patricks and finally the Maple Leafs in 1927.
As of 1967, Leaf fans could rightfully boast of a decorated, celebrated and storied past. But the most recent 43 years have been a lot less glorious. Any Leaf fan under the age of 50 has been somewhat short-changed in exchange for their unwavering loyalty through years of devotion to the Blue and White.
In their overall history, the Leafs have an all-time winning percentage of .508. That means they have won slightly more games than they have lost. As at the end of last season, the franchise had actually given up more regular season goals than they had scored, (GF- 18,403: GA- 18,410). Since the 1967-68 season, the team has lost more games than it has won with a winning percentage of just .487. To put this result into perspective, the Florida Panthers also have an all-time .487 winning percentage, missing the playoffs entirely in 13 of its 16 seasons of existence. Not that storied.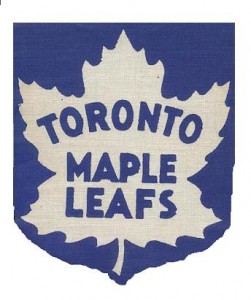 Nevertheless, a glance at the NHL record book reveals many good Leaf stories along with the many nightmares. You might expect that of a team that has been around as long as the Maple Leafs and has a near .500 record overall. The good and the bad combine to form a colorful franchise history. Yes, I think "colorful" is probably a more appropriate word then "storied" when describing the Toronto Maple Leafs. It hasn't been all good, nor all bad. It's just that it has been a significant while since the good has outshone the lousy.
Here is a mixture, in no particular order of some of the NHL records owned by the Leafs, or individual players who were playing for Toronto when the feat was accomplished.
1)The last time the Maple Leafs finished the regular season in first place overall was 1963. Going 47 years without a first place finish is an NHL record. Of course, most teams in the NHL today were not in existence in 1963. Of the other "Original Six" teams, The Montreal Canadiens have finished in first place 8 times since 1963, the Detroit Red Wings – 7, the Boston Bruins – 5, the Chicago Blackhawks – 3 and the New York Rangers – 2. Scarier is the fact the Leafs haven't even finished the regular season as high as second place overall since 1963.
2)Darryl Sittler holds the NHL record for most points in a game with 10. This extraordinary feat was accomplished on February 7, 1976 in an 11-4 trouncing of the Boston Bruins. Sittler had six goals and four assists. To date, he has been the last player to score six goals in one NHL game. Nobody else has even registered as many as nine points in one game, not even Gretzky. There is, however, an interesting footnote to this record. Between December 26, 1975 and February 29, 1976, the Bruins' number 1 goalie that season, Gilles Gilbert, set an NHL record which he still holds, by himself, to this day of 17 consecutive wins. He didn't play the game of February 7 against the Leafs, nor did future Hall-of-Fame goalie Gerry Cheevers who was fresh back from his stint in the WHA.  Instead, Bruins' coach Don Cherry opted for minor league call up Dave Reece. It was Dave's last game in the NHL. Perhaps the Bruins would have been more successful that evening going with six attackers the whole game.
[irp]
3)With the addition of superstar defenseman King Clancy in 1930, the Leafs were superbly equipped defensively to begin the 1930-31 season. They started the season with five consecutive shutouts. No other team in NHL history has realized such a perfect, five-game debut to an NHL season. The victories were shared by goaltenders Lorne Chabot (3) and Benny Grant (2). Two of the five games ended in a scoreless tie.
4)Toronto finished the 1978-79 season with a respectable record of 34-33-13, just slightly over .500. The next time the team experienced more wins than losses in a season was 1992-93. For 13 consecutive seasons, the Maple Leafs did not have a winning regular season record. That's a record of futility shared with the expansion Kansas City/Colorado/New Jersey franchise of 1974-87. In fact, because fully 16 of 21 teams in the NHL of the 1980's qualified for the post season, the Leafs squeaked into the playoffs of 1987-88 with a dismal record of 21-49-10. It was the lowest regular-season winning percentage ever (.325) of a playoff-bound team.
5)Scoring five goals in one game has always been an extraordinary accomplishment, especially for a rookie. Howie Meeker of the Maple Leafs joined the exclusive club on January 8, 1947. A total of five rookies have accomplished this deed in the NHL.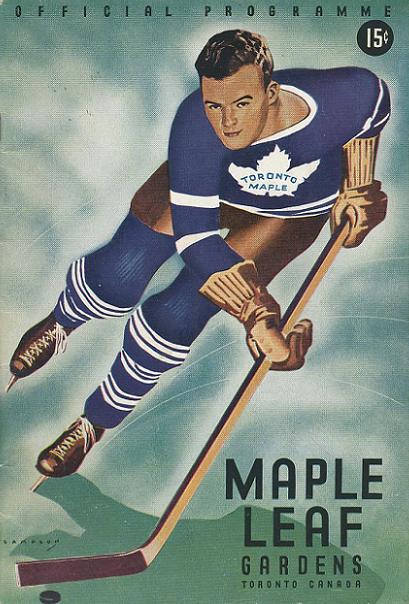 6)In July, 2008, goaltender Curtis Joseph was re-acquired by the Maple Leafs where he completed his very solid NHL career the following season. Unfortunately for Cujo, his last loss as a Leaf tied him with Gump Worsley at 352 career losses, most ever by an NHL goaltender. Gump's excuse was that he played for a dreadful New York Rangers team for 10 years during the 1950's and early '60's. Most of Curtis Joseph's losses were in Toronto where he regularly faced a disproportionate number of shots.
7)On April 18, 1963, Maple Leaf great Dave Keon became the first-ever player to score two shorthanded goals in one playoff game. Eleven other players have done it again.
8)On January 8, 1944, Leafs star Babe Pratt became the first defenseman to record six assists in one game. The record has been tied over the years by several others, including Bobby Orr, but never surpassed.
9)The Buffalo Sabres entered the NHL in 1970 and since then have cheerfully welcomed home games against the Leafs. The Sabres have an awesome all-time home record of 56-24-7 against Toronto in 87 games played in upstate New York. On the night of March 19, 1981, the Sabres walloped the Leafs 14-4 and set a record that has never been duplicated in NHL history. The Leafs allowed 9 goals in the 2nd period. It's the only time in thousands and thousands of 20-minute periods since 1917 that one team has let in as many as nine goals in a single period of play. Michel "Bunny" Larocque was in goal for Toronto. He was replaced by Jiri Crha for the 3rd period.
10)On Feb 2, 1977, Maple Leaf blueliner Ian Turnbull became the first defenseman to score five goals in one game in a 9-1 thumping of the Detroit Red Wings. The record remains his alone. It was truly a great offensive outburst by Turnbull and remains a noteworthy and very respectable record, considering the great ones like Orr, Coffey, Bourque nor anyone else ever equaled it.
11)The Maple Leafs own the NHL record for the fastest three goals in NHL playoff history. On April 12, 1979, Darryl Sittler scored twice and Ron Ellis added another as the Leafs tallied three times in just 23 seconds. The Leafs stunned the Atlanta Flames 7-4.
[irp]
12)Former Leafs captain Mats Sundin currently shares the NHL record with three other players for the most overtime game-winning goals during the regular season. He potted 15.
13)On May 8, 2000, the Maple Leafs were facing elimination in their Conference Semi-Final playoff game against the eventual Stanley Cup champions, the New Jersey Devils. Marty Brodeur shutout the Leafs 3-0, but most astonishingly, the Leafs fired just six shots on goal at Brodeur the whole game. It must have been the easiest shutout of Brodeur's career. Six shots in one game is the fewest ever, regular season or playoffs.
14)Forbes Kennedy only played 13 regular season games and one playoff game for the Leafs, all at the conclusion of the 1968-69 season. He went out in style. On April 2, 1969, at Boston, Kennedy accumulated 8 separate penalties, an NHL playoff record that has only ever been matched once. It was his last NHL game. It appears that Forbes might have been the only Leaf player with any fight in him. Boston pummeled Toronto 10-0. The Leafs are the only NHL team to have been blanked in a playoff game twice when their opponent reached double-digit figures. The Montreal Canadiens also shutout the Leafs 11-0 to eliminate them in a 1944 semi-final game.
15)The Leafs Stanley Cup drought is now 43 years. That's not a record. The New York Rangers went 54 years from 1940 to 1994 before breaking the spell. During the Leafs Cup drought, however, the team has not even been to a Stanley Cup final series. That is a record, a very disappointing one.
Long-suffering Leaf fans have renewed hope with the dawn of another new NHL season. They're now longing for a winner more than ever. Maybe some of the more embarrassing sequences and records of the past few decades will eventually go away and be forgotten. Toronto is the virtual center of the hockey universe. It is a world class city. Its professional teams have done a lot of losing in recent years. It sure could use a decent Maple Leafs team.