The Buffalo Sabres are heading toward an inevitable decision at either the trade deadline this season or next summer.  The Sabres have two players on their roster that are nearly the same players; Cody Hodgson and Tyler Ennis.  When you look at the future outlook of the Sabres roster, there only appears to be room for of these two players.  The questions is, which one of these similar players do you keep?
The Eye Opening Similarity
Ennis and Hodgson both have had similar careers to this point, including similarities on how both players made their way into the Sabres organization.  Both players were acquired via big trade deadline move.  Hodgson was acquired via the big deadline deal in 2012; the deal sent prospect Zack Kassian and Marc Andre Gragnani to Vancouver for Hodgson and Alex Sulzer.  Ennis was not acquired directly via trade, however the 26th overall pick used to select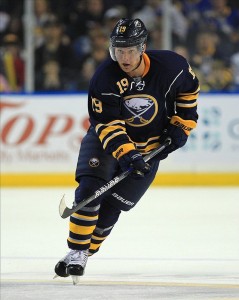 Ennis in the 2008 NHL Draft was acquired in the trade that sent Brian Campbell to the Sharks at the deadline.
The two players were selected 15 picks apart with Hodgson going 10th overall to Vancouver.  When you take a look at the careers of the 24 year old forwards, the stats are extremely similar.  Over 267 career games Ennis has 69 goals and 97 assists for a total of 166 points.  Hodgson in 211 career games has 55 goals and 66 assists for a total of 121 points.  If you calculate Hodgson's stats out to 267 games to match Ennis, he would have 69 goals and 89 assists for 158
points.  Since the offensive game is so similar, I looked at the defensive game next.  Ennis has a career -27 and Hodgson has a career -28.  However over the last two seasons, when you watch these two players in their own end, Hodgson has struggled.  Hodgson struggled so much he was moved off of his normal center position and moved to the wing.  Ennis is far from perfect in his own end, however he handles himself far better than Hodgson.  Both players also bring position flexibility by playing being comfortable on the wing or at center.
Then I looked at the off the ice aspect when comparing the two.  Both players are signed to similar contracts.  Hodgson was signed to a 6 year deal last summer with a 4.25 million cap hit per year and Ennis was given a 5 year extension this season with a 4.6 million cap hit per year.  Here is the key thing to remember, Hodgson was given his deal under the former Darcy Regier regime.  Ennis was given his extension by new GM Tim Murray and Murray is a big fan of what Ennis brings to his club.
The Decision
When the time comes to make a decision I believe Cody Hodgson is the one to moved based on the current situation.  I think around the league Hodgson could provide more value in a trade.  I know fans don't make trades, but if you ask fans around the league who they would rather have; Hodgson or Ennis.  The overwhelming answer would likely be Hodgson based on reputation.  The final determining factor is the defensive play of Hodgson.  The Sabres appear primed to be stacked with scorers after next seasons draft.  In the ideal situation Ennis or Hodgson would find themselves on a third line in the next year or two.  The Sabres will want a player who can provide that secondary scoring, along with a player who can make impact in his own end.
This season can go a long way in helping Murray make this decision.  A strong season by either player can flip the scale on their favor to remain in Buffalo.  This will be a very interesting story line for Sabres fans to follow this season.
.