The Detroit Red Wings struggled offensively last season. They finished 23rd among all teams in goals-for and became the only team with a negative goal differential to see the postseason.
Players including Tomas Tatar and Gustav Nyquist failed to take a step forward. Henrik Zetterberg and an injured Niklas Kronwall showed their age more than ever. A near one-legged Pavel Datsyuk played just six months into an 18-month recovery timeline after offseason ankle surgery and could only work so much magic without his legs under him.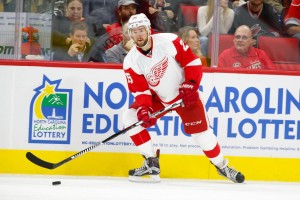 Then there was the rookie coach who was introducing a new system and hoped nobody skipped a beat. Newcomer defenseman Mike Green took longer than expected to find comfort after ten seasons with Washington Capitals.
Conversely, rookie Dylan Larkin stepped in and showed he belonged in the NHL. He finished third on the team in points and first in goals.
The saving grace was Petr Mrazek stepping in as the clear-cut number one netminder, even after a weak end to the season that was most likely due to learning the never-ending grind of an 82-game season against the best in the world.
Enter 2016-17
Last season is behind everyone now. Life without Datsyuk won't be easy for the Red Wings, but the team is set to have a better season in 2016-17. Not having Datsyuk forces Jeff Blashill to avoid leaning on having Datsyuk.
He doesn't have that luxury anymore and now he must give the kids more ice time and entrust them more offensively. Larkin, Tatar and Nyquist's days of 16 minutes are in the past and handing them minutes more tuned to their top-six skill will allow them to naturally produce more.
Newcomers Thomas Vanek and Frans Nielsen will join Larkin, Tatar, Nyquist and Justin Abdelkader as those capable of scoring at least 20 goals this season. The Red Wings have a dark horse candidate for 20 goals from Riley Sheahan as well.
Another dark horse candidate is Andreas Athanasiou, who scored nine goals in 37 games while averaging just nine minutes of ice time per game. If he makes the team out of camp and if he can continue his output with increased ice time, he could also threaten for 20 goals.
One player not on this list is Zetterberg, who is four years removed from a 20-goal season (ignoring missed time and his career-low shooting percentage in 2015-16). It may be too optimistic to expect 20 from him.
The 20-goal Guys
Nielsen and Vanek are proven NHL scorers. Vanek is out to prove people wrong after the worst statistical season of his 11-year career saw him get bought out by the Minnesota Wild. It was also the first season in which he did not score at least 20 goals, finishing with just 18.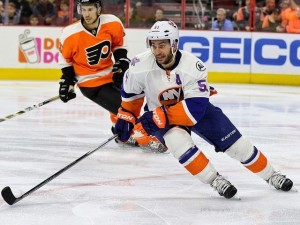 Nielsen, who I have repeatedly stated as one of the most underrated players in the game, was the absolute closest replacement to Datsyuk this summer. His two-way game, faceoff percentage and wherewithal with the puck will allow him to transition well into Detroit.
Over the past two seasons, Nielsen has accumulated 59 goals; he scored 20 last season. Nielsen did so with linemates that one would consider a step down from whom he will play with in Detroit, which is one of, if not both, Tatar and Nyquist.
Abdelkader, who broke out for 23 goals in 2014-15 followed up with 19 in 2015-16 and is likely to do it again in 2016-17. It helps when you crash the net and play alongside guys like Larkin and Zetterberg.
Other Factors and the Powerplay
It's optimistic to ask everyone to max out their potential in the same season. With only one puck to go around, only one guy gets to score the goal. But a few things that will certainly help are a year of experience from Blashill, as well as new assistant coach John Torchetti, who has a plethora of coaching experience in the NHL and is set to run the offencs.
Another factor is the powerplay. In 2014-15, Detroit finished second in the league in powerplay percentage, capitalizing on 23.5% of their chances. Last season was an awfully different story. The team often killed their own powerplays, continued to push for beautiful goals and dropped to 13th, scoring on just 18.8% of their power plays.
Setting an Ideal 2016-2017 #RedWings Lineup: #PowerPlay https://t.co/WPUi3UHESb pic.twitter.com/Qf02h1qeU8

— Zesty Red Wings News (@zesty_redwings) July 17, 2016
The truth is a team with six, seven or eight 20-goal scorers sounds nearly impossible. But if the powerplay can re-establish itself as one of the league's best, like it was in 2014-15, the Red Wings should have no problem eclipsing their 209 goals from last season.
I offer opinions and insight on the Detroit Red Wings organization and its prospects.