With Zach Parise running back home to Minnesota and no suitable scoring replacement added to the roster during the offseason, any scoring help that the New Jersey Devils are going to get this season will have to come from within. Enter 22-year-old Mattias Tedenby, who was the Devs 1st round pick in the 2008 NHL Draft.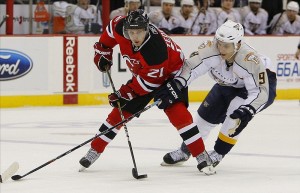 The 5'10" Swedish winger has only 101 games of NHL experience (9G-19A) over the last two seasons, but this could be the year that he sticks with the big club for an entire season. Entering the draft he was projected as a top-six forward and that is exactly what New Jersey will need Tedenby to become to help offset the loss of Parise's offense. In 2010-11 after Jacques Lemaire took over for John MacLean, Tedenby found himself skating alongside Ilya Kovalchuk on numerous nights. The duo was ultra productive in helping the Devils to an incredible record that February & giving them false hope that they could qualify for the playoffs.
In this video, you first see his hockey sense as he finds a seam in the Washington defense and then he fools Braden Holtby with a slick backhand on a penalty shot:
Tedenby has many of the tools needed to be an NHL regular: speed, work ethic, stick work. He is smallish, but has tremendous work ethic and he is fearless — not afraid to take a hit and always gets right back up. His balance is excellent and with the puck on his stick he becomes very creative. The only knock on Tedenby thus far has been consistency, sure he is difficult for opponents to stop when he is at full speed, but he also has shown that he loses the puck (sometimes a bit too much) when he is trying to create a play.
"You're always hoping to see a diamond in the rough, but you're not going to fill Parise's spot as far as what he brought," GM Lou Lamoriello told NHL.com. "Tedenby has a great shot to move forward. He's got all the tools and he's spending a very workman-like summer back home with Adam Larsson and Johan Hedberg." The team's hope is that the 24th pick in the '08 draft slots in perfectly on the left side of Kovalchuk and Travis Zajac.
In this next clip, you see the backhand from Tedenby again, this time coming off the bench and slipping behind the St. Louis defense:
http://www.youtube.com/watch?v=YjkVKZDR7zY&feature=relmfu
Tedenby should be better than Steve Bernier or Bobby Butler, who are two other candidates looking to grab that top-line, left wing spot. This could be a make or break season for the Swede, as he could find himself playing for another NHL team (or AHL) if he doesn't show enough improvement in what will be his 5th year in the organization.
In this final clip, Tedenby's first NHL goal, you see him battle to help his team keep possession of the puck, then he gets into position to screen the goalie on the PP. Finally he finishes the play off by tipping Andy Greene's point shot into the Edmonton net.
He has all of the tools and he's also been compared to Saku Koivu. If he becomes even half of the player that Koivu is, the Devils and their fans will be very happy with the small Swede this year.
Dan Rice can be reached via Twitter: @DRdiablo321 or via email: drdiablo321@yahoo.com