While the second lockout of NHL players in 7 years is slated to occur in five short days, there is still merit in optimistically assessing the key issues permeating throughout the Calgary Flames roster.  While Part 1 of the Flames Training Camp Preview examined the new faces entering on the lineup for the eventual 2012-2013 campaign, Part 2 will have a look at returning Flames looking to improve on disappointing or disastrous 2011-2012 seasons that saw the franchise miss the playoffs for the 3rd consecutive season.
FORGIVE AND FORGET: COMEBACK CANDIDATES
More often than not, an underachieving team can fall into one of two categories:  the first being teams that simply are not skilled enough to compete at an elite level and also may have a massive deficiency in their lineup (such as goaltending) and the second manifesting itself in the form of inconsistent performance from key players.  While it can be argued that the Flames continually fall short of making the playoffs due to their older team makeup, it is undeniable that the biggest factor working against the franchise is ironically the only thing they can seem to do consistently: play inconsistent hockey.  As such, the Flames are a team that falls into the latter of the two aforementioned categories due to the numerous underwhelming performances throughout the Flames lineup.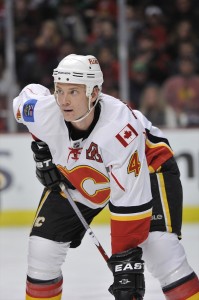 Perhaps the personification of this culture of disappointment represents itself in beleaguered defenceman Jay Bouwmeester.  In just three seasons, Bouwmeester has gone from being the big fish of unrestricted free agency to the subject of trade rumours and fan malaise.  Bouwmeester's arrival in Calgary also marks the beginning of the recent playoff-less era, as the recent struggles of the team have limited Bouwmeester's career playoff games to zero.  In 246 career games with the Flames, the lanky blueliner has managed 12 goals, 82 points, and a dismal -27 rating.  While these are disappointing numbers for a puck moving defenceman, they are unforgivable numbers for the 11th-highest paid defender in the league.  Bouwmeester's supporters will vehemently defend that he is still incredibly valuable due to his workhorse capabilities as he logged an average of 25:57 per game last season.  While this certainly is a formidable amount, the quality of his play does not match the quantity of his average ice time. He is hardly a physical presence, and far too often Bouwmeester is battered in the corners of his own end while the frequency of his misguided passes seems to increase the longer this walking contractual albatross wears the Flaming C.  Bouwmeester is the Flame who most needs a season of redemption, although the rumor mill seems to dictate that he may have to attempt doing so in another NHL city.
Another Flame who has had a disappointing trio of years, albeit after being a highly-touted prospect, is centre Mikael Backlund.  Backlund was set back from the outset last season, as an injury in training camp partnered with other physical setbacks throughout the year limited the young Swede to just 41 games.  He managed a disheartening 11 points and -13 rating in his limited season, which is quite insufficient for a player expected to challenge for a top-6 forward spot.  Having yet to play a full season, Backlund's top priority should be remaining healthy enough to stay in the lineup although that is also a factor that is somewhat out of his control.  That being said, the Flames management has sent a clear message to the young centre that time to justify his 1st round selection status is running out, as Backlund could only garner a 1-year contract that included a $62,500 cut in his salary.  It is becoming quite apparent that Backlund has no choice but to have a comeback season of some renown or face the prospect of continuing his NHL career with the distinction of "former first round pick" being the most alluring part of his resume.
Another center looking to have a season of redemption is Matt Stajan, as he was just as suspect to find himself viewing the game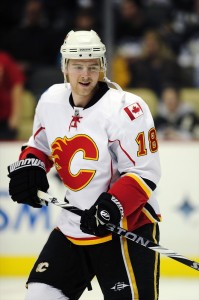 from the press box as he was to be named a star of the game by it.  In 61 appearances the streaky pivot managed to match his jersey number with 18 points, including 8 goals.  He did end the season strong and was actually a dependable offensive threat during a 14-game stretch from February 23rd to March 20th that saw him tally 11 of his total points for the season.  This brief outburst of productivity seemed to bolster his confidence, as he managed to maintain a consistent spot in the lineup despite drying up offensively.  Stajan needs to focus on being a consistent offensive threat to avoid further demotions to the sidelines as a healthy scratch, and this is certainly a realistic goal under new head coach Bob Hartley.  The likelihood of an aggressive forecheck under the former Avalanche and Thrasher bench boss could prove to be a boon for Stajan, elevating him to a serviceable 2nd-3rd line centre capable of 50 points.
The final two players in the Flames lineup looking to have bounce back seasons include winger Blake Comeau (5 goals in 74 games split between the Flames and New York Islanders) and goaltender Henrik Karlsson (1-4-2 with a .900 save percentage and 3.17 goals against average).  Comeau, a waiver cast off of the Islanders, struggled to find the form that saw him score 24 goals for the Islanders in 2010-2011.  Like Stajan, the management has given him a short leash to improve upon his season of misgivings with a 1-year contract that will release him to unrestricted free agency next summer.  Karlsson looks to not only retain his position as the backup to Miikka Kiprusoff by fending off Leland Irving but also to stay healthy as well.  Karlsson was limited to just 9 appearances and finished the year with the AHL's Abbotsford Heat.  With an ever-present need to limit Kiprusoff's action as much as possible to avoid wearing him out, Karlsson simply needs to out-compete Irving to get starts that are likely to be in a greater abundance than years past.
On the ice, the Flames have been consistently inconsistent the past three seasons and that has manifested itself in the form of three painfully long summers.  In order for the Flames to return to the post-season, these bounce back candidates must somehow play with a modicum of consistency that will both help the franchise and resuscitate their careers.