The Edmonton Oilers missed the Stanley Cup Playoffs once again in 2015-16, marking the tenth straight season in which they have failed to reach the post-season.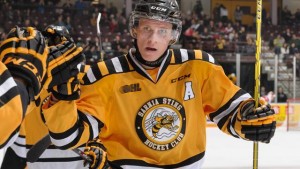 As such, it will be yet another busy off-season for Peter Chiarelli, who will be faced with the task of not only providing major upgrades to a perpetually poor Oilers roster, but also attempting to ice a team in the 2016-17 NHL season which will show substantial improvement.
For Chiarelli and his staff, work will get under-way at the annual NHL Entry Draft, slated to be held June 24-25th, 2016 in Buffalo. Holding the fourth overall selection, many in the hockey world are anticipating the pick to be traded in exchange for much-needed defensive help, or at least traded down in a move which would allow Edmonton to acquire a player while also drafting one.
The next most important date on the Oilers' calendar following the Draft will come on July 1st, when the NHL Free Agency period officially opens.
For Edmonton, there are a number of pending free agents, whether they be unrestricted or restricted, which the Oilers will need to either re-sign or let go. Fortunately, the majority of those in need of new contracts are not necessarily impact players, but rather depth pieces of equal importance.
With that being said, the Oilers will have a number of difficult decisions to make with their pending free agents, and the choices made could have a significant impact on Edmonton's 2016-17 campaign.
Unrestricted Free Agents
When it comes to UFAs, the Edmonton Oilers are fortunate to have only a select few players who could be willing to test the free agent market.
As the 2016-17 season approaches, the Oilers currently have a little over $61 Million committed in contracts, meaning that Edmonton has just over $10 Million in potential cap space available with which to sign, or re-sign players, based on the existing Cap.
With that being said, the Oilers' financial situation will play a major factor in determining whether a number of Edmonton's pending UFAs will choose to re-sign with the club, if offered contracts.
Eric Gryba – Defense – Age 28
Acquired from the Ottawa Senators in June of 2015, Eric Gryba played a valuable role with the Oilers this past season, providing a much-needed physical presence on the back-end. Over 53 games played, Gryba recorded a goal and six points, while carrying a CF% of 49.2%, a mark on average with his fellow Oilers teammates.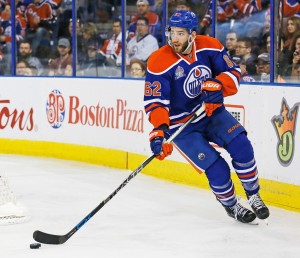 However, coming off of a two-year, $2.5 Million contract signed as a member of the Senators, it is highly unlikely the Oilers can afford to bring back Gryba on a deal of similar financial term, especially son considering the bottom pairing role he is expected to play.
A native of Saskatoon Saskatchewan, Gryba could be willing to take a discount to remain close to home, however given Edmonton's desperate need to improve its blue-line, Gryba could be playing a much lesser role with the Oilers come 2016-17 if re-signed.
Nikita Nikitin – Defense – Age 29
Long in desperate need of blue-line help, the Oilers signed Nikita Nikitin in June of 2014 to a massive two-year, $9 Million deal. Two years later, it would be incredibly safe to say that the deal failed to pan out on a monumental scale.
Nikitin played just 53 games for Edmonton over two seasons, while playing 30 with the Bakersfield Condors of the American Hockey League as well.
As such, Nikitin's value has plummeted, and given the fact that the Oilers did not want to play him despite their perpetually poor blue-line, it is a virtual guarantee that the big Russian will not be back in Edmonton come the 2016-17 season, let alone in the NHL.
Adam Pardy – Defense – Age 32
Claimed off of Waivers by the Oilers in 2015-16, Pardy dressed in just nine games with Edmonton, where he recorded three assists.
Fresh off of a one-year, $1 Million contract with the Winnipeg Jets last season, chances are the Oilers will pass on Pardy, unless they decide to ink him to a two-way contract. Given the fact that the Oilers are aiming to drastically improve their blue-line for the 2016-17 season, it would be unlikely to see Pardy play for Edmonton this coming season, unless he is brought back to fill a depth role, rotating between the AHL and NHL levels.
Adam Cracknell – Right-Wing – Age 30
Brought into Edmonton alongside Pardy on the Waiver wire, Cracknell dressed in eight games for the Oilers, where he averaged roughly 11 minutes of ice time per game in a depth role recording no points.
Like Pardy, don't expect Cracknell to be back in Edmonton for the 2016-17 NHL season.
Cracknell signed a one-year, $575 Thousand contract with the Vancouver Canucks in August of 2015, which marked his seventh consecutive one-year deal. He'll most likely be signing another one-year deal come July 1st, only with a different NHL team.
Rob Klinkhammer – Left-Wing – Age 29
Signed: Dynamo Minsk, KHL, June 17th
Best defined as a depth, grinding forward, Rob Klinkhammer's time in Edmonton is likely coming to an end.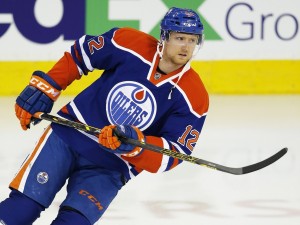 In the 2015-16 season, Klinkhammer quickly became a fan favourite in Edmonton for his heavy style of game. Whenever he was on the ice, which wasn't very often as he averaged under 10 minutes of ice time per game, you could expect the big Lethbridge, Alberta native to be an intimidating physical presence.
However, on the other side of the puck, Klinkhammer didn't bring much offensively, scoring just one goal over 14 games with the Oilers, a major reason why he also played 27 games with Bakersfield of the AHL, where he was nearly a point per game player.
Although he is coming off of a two-year, $1.25 Million deal signed while with the Coyotes, it would be difficult to see Klinkhammer land another multi-year deal in 2016.
Brad Hunt – Defense – Age 27
Brad Hunt could quite possibly be the most interesting pending UFA the Oilers will have to decide whether or not to re-sign.
Hunt has been a perennial force in the AHL, playing a sound defensive game while producing incredible offensive numbers. Over the past three seasons combined with the Condors as well as the Barons, Hunt has scored 43 goals and 99 assists for 142 points in just 185 games played.
However, that is exactly the problem: it has all come at the AHL level.
Hunt has played 21 career games with the Oilers, scoring one goal and three points in that time, yet he is undersized at just 5'9″, 190 pounds, a fact which has led to his inability to stick at the NHL level.
Hunt's most recent contract was a one-year, $600 Thousand deal with the Oilers signed in June of 2015. Yet, if Hunt wishes to play full-time at the NHL level, which he surely does, it will likely come with a different franchise, as given the Oilers' focus on upgrading their blue-line, chances are Hunt does not fit into Edmonton's future plans, despite his incredible play.
Andrew Miller – Right-Wing – Age 27
http://gty.im/497600294
Andrew Miller burst onto the scene with the Oilers in the 2014-15 season, scoring his first career goal while recording an additional five assists over his first nine NHL games. He finished up the season as the Barons' leading point scorer, totalling 60 over 63 games played.
Come 2015-16 however, Miller was unable to come through in his second taste of the NHL, failing to record a point over his six games stint. As such, he played the majority of the season in the AHL with the Barons, where he tallied 39 points over 44 games before being traded at the AHL's trade/loan deadline to the Charlotte Checkers.
A speedy and highly skilled winger, Miller has clear ability, yet has yet to receive consistent playing time at hockey's highest level. His 5'10", 18 pound frame likely has something to do with that, yet as a proven offensive talent, Miller is deserving of a true NHL shot, yet it likely won't come with Edmonton, who already possess their fair share of skilled forwards.
Restricted Free Agents
When it comes to Edmonton's RFAs, the picture is not as clear, and the decisions certainly not as easy.
A number of the Oilers' pending RFAs have shown tremendous ability and potential in their short time within the Oilers' organization, while others on the other hand have not. Whether or not said players will play a significant role in Edmonton's future success remains to be seen, however these decisions will surely be difficult for Chiarelli and his crew nonetheless.
Iiro Pakarinen – Right-Wing – Age 24
Iiro Pakarinen played his first full season in the NHL in 2015-16, scoring five goals and 13 points over 63 game played in what was largely a bottom-six role.
A big-bodied winger at 6'1″, 215 pounds, Pakarinen has the ability to play a heavy game, but can also contribute offensively as well, a combination which makes him a perfect depth player, best suited on the third of fourth line, respectively.
2015-16 marked the last year of Pakarinen's two-year, $1.85 Million entry-level contract he signed back in June of 2014, following the final season he spent playing in Finland with HIFK Helsinki of the SM-liiga. Given his age and experience, Pakarinen is eligible for arbitration, yet whether he and the Oilers can work out a contract both sides can agree upon remains to be seen.
Surely Pakarinen would like the security a multi-year deal can provide, however whether the Oilers view the young Finn as a piece essential to their future success is unknown.
Adam Clendening – Defense – Age 23
Despite his young of age of 23 years, Adam Clendening has already been a part of five NHL organizations. After being drafted by the Chicago Blackhawks where he played his first four career games, Clendening was traded to Vancouver, then to Pittsburgh in the Nick Bonino trade, then to Anaheim before finally being claimed off Waivers by the Oilers on January 27th, 2016.
A second round pick, 36th overall in 2011, Clendening has appeared in 50 career NHL games, including 20 last season with Edmonton, where he scored one goal and six points and was fairly impressive defensively as well. His career CF% of 51.8% illustrates that not only can Clendening play a defensively sound game, but that he can be a force at both ends of the ice.
Fresh off of a one-year deal while signed as a member of the Canucks, Clendening will surely be looking for a multi-year deal, and based on his play to date and proven potential, could be well deserving of a new contract. Like Pakarinen, Clendening too is arbitration eligible.
Jordan Oesterle – Defense – Age 23
Signed: One-year contract with Edmonton, June 20th.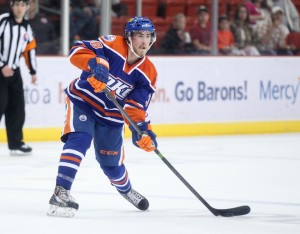 Although he doesn't have the size of a typical NHL defenseman, Jordan Oesterle excelled in his short time with the Oilers last season, during which he played 17 games and recorded five assists. He was so impressive in fact that Todd McLellan entrusted the young defender with an average of 21:41 of ice time per game played in 2015-16, with Oesterle logging an impressive CF% of 50.8%, a mark 2.5% higher than his teammates in that time.
Eligible for arbitration, Oesterle's play to date has certainly warranted a new, multi-year contract. Sure, he won't be a big-bodied, shutdown Western Conference defender, but he has the ability to be a solid bottom-pairing defender in the near future.
Luke Gazdic – Left-Wing – Age 26
The Oilers' lone enforcer in 2015-16, Gazdic has played over 100 career games with Edmonton, yet it is a run which could soon come to an end.
With the enforcer role slowly fading out of the NHL game, Gazdic is amongst the last of a lost breed of NHL player, and chances are the Oilers won't offer him a qualifying offer. Outside of playing a highly effective physical brand of hockey as well as an intimating role on the ice, Gazdic doesn't have much to offer offensively, and would surely be placed in a bottom-six role if offered a contract.
Tyler Pitlick – Right-Wing – Age 24
Signed: One-year contract with Edmonton, June 17th.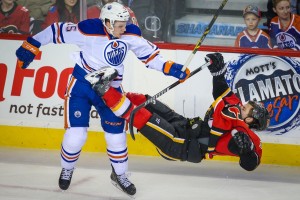 A former second round, 31st overall pick by the Oilers in 2010, Pitlick brings a great combination of size and skill to his game, yet unfortunately has battled a number of injuries over recent years which have held him back in his development.
To date, Pitlick has 27 games of NHL experience, yet has only managed three goals in those games.
When healthy, Pitlick can be a dominating force on the ice, and would be best utilized in a third line role at the NHL level. However, Pitlick must find his health and consistency if he hopes to be a long-time NHL player. Chances are the Oilers will extend Pitlick a one-year qualifying offer to see if he can produce a full season of injury free professional hockey. He does hold arbitration rights, but given how little he has played, there is virtually no chance either he or the team exercises their right.
Kale Kessy – Left-Wing – Age 23
In typical Oilers fashion, Kale Kessy was acquired from Phoenix in a 2013 trade which sent Tobias Reider to the Coyotes. Since his arrival, Kessy has played in 127 games at the AHL level, scoring just 12 goals and 24 points in those games.
Originally a fourth round pick, 111th overall in 2011, Kessy, like Gazdic, is primarily an instigator who plays a heavy brand of hockey. Odds are he isn't re-signed by the Oilers this off-season, as his entry-level contract has just come to an end.
David Musil – Defense – Age 23
Drafted 31st overall in 2011, David Musil's game has been slowly progressing, yet it may not be developing fast enough for the Oilers, who are searching for immediate help on their back-end.
Musil played four games with the Oilers in 2014-15, yet spent the entire 2015-16 season in the AHL playing for Edmonton's affiliate in Bakersfield. Over his 67 games played with the Barons, Musil notched three goals and 11 assists, good for 14 points.
While he likely won't see significant ice-time with the Oilers anytime soon, Musil is a solid AHL defender with potential who will likely be locked down with a one-year contract. However, if Musil wishes to file of salary arbitration, he'll have to wait until he ha accrued an additional season of professional experience.